The Greatest of the Greats (part two)
Every great photographer has at least one photo for which they are famous. Their so-called "greatest photo". When judging their own greatest work, most photographers disagree with what the world thinks. Candide McDonald reports.
Click here to see part one of the feature.
A photographer's greatest photo has been judged so by critics, awards juries, the media, the world at large. These greatest photos may have won the world's most prestigious awards; been written about, talked about, exhibited…revered. There is no doubt that they are all great photos. The photo that a great photographer deems to be their greatest may be something quite different, however. Behind it will be a story that means the world to them.
Jimmy Nelson
Maluku Tribe
Jimmy Nelson is a unique Dutch-British photographer. He has spent the last 30 years documenting the last indigenous communities throughout the world to preserve their culture and heritage before it dies. His work has been used to gather support for, and help restore a sense of pride to, the indigenous way of life. What started as a naive engagement with the peoples he met during work assignments, has over a period of three decades turned into a personal project, he says. Nelson has published two books, Before They Pass Away, in 2013 and Homage to Humanity in 2018, in which each image is scannable via an app that takes readers into the worlds it is documenting with films, interviews, and 360 ̊ film material. Nelson believes that "If you change the way you look at people, the people you look at change. And if that change is powerful enough, it will gather momentum to affect the whole of humanity". He has made effecting that change his mission.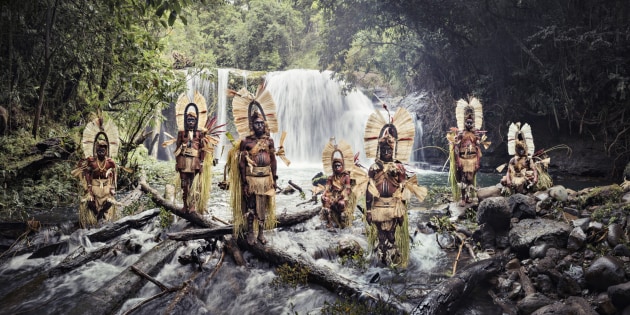 In December 2018, two advertising agencies, J. Walter Thompson Amsterdam and JWT India, realised the importance of Nelson's work, and turned it into a global campaign, Blink. And They're Gone, which was led by a short film made using more than 1,500 photographs taken by Jimmy Nelson, showing the never-seen-before images of 36 of the last indigenous communities of this earth.
Of the thousands of photos Nelson has taken, his image of the Maluku tribe is, in his mind, his greatest: "One of my favourite pictures has to be of the Maluku tribe in the southern highlands of Papua New Guinea. Why? Because of the visual symbiosis of the remote isolation, the extraordinary untouched nature, the complications of natural light, and the authenticity of the traditional indigenous culture of one of the last and most untouched tribes still on the planet today. Entwined aesthetically in a pallet of aesthetic visual virtuosity means that, from now on, I have to raise the bar even higher in my lifelong search for photographic perfection...knowing now that it will be a seemingly unending journey.
"How it came about? I had been invited by the culture minister of Papua New Guinea to visit the Kaluli, near Mount Bosavi, a tribe that had not been photographed previously. We chartered a small missionary aircraft and flew for two hours from Mount Hagen, then walked for a couple of days deep into the highlands. Once we arrived in the village, we spent more than a week just observing until finally feeling comfortable to take out our cameras and eventually recording true traditional beauty. When I came home and examined the developed negative excitingly, I found out that the foot of the main character was blocked by a rock. I couldn't stand it. I really had to go back and make a new photo. The new photo turned out like this. Almost all the feet are in the water anyway. What irony."
Steve McCurry
Dust storm
Documentary photographer, Steve McCurry has scores of magazine and book covers, over a dozen books, and countless exhibitions around the world to his name. National Geographic describes him as being "recognised universally as one of today's finest image-makers, is best known for his evocative colour photography. In the finest documentary tradition, McCurry captures the essence of human struggle and joy." His most famous photo is Afghan Girl, a girl with piercing green eyes, which featured on the cover of National Geographic. It is not, McCurry considers, his greatest photo. He doesn't have one. He has four.
McCurry's "greatest image" is one he took during a dust storm in India: "I was driving down a road in Rajasthan and it was sunny and about 110 degrees, when the sky suddenly went dark and the dust storm began. My first instinct was to roll up the windows of my taxi to protect my camera, but then I remembered the whole purpose for my trip there and realised that this moment was a fleeting thing. I realised I was presented with a magical opportunity that doesn't happen too often. As the storm got stronger and more dramatic, the air became thick with dust. Through a cloud of dust, I could see these women huddled together off the side of the read protecting themselves from the driving wind. This region had been suffering from a drought for more than a decade and the women were singing a prayer for rain. I got out of the car and shot a roll of film of this serendipitous moment. After only moments, the storm disappeared, about as quickly as it started. The sun immediately came out, as if nothing had ever happened. I was fortunate to be able to seize this incredible moment and capture the magic that only happens from time to time."
Two of McCurry's other greatest image choices were also shot in India. One is of a mother and child looking through his taxi window. "I remember being stopped at a traffic light during the monsoon season in Mumbai. A young mother holding her child loomed up outside the rain-dropped rear window and peered into the car. I was quickly able to grab my camera and make two exposures before the light changed and the driver pulled away." The third was shot at the foot of the vast Mehrangarh Fort in Jodhpur, India. "There," he says, "one can find the Blue City, a small tightly knit maze of houses located towards the north of the city. I came across this one corner and noticed these hands on the wall, which had been placed by children in one of the festivals. I imagined how incredible this photograph would be if I could get someone walking in or out of the frame. I stood there for about two hours and eventually one little boy dashed through the frame and I caught him mid-stride."
A photo shot in Kuwait is McCurry's fourth greatest photo. It was also awarded first prize by the Children Jury of the World Press Photo contest in 1992. Children from around the world voted for this image and it is still an outstanding icon and warning about man-made threats to the future of the planet. McCurry recounts that it was one of the most dramatic stories he ever worked on. "It was the aftermath of the Gulf War back in 1991. There were about 600 oil fields burning, animals wandering about, and the landscape was dotted with dead Iraqi soldiers. It was like a vision of hell. The thing that stuck with me the most from my time in Kuwait was the devastation to the environment. The midday sky was almost as black as night and the photographs show a scorched, infernal place, but they don't convey the fine mist of oil that hung in the air or the deafening roar of the burning wells. I was sitting on the hood of my car, about 30 feet from the fire as we were driving through the desert. I saw the camels come into view and immediately visualised the image. The smoke was black and there was a little space where you could see the fire. I followed the camels until they walked past and were silhouetted."
Dan Winters
Space Shuttle Endeavor
Dan Winters began his career in photography in the early eighties as a newspaper photojournalist and quickly graduated to magazine and advertising work. He has exhibited his work worldwide, published six monographs, and won over 100 awards, including a first prize in the World Press Photo awards in the Portrait category, for his photograph of Leonardo DiCaprio. New York photographer, Zack Seckler wrote of Winters, "[His] images are iconic; and it's not just because he photographs icons. The magic of a Dan Winters portrait is its authenticity. His pictures have a soul. They invite the viewer to connect with people in a very real and personal way. In a media landscape overflowing with 'less subtle' imagery, his always seems to stand out. It's a talent that certainly hasn't gone unnoticed."
The DiCaprio portrait is not, Winters believes, his greatest image. "When considering a virtual lifetime of photographs for this piece, myriad images may have come to mind to represent what I consider to be my best photograph," he explains. "I am usually considered to be a portrait photographer and therefore I immediately went to that aspect of my work. I have however trained my lens on many subjects, so I have chosen my image of the Space Shuttle Endeavor ascending to the heavens on its last mission. The photograph almost feels like a religious work, with the finger of god reaching through the clouds and touching the spacecraft as it passes through them."
Portraits do feature in Winter's expanded list of his greatest photos though. This includes Larry Winters (2009), Barack Obama White House (2016), Ryan Gosling Hollywood (2017), Helen Mirren Hollywood (2006), and Laura Dern Hollywood (1998). 
Contacts
NEWSFLASH

Get more stories like this delivered
free to your inbox. Sign up here.