The Greatest of the Greats (part one)
Every great photographer has at least one photo for which they are famous. Their so-called "greatest photo". When judging their own greatest work, most photographers disagree with what the world thinks. Candide McDonald reports.
A photographer's greatest photo has been judged so by critics, awards juries, the media, the world at large. These greatest photos may have won the world's most prestigious awards; been written about, talked about, exhibited…revered. There is no doubt that they are all great photos. The photo that a great photographer deems to be their greatest may be something quite different, however. Behind it will be a story that means the world to them.
Mario Testino
Manúh Rubi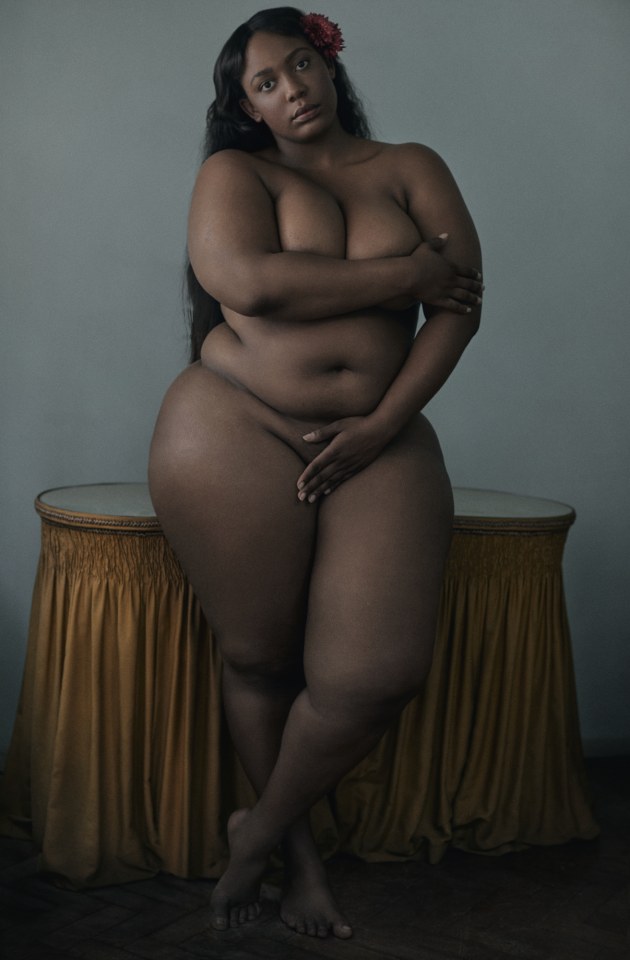 Mario Testino's most famous photo is, without question, his portrait of Diana, Princess of Wales, which he shot in 1997. Christie's had put up for auction 79 of Diana's gowns and British fashion and art journalist, Meredith Etherington-Smith, who was helping to organise the event, decided that she should be photographed for Vogue and Vanity Fair. "Testino portrayed an arresting beauty who exuded sex appeal — but also, it seemed, an intense longing for love. The photographs caused a sensation," noted arts journalist, Cristina Odone. That photo became Testino's entrée to royal commissions. In 2010, William, Duke of Cambridge, asked Testino to shoot the official photograph to mark his engagement to Kate Middleton. This photo was famous for capturing a rare and unstaged moment. It was taken after the shoot. Testino had taken a number of photos, but wasn't entirely satisfied. Just as the couple were about to leave, they suddenly hugged in front of a radiator. Testino had the perspicacity to take that photo. Its display of spontaneous emotion delighted everyone, including the young royals. It was the photo that was published globally.
Testino has photographed music "royalty", Madonna, Janet Jackson, Britney Spears, and Lady Gaga; film stars, Julia Roberts, Kate Winslet, Cameron Diaz, Catherine Zeta-Jones; and supermodels, Kate Moss, Adriana Lima, and Claudia Schiffer. His work for Gucci is legendary, helped in no small part by his 2003 photograph of model, Louise Pedersen, in which she is holding her underwear aside to expose "G" (for Gucci) shaved into her pubic hair, while a man kneels in front of her. His photo of an almost-nude Justin Bieber for his ongoing, Towel Series, caused the sensation expected. Testino has shot fashion campaigns for Versace, Burberry, Donna Karan, Valentino, and Dolce & Gabbana, and fashion editorials for Vogue, Vanity Fair, V, and W magazines. In 1995, he photographed an almost makeup-free Madonna for a Versace campaign, a wildly radical idea in an era of "perfectly polished" fashion.
The photograph that Testino considers to be his greatest, though, is none of these. It's his portrait of plus-size model, Manúh Rubi, which he shot in Rio de Janeiro in 2018. "When I met Manúh Rubi, the lady in this picture, I was moved by her beauty. Being a fashion photographer for the last forty years, my main worry had always been the clothes I had to photograph, as that is what I had been commissioned to do. Manúh freed me from this and allowed me to look beyond the clothes and be in the moment. Perfection exists in many places and sometimes we don't need to look further than what is right in front of us. I worked with stylist, Lisa Debatty, in Rio de Janeiro, who had introduced me to Manúh, and her magic was overpowering. I could not stop photographing her.
"It is always hard to talk about one's own work, but I always put my attention on the subjects more than the effects in photography. People have always been my obsession and I always want to portray them in their best way. I would think my pictures of Princess Diana and Madonna are considered my most well-known, along with Kate Moss."
Murray Fredericks
Nth Stradbroke 2015

Australian landscape photographer, Murray Fredericks' most famous work is epic in the true, not the colloquial, sense. It is the sixteen-year project, Salt, a series of landscape images and a documentary film, whose subject is South Australia's Lake Eyre. "Stay there long enough, and the landscape forces you to a place beyond the rational mind, beyond your sense of self," Fredericks stated. "It's a part of the human condition we experience when confronted by concepts of infinity, absorbed in meditation, or when confronted by our own mortality. The images in Salt are responses to that experience." Fredericks' body of work is immense, displayed in dozens of exhibitions throughout the world. His photographs have been shown twice at the Louvre as part of Paris Photo, in Shanghai, and in many locations, including the National Gallery of Victoria and the National Portrait Gallery in Australia. His work also sits in major public and private and corporate collections including the National Gallery of Victoria, National Portrait Gallery, Elton John, Valentino, ABN AMRO, and Macquarie Bank collections.
"I'm hesitant to call anything my 'greatest image'," Fredericks says. "That's not for me to say." But he calls one photo, Nth Stradbroke 2015, his luckiest. This is why: "This shot is a rare one for me as it was a spontaneous capture. Most of my images are planned out in a very considered and controlled way, then shot in repeated attempts over many years. This image was shot while on holiday with my family. We were fishing, quite unsuccessfully, half-way down North Stradbroke. I decided to pull up next to the bushfire that had burnt out around 70% of the bush on the island. We were safe on the beach, and it was strange to be able to observe the fire from so close. The fire had also burnt out some of the bush camping areas and the four-wheel drive vehicles were evacuating up the beach, right past us. Suddenly, a huge thunderstorm rolled through and the low shelf cloud was mixing with the smoke from the fire. The thunderstorm was so heavy it became almost dark and the cars were driving with their high beams on at three in the afternoon. I grabbed my camera and got one image away before the scene morphed into something else."
Joe McNally
Leonard Bernstein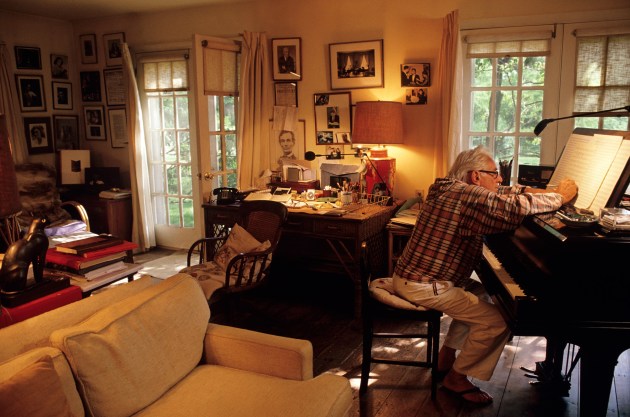 Joe McNally's career spans more than thirty years, with assignments in nearly 70 countries. His images cover a wide range of genres – National Geographic cover stories and highly complex, technical features, Sports Illustrated editorial, and cover stories for Life, TIME, Newsweek, Fortune, New York magazine, and The New York Times Magazine. He has won first place in both the World Press Photo contest and the Pictures of the Year, as well as the Alfred Eisenstaedt Award for Journalistic Impact.
McNally's most famous series is Faces of Ground Zero: Portraits of the Heroes of September 11th, a collection of 246 giant Polaroid portraits shot in the Moby C Studio near Ground Zero in a three-week period shortly after 9/11. A large group of these images was exhibited in seven cities in 2002 and seen by almost a million people. His 32-page National Geographic story, The Future of Flying, published in December 2003 was the first all-digital shoot in the history of the magazine and was deemed significant enough to be incorporated into the archives of the Library of Congress.
But McNally's greatest photo is an image more personal, more intimate: "Perhaps my picture of Leonard Bernstein at the piano is worthy of discussion. Lenny and I got along, though he was a completely volcanic personality, and his moods, like lava, often flowed hot and fast, incinerating everything in their path. I loved his company, truth be told. He was well and truly a genius. In this photo, he is actually working at composing and was so intense in his concentration, he forgot he was being photographed. Flashes going off mattered not. He was riveted by the musical score. I evolved into that enviable photographic state of being invisible.
"And, speaking of flashes, you can see the reflection of my umbrella in the window in the upper right. I could retouch it out, but hey, it's there. It ran in Life magazine just like this, so I don't correct it. It's a flaw, and all my pictures have flaws. It's the process, right? It's akin to what the kiln imparts to pottery. An unexpected irregularity, or some such thing that shouldn't be there. It's great, actually. When confronted with a picture that packs a wallop, and literally alters you for a few minutes, you don't look at the pixels. You bask in the release, the information offered, the beauty that rivets, the emotions that are identifiable. The humanity. The wonder."
Clark Little
Rainbow Shave Ice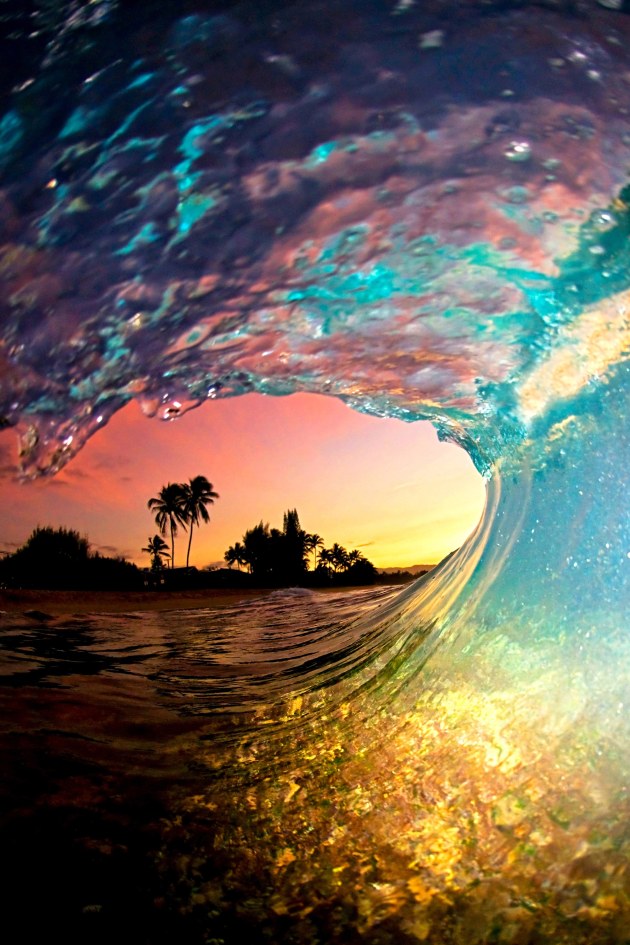 Clark Little moved with his family from California to the North Shore of Oahu in Hawaii when he was two. This, he says, wrote his future. In the '80s and '90s he made his name as a pioneer of surfing Waimea Bay shore break. In 2007, he discovered his ability to capture the extraordinary beauty of the shore break when his wife wanted an image of the ocean to decorate their bedroom. He bought a waterproof camera, jumped in the ocean, and started snapping away, recording the beauty of Hawaiian waves with the confidence of an experienced surfer. That has won him a number of awards including the People's Choice Photo of the Year Award by Geo magazine in 2009, the Pele Award for Photography by the American Advertising Federation, the Maggie Award by the Western Publishing Association, and an Endangered Species Award by the Smithsonian Museum.
Little feels that Rainbow Shave Ice is his greatest photo: "This image is the best-selling image in the Clark Little Gallery and on the ClarkLittle.com website. It has also appeared on numerous products and apparel lines, as well as ten-foot-high murals in hotel lobbies to covers of magazines. Rainbow Shave Ice was taken during a sunset using a strobe flash which is inserted in the wave. The foreground is coloured with light from the flash while the background is coloured by a spectacular sunset. Where one ends, the other begins. It is named after the shave ice (snow cone) flavour popular in Hawaii, which includes all of the colours found in a rainbow.
"As soon as I took it, I knew I might have an epic shot. Then when I saw it on my screen later that day, I knew it would be one of my best pictures I ever took. The sunset, strobe, texture on water, and wave quality all came together. Since I am dealing with nature and movement, there is quite a bit of chance involved to get the strobe in the wave flashing at the right moment, just as the wave breaks over. And to have all of the colours of the sunset pop and the palm trees perfectly framed by the curl of the wave. It's a crazy shot."
Little is also famous for three other photos in particular. All belong in the same category. King Kamehameha, which was taken early on in Little's career, shows a Hawaiian warrior on the lip of a wave. "It's another picture taken at sunset. It was a key shot that brought a lot of attention to my work including live TV show appearances in New York on Good Morning America, with its audience of three to four million, as well as newspapers articles across the UK and US. Marlin is a capture of two waves crashing into each other and creating a wild spray. It was shown as a double-page spread in National Geographic. Having it featured in National Geographic was at that point his biggest honour. Lastly, Flying Honu is a photograph of a green sea turtle passing between Little and a wave. It is an underwater shot, but it looks like the turtle is flying. This picture was exhibited at the Smithsonian Museum in Washington, D.C. at an exhibition where he was presented with the Ocean Photography Award.
Click here to see part one of the feature.
Contacts
NEWSFLASH

Get more stories like this delivered
free to your inbox. Sign up here.