Fabian Muir's Urban Burqa is the sequel to the 2014 series, Blue Burqa in a Sunburnt Country. The initial series was conceived as a response to rising anti-immigration sentiment and the Abbott government's stance at that time. 
Muir says that the sequel finds itself released in a world that has shifted even more dramatically for the worse, with populist leaders prospering in all corners, and Muslims at large finding themselves subject to blanket judgments and knee-jerk reactions based mainly on the actions of 30,000 fanatics in Iraq and Syria.
With 49% of Australians opposed to Muslim immigration, the ongoing refugee crisis in Europe and the Trump administration's efforts to impose a Muslim travel ban, Urban Burqa again seeks to address issues of assimilation, confrontation and understanding.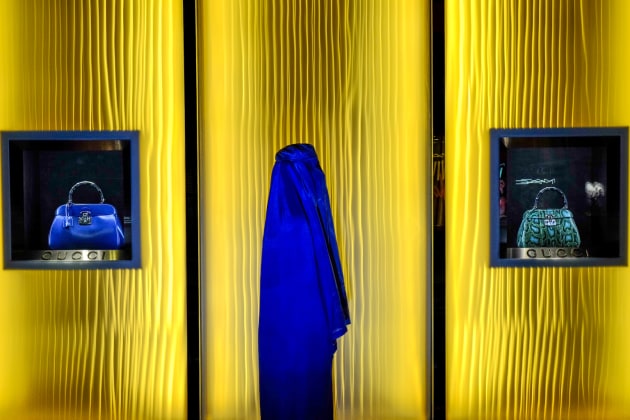 About Fabian Muir
Fabian Muir is an award-winning Australian photographer. The principal motivation behind his projects and practice is a focus on humanist issues combined with strong visual storytelling.

Amongst other outlets, his work has appeared in The Guardian, The Atlantic, Vice, LensCulture, Spiegel, Vogue Entertaining + Travel, BuzzFeed, Leica Magazine, Black + White Magazine, France Culture (Radio France), The Sydney Morning Herald, Fotoblogia (Poland), Mindfood Magazine, Ampersand Magazine, Studio Magazine, The Age and Feature Shoot.
His documentary and fine art images have been acquired by many significant collections. He has been honoured as finalist in the 2017 FotoEvidence Book Award for Searching for North Korea. He received an inaugural Magnum Photography Award for a documentary series for Intimate Perspectives on North Korea and was a finalist in the 2016 Miami Street Photography Festival. His short film Holiday in Abkhazia won the award for best screenplay at the Strasbourg International Film Festival in 2009. With a soft spot for cricket, he also contributes features and photographs to ESPNcricinfo.com and has written for Wisden. He speaks fluent German, French, and Spanish, while his Russian sputters with the determination of a Lada on a rather steep incline.

He is represented by Michael Reid in Sydney and Berlin.