The story of a lifetime
In the age of digital imagery, social media, and online news, the lifespan of visual content and photo essays has arguably diminished. As photographers cover events on their iPhones, Instagram it from the scene and upload to Squarespace simultaneously, it would seem that the efficiency of technology has facilitated the ephemerality of practitioners' engagement with their stories. But for Australian portrait photographer Alex Vaughan, commitment to long-term storytelling is paramount. So much so that her series, In Their Element, seeks to span the majority of her flourishing career. Thirty years to be exact. Sam Edmonds gets an insight.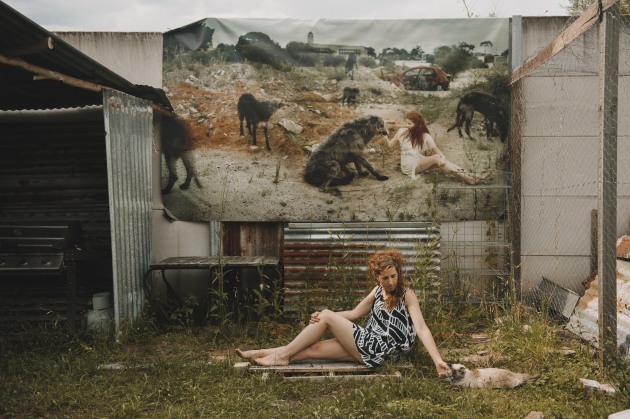 Photography has always been a personal pursuit for Alex Vaughan. Adorned with scanned slides and scratchy black-and-white video, the "About" section of her website alludes to the loss of her grandfather, Les, the memories they shared, and the "snippets of life" left behind in photographs and video. Undoubtedly channelling this reverence for recollection and memory, Vaughan's career in photographic portraiture has skyrocketed as her ability to speak to Australians in such a way has earned her several coveted people's choice awards in the last few years alone, and built a vast clientele around the world. But with a flourishing career and clients at her heels, the Sydney-based artist found herself with a yearning to continue on the vein of personal exploration, resulting in her series, In Their Element.
At once building upon her own desires as a practitioner and upon her bread and butter work photographing actors for a living, this series of portraits delves into the lives of artists around the world, examining both intrinsic human elements and metaphysical themes of time and place as Vaughan seeks not only to photograph her subjects in a raw and organic fashion, but to examine ideas of growth, transformation, and loss, by revisiting these participants over a period of thirty years. Having already accumulated an impressive list from Antoine D'Agata to Kinga Burza, and having poured tens of thousands of dollars into the project, Vaughan's commitment to her idea is paying off. With not only a gorgeous series of images under her belt, Vaughan has also managed to grow relationships, fight off temptations of crowdfunding, and once again affirm her dedication to the personal aspect of the craft. And all while building her career off the back of what means most to her.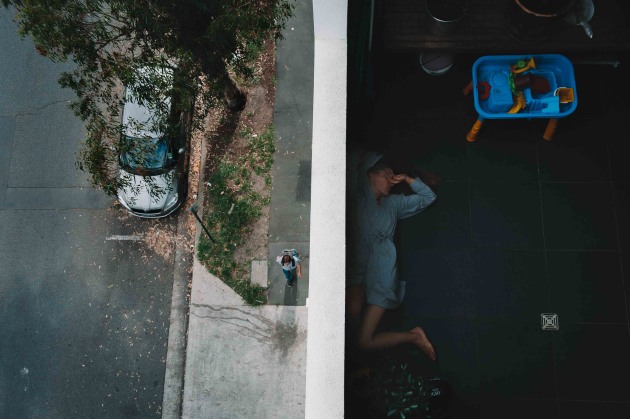 The long haul
In a fashion not at all alien to most photographic practitioners, Vaughan's professional career has benefitted from her talent as displayed in personal pursuits, yet it was her career that led her back to the In Their Element project. Following successes locally taking out both the 2011 Head On People's Choice Award and the ACMP Sony Projections People's Choice Award, Vaughan expanded her practice of photographing actors beyond Australia's shores, but was uneasy with the limitations of the entertainment industry. "There is a process to what I do, and because of the framework that I need to provide images within, it can also be really structured and limiting," she says. "I found myself working solidly for two years, without a break, unable to spend quality time with friends or family. I rarely went out at night because I was either shooting, doing post-production, or admin, so I booked a trip to the US, hoping that a change of scenery would revitalise me."
It was then and there, in the hills of Los Angeles, that Vaughan's project was born. A period of exploration followed her discontent, and she reached out to an already established network of creatives in the area, starting an organic process to see where her work would take her. "I said to a couple of friends – a director and an actor – 'Can I come over to your house and just talk to you, have a rambling conversation, and photograph you. This may or may not be anything, but I just need to have the freedom to work in this way, have that experience of us being together, talking about life, and me documenting you'".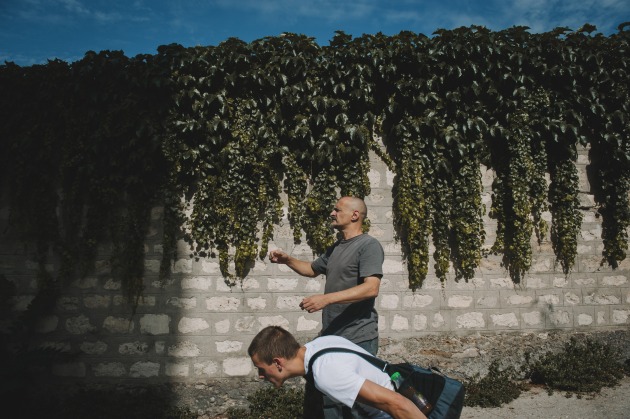 Several years into exploring that thread and In Their Element is now a refined series with a three-decade plan: to photograph creatives as hand-picked by Vaughan, edit down to a mini series of six images from each shoot, and to revisit that idea with the same people twice more over the thirty-year period. However, still in the early stages of the project, Vaughan pointed to the steep learning curve of such an endeavour that inevitably presents logistical, conceptual, and fiscal challenges, highlighting the fact that she has waited up to two years to arrange photo shoots with some of her subjects. "I seek particular people out, and sometimes it can take me a really long time to get people on board," she says. "It is really about seeking times when I am in the same place as that artist and they're available, and I'm available. It can be hit and miss a lot of the time."
But as Vaughan describes, an obvious problem with selecting from today's best creatives is that the list is ever growing. And therefore, so is the project. "My original plan was to work with just the one group of artists through the entire project, but I keep coming across incredible artists that I'm fascinated by, and so the project continues to expand," she says.
Creativity is key
In this respect, what may seem like another obvious issue with Vaughan's project is the very act of a creative photographing creatives. While a project of this nature inevitably involves collaboration between photographer and subject, photographing such innovative and expressive powerhouses as Missy Higgins and Tim Minchin, and especially photographers like Antoine D'Agata and Tamara Dean, could be daunting. Regardless of subject however, Vaughan strives to create an environment where the artists can feel free to express themselves. She also notes that the key to maintaining the integrity of the project is to exclude any potential subjects who express a desire to monetise or commercialise their involvement. "There are situations where I think of people that I am mystified, artists who are complex, who I would love to delve into the process with. That is absolutely the challenge for me. But if there is ever a sense of an artist wanting to get involved for commercial gain, then I'm out," she says.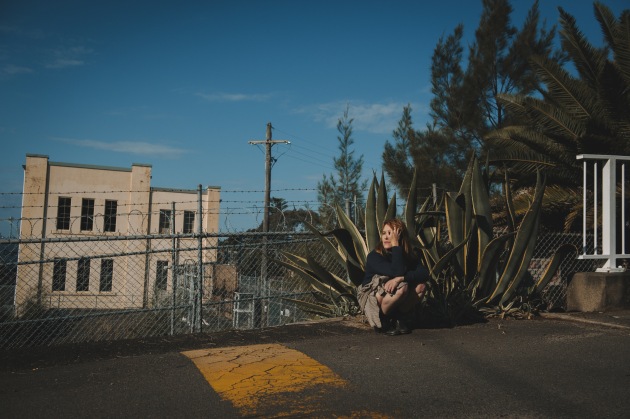 It's here that Vaughan seems to display an incredible aptitude for both hand-picking her subjects and developing relationships with them as she describes a long list of successes so far, with each experience and interaction bringing its own unique rewards. One specific example cited by Vaughan is that of Australian photographer, Tamara Dean, who she describes as "egoless, and has the ability to put you at ease. I never felt judged around her, and from the moment that I met her, she was just so open," says Vaughan. "I guess that is maybe why her work is what it is, because she is so open to new experiences and trying things. And she is a very curious person herself. Working with her, going through the process, and asking her about her ideas was a gift because I gained such an insight as to how she sees the world, and how she works with people."
Down the track
At around four years into the project, the road is a long one for Vaughan and In Their Element. But as she reiterates, this project isn't about having a completion date. In fact, there probably won't be one. For Vaughan, while thirty years may have been set for a tentative life span of the project, In Their Element is a truly personal series as it will explore not only the growth, development, and lives of her subjects, but also the progress and changes she sees in herself as a person, and as a photographer. "I've invested a lot of money in this project – literally tens of thousands of dollars – but for me it is an investment in life; in living a full life," she says. "Some people go travelling to experience or to learn about the world and themselves. For me, this is what the project does."
And it is in this way that Vaughan recognises the intrinsic meaning in such a lengthy project. While her project is still young, Vaughan insists that lessons have already been learned along the way. Primarily, that her subject's portraits may not be the most important component of the project. "I've learnt that the value for me in undertaking this project, is in the doing of it – not the images; they are a bonus," she says. "It's the experience of spending time with my subjects, of getting to know them, of learning from them, hearing their stories, and spending time in their personal space." On top of this, from the process of working so intimately with creatives, Vaughan has gained a valuable insight into a more collaborative portrait-making process – something that she believes should be incorporated into all portraiture. "Ask lots of questions, observe your subjects, research them beforehand," she says. "This will provide a treasure map of insights into who they are, how you can work together, and what you can capture and explore.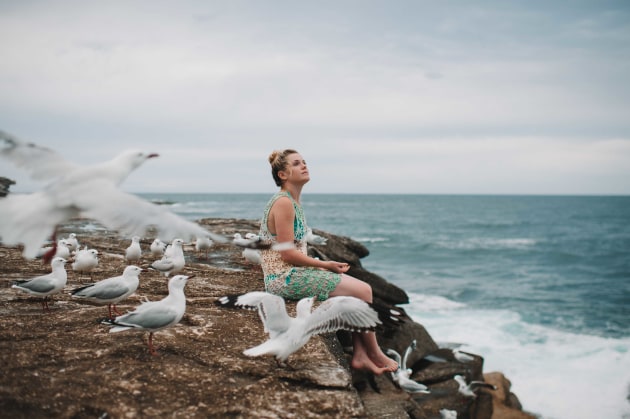 Contact