The Other by Elisa Miller
Elisa Miller's new series, The Other, poses questions of identity and invites the viewer to consider the limited possibilities of expressing one's true self as well as limitations that can be felt due to society, one's domestic situation, or even internally. An ongoing series, work from three chapters of the series is shown here.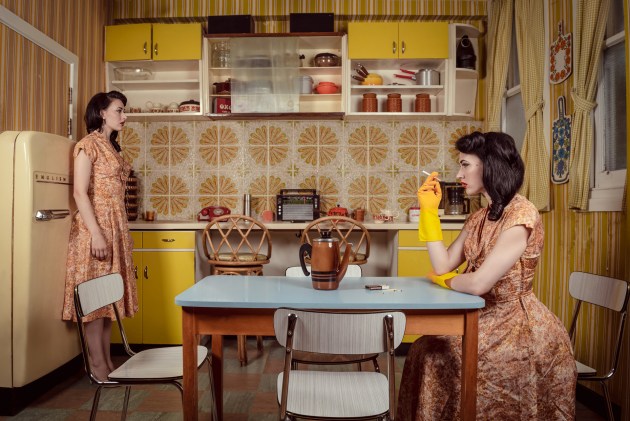 Taking inspiration from the quote of French author Jean-Paul Sartre, "Hell is other people", these staged photos explore our self-limiting beliefs and our desire to fit in, and the gap between our true selves and what we are expected to be. Miller invites us to imagine what it might feel like if we were able to express freely without fear of judgment or condemnation, to look beyond the boundaries we've set for ourselves and have the courage to become who we really are.
What if hell isn't actually other people, but the things we do to ourselves?
Alarm Call started with the book by Betty Friedan's 1963 book, The feminine mystique, describing the assumptions that women would be fulfilled from their housework, marriage, sexual lives, and children. But there is no "one size fits all" destiny for women, and Friedan wanted to prove that women were unsatisfied and could not voice their feelings.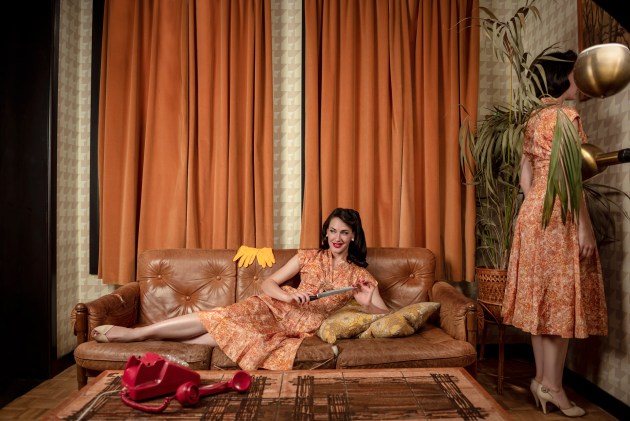 "When I started to work on Like Someone in Love, I was looking for some inspiration for my bride. The late 60's style of Sharon Tate's wedding dress caught my attention, and her hairstyle was exactly what I was after," Miller says. Coincidentally, on the same day, Miller came across some photos of Tate and Richard Beymer taken on a beach, years before her wedding with Polanski, when she was at the time briefly engaged to Beymer. "My mind started wondering about destiny and crossroads where you choose a direction which leads you toward something that could have been so different if you had chosen the other way." The series is also about destiny, choices, lack of alternatives, fear of change, alternate reality, and parallel universes.
Miller says that for The Many Faces of Marie, she explored a more intimate topic with a sensuality that can't be expressed. The choice of the character of Marie-Antoinette is reinforced by the fact that her hair had turned white overnight due to stress when she was sentenced to death, called Marie-Antoinette Syndrome. White and red play an important part in this story. In light of the virginal connotation of white, playing with red apples is a reflection of what Miller's character is going through on an inner level.
About the artist
Born and raised in Paris, Elisa Miller started to experiment with photography in 2017 after she moved to London.

Before that, her fascination for old Hollywood glamour led her to model in the rockabilly subculture for retro clothing brands and classic car magazines. She had a successful career as a pin-up model for a few years in France.

The transition from being in front of the camera to shoot behind it was a natural development. Her interest in vintage aesthetics has given her a retro universe that she explores in a personal way, playing with lights, colours, and elaborated sceneries with a strong cinematic feel.


Awarded Fine Art Photographer of the Year in 2022 at the prestigious PX3 Prix de la photographie Paris and People Photographer of the Year at the IPA International Photography Awards in 2021, she also won two Bronze medals at the MIFA in 2022. In addition, she was among the finalists for the Lucie Foundation Awards in New York for Discovery of the Year 2021."

Her photographic work has been published in magazines - Marika Magazine, Bombshell, Blue Rose (USA), Lancashire magazine (cover) Backcombed (UK), and Pure Pin-up (France). Her first collective exhibition was held at the Holy Art Gallery in London in January 2022, shortly followed by others in Taiwan and Budapest. Her work will be shown in Paris at the end of 2022.