In a world that construes beauty along very specific and narrow lines, it's not often that you see Cystic Fibrosis in the media. But one Canadian photographer aims to change the public's perception about body image and bring this chronic illness to light. Christopher Quyen spoke with Ian Pettigrew about his project, Salty Girls.
When Canadian portrait and fashion photographer, Ian Pettigrew, was diagnosed with Cystic Fibrosis (CF) nine years ago, at the age of 38, the shock almost made it too hard to process. "Being told at such a late stage in life that you have this incurable, fatal disease was a pretty hard thing to process, mentally," says Pettigrew. "One thing I cannot stress enough to people is that Cystic Fibrosis has no cure, and is 100% fatal." Often, CF is associated with young children who are diagnosed at birth, with a life expectancy of 40-50 years. But in the last twenty years, great scientific strides have been made in order to increase life expectancy. However, at the time of Pettigrew's diagnosis, the only research available to him was "very juvenile."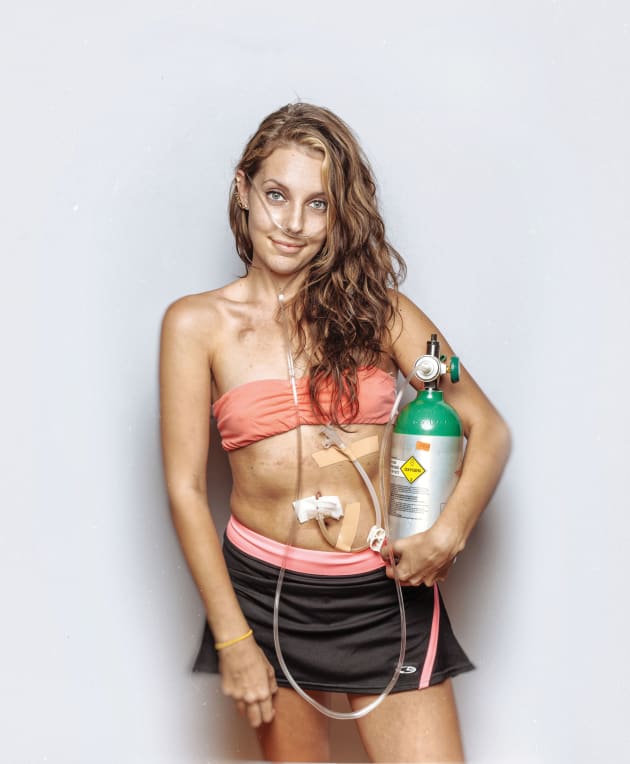 Caught in a moment of isolation, Pettigrew wondered what everyone else with CF was feeling. And that's when the idea for his first project, Just Breathe, came to him – portraits of adults living with CF, and their stories. Eventually, this project evolved into Salty Girls, which focuses on women living with CF. "Salty Girls came to be because during the first book, women were telling me very specific stories, recurring stories specific to women," he says. On his website, Pettigrew writes; "I thought it's time for a model with CF. I know what these woman go through on a daily basis; every day is a struggle living with CF. And, to the uninformed, it's an invisible, fatal disease. With this book, it's invisible no more." The name of the project derives from the fact that almost all CF patients have very salty skin as the body does not reabsorb the salt resulting from any perspiration.
Late to the game
Only deciding to embark on a career as a professional photographer five years ago, Pettigrew says that he always loved photography as a hobby, but never thought of it as a viable career choice. "I still think I'm a bit late to the game," he says. However, coming from a background in graphic design, with a father who was "a real shutterbug", and working as an art director in advertising, finding his way to photography was only a matter of time. In 2014, the idea for a book, Just Breathe, became a reality after Pettigrew spent six months photographing adults living with CF. "I literally woke up one day and decided I was going to drive all around North America taking photos, and make a book," he says. Using funding avenues like Kickstarter and Indiegogo to supplement production, the book, Just Breathe, became a reality. However, something interesting happened while he was creating Just Breathe. It evolved. "Making Salty Girls actually coincided with Just Breathe, and that's why some women are in both books. But by his fourth trip to photograph subjects, Salty Girls was its own thing. "I learned from some of the experiences on the first few trips, like when and how to solicit for funds, how to market, and how to design better.
Beauty in imperfections
As a fashion photographer, Pettigrew knew only too well about how his industry and the media perceived beauty. Portrayed as porcelain perfect, retouched and flawless, imperfections usually do not make it into the final image. "Fashion has always had a facile quality to it and as a fashion photographer, I know all too well what goes into making these images," he says. With such a paradigm formed around beauty, body shaming has become the end product and, as a result, society is caught in a constant struggle to be "beautiful." So, with the production of Salty Girls, Pettigrew wanted to make an impact: to challenge the norm and put an end to body shaming. "One of the things I told all the women involved was that I wanted to show the imperfections, their scars. Many of the women in the book have had double-lung transplants. Some, even two transplants. Some have had liver and kidney transplants. It was extremely important to show that."
By exposing this to the media, Pettigrew is making a stance against body shaming and beauty conventions. It is a strong belief held among each of his subjects that they all love their bodies for the way they are, and no amount of body shaming can shake that. "I told them that by being involved, they had to be willing to bare some skin and show their scars. That will break down these conventions," he says. And so began a process of showing the public the reality of living with CF, but also that these people were all strong, resilient and unique personalities. This was an area that Pettigrew was passionate about – showing just how much CF can become a part of your individuality. That although you can live your life with CF, it does shape who you are as an individual. "The person's individuality is because of their CF. Every woman, every surgery, every hospitalisation gave them the story to tell about their journey. This was part of the awareness, if people went beyond the photos and read the stories. Their individual stories was the CF awareness," says Pettigrew. Ultimately, challenging the norms has been greatly rewarding for Pettigrew as he brings the topic of body acceptance back into public discussion, not only for those living with CF, but also for anyone out there who is struggling with their own body image.
Shooting the project
When shooting a topic such as CF, a photographer should treat it with a certain delicacy. Pettigrew found this was integral as he first needed to win the trust of his subjects. "It was a tough sell at first. Foreign photographer wants you to come to his hotel and pose in your bikini. Luckily, having over 20 years' experience working with models helped," says Pettigrew. But once he sold the idea, the public was intrigued by the project and communities began forming. "One way I built trust and overcame shyness was to either have them bring people to the photo shoot or to have them shot as a community – to have other Salty Girls there at the same time," he says. "We did this in April in Daytona, when I photographed 26 girls in one week. Some of the other previous girls came down just to provide encouragement. This actually led to the community getting stronger."
However, Pettigrew could not prepare himself for what he was about to bear witness to. Diagnosed with CF in his later life, he wasn't fully aware of the intensity and severity of the procedures and surgeries that came with having CF as a child. But this only fuelled his inspiration and paved the way for the project's creative direction. "Any preconceptions were shattered, and I took my inspiration from the women themselves, from their strength and perseverance," says Pettigrew.
Drawing most of the project's direction from the women themselves became an effective way to capture the stories that each of these women wanted to tell. Approaching the project in this way created a connection between subject and photographer and helped each of these women feel like they were truly a part of the project. "I was most surprised about the enthusiasm as the project progressed. I had no idea I had stumbled upon such a hot topic at first. But I also recognised a great marketing opportunity, and this was lightning in a bottle," he says. Sometimes, it's stories like these where you just have to play witness and let the subject tell it truly, both to the camera and through words. The end result speaks for itself. "The majority of the girls were both completely pumped about the project while at the same time shy about it. But they knew its importance and the impact it could have."
Salt in the waters
Perhaps the most exciting thing about producing the work is creating a community. The project has now evolved further into a movement with over 15,000 followers online with users sharing their own stories of living with CF. For the project, Pettigrew had about eighty women volunteer, thirty of whom were from his previous project, Just Breathe. The other volunteers came to the project through the power of social media. "It turned out to be the best way to help get the word out, but certainly word of mouth and reputation is also very important." With any project, the best way to leverage a community and public support is to actually do it and get it out there in the public eye. This is why Just Breathe was so integral to solidifying trust in the community. "Things took off more after the first book was published. I think there was a bit of a feeling amongst people to see if I was going to do what I promised. And I did, so things for Salty Girls were taken more seriously," Pettigrew says. Salty Girl's Facebook page now acts as a meeting place where many people come to support CF awareness and engage in the conversation.
A salty sequel?
In the space of a year, Pettigrew might have realised what may be his best work to date. By sharing this story with the public, and providing compelling visuals to move his audience, he gives those living with CF a voice. As Pettigrew continues with his projects, they have rewarded him with lessons that he has taken aboard in his life. "The biggest lesson I've learnt is to live life to the fullest. The drive and resilience of these women astounds me," he says, "but along the road we have lost six of the women to CF, since May 2015. Death is, unfortunately, a fact of life in the CF world. But working with them has certainly given me hope that the cause is not lost. You just have to meet any one of them. They are the definition of grace and perseverance," he says.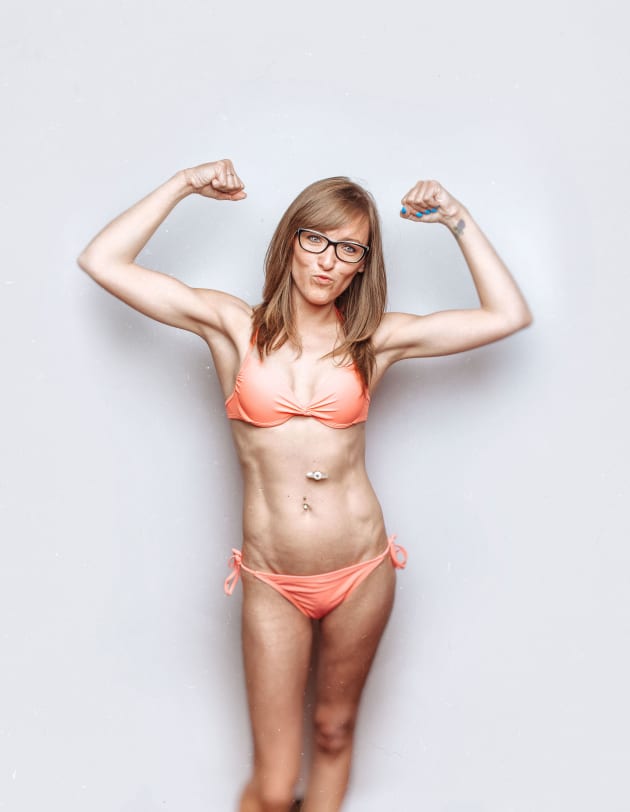 However, this does not discourage or put a halt to his momentum. Pettigrew is determined, more than ever, to share the story of living with CF as he prepares for a new book, which will focus on families that are raising a child with CF. "Since it's literally a lifelong disease, the daily trials and tribulations are unique with CF; mentally, physically, and financially. I want to hear from the parents now. Work on Pettigrew's third book, Salty Kids, has just commenced. The book will focus on families that are raising a child with CF. Every now and again, in a photographer's career, a story comes along that demands to be told. That's when you must be a storyteller first, and photographer second. For Pettigrew, this time is now. Because CF affects only 70,000 globally, Pettigrew says that there is a constant struggle for attention and competition for funds against all the other diseases. "I believe that awareness will lead to more research funding; then that will lead to a cure."
Contact