Australia. Seriously? is Trent Mitchell's 2015 Moran Contemporary Photographic Prize winner's solo exhibition. The images in the exhibition have been selected from an archive shot by Mitchell over approximately eight years of what the Queensland-based photographer describes as "Aimless and intermittent photographic wanderings across the world's biggest island."
Having taken up photography some 16 years ago, Mitchell is no stranger to success. Before winning the Moran Contemporary Photographic Prize last year, he had been a finalist or semi-finalist in the competition several times before. Among numerous other awards. Mitchell was also named Capture magazine's Emerging Photographer of the Year in 2011.
Today, Mitchell shoots for lifestyle and fashion assignments around the coastal lifestyle theme, taking on commissions both locally and internationally. With an impressive list of clients, Mitchell has shot for M&C Saatchi, Pedestrian TV, Red Bull International, Leica Australia, Commonwealth Bank, Nikon Australia, Patagonia, Renault, New Balance, Lulu Lemon Athletica, Audi, Boag's Draught, Rip Curl, Surf Dive 'n' Ski, and Kellogg's Australia, amongst many others.
A dedicated Nikon shooter, along with Aqua Tech housings for his underwater work, Mitchell has recently begun testing Leica cameras for his underwater. However, the work for Australia. Seriously? was all shot on film. Part of the attraction for Mitchell still staying true to film today is seeing the different effects from using various types of film stock – an effect mimicked by many of today's digital cameras.
The images for this body of work were shot on several different film cameras, including point-and-shoot, medium format, and rangefinder. For the exhibition, Mitchell selected 50 images for exhibition from an archive of between 5,000 and 6,000, providing a snapshot of his overall body of work. "It's almost a photo diary of day-to-day things," Mitchell says.
Mitchell's lens was drawn to certain subject matter, such as the slightly odd fibreglass creatures that dot the Australia landscape in parks and businesses, as well as appear in many a faded holiday photo. For example, there is a photo of the Vic Hislop's shark exhibit at Hervey Bay, Queensland, that Mitchell saw when he was about seven years old. Many years later, he returned for the opportunity to shoot it. "I was in the area for work and I visited the exhibit on three different occasions," he says. "I found the whole display intriguing."
But it's not all about big fibreglass objects. There are other images depicting routine Australian scenes: swimmers playing with inflatable pool toys or suburban, garden Christmas decorations. Pulling the body of work together, Mitchell decided to include those that he felt most drawn to. The process was more aesthetic than scientific. "Perhaps I'm drawn to certain things because I'm unconsciously revisiting the past," he says.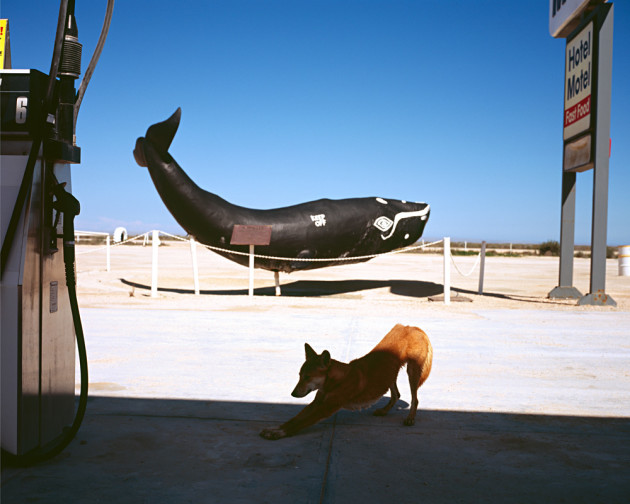 Before the exhibition opens on 20 August, there is still much work to be done. "I'll be working with the team at Juniper Hall to arrange the layout of the works," says Mitchell. "The individual images will need to be positioned in the proper relationship to one another for the exhibition to work as a whole."
Australia. Seriously? will be exhibited at Juniper Hall, Paddington, from 20 August to 17 September 2016.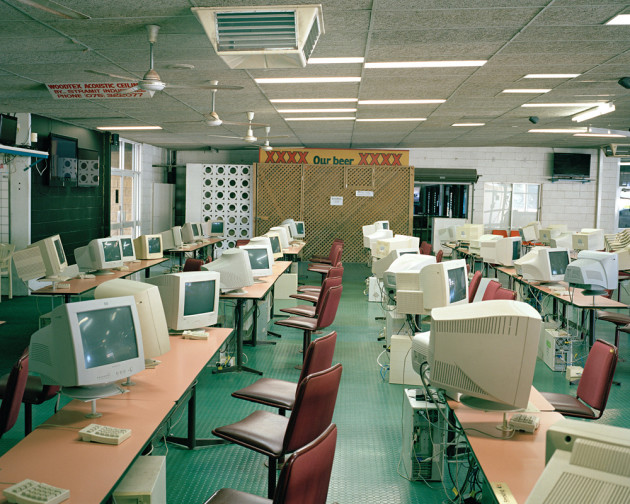 About Trent Mitchell
Australian First Fleet direct descendant, Trent Mitchell started taking pictures in 2000 to complement his design work, and for pure creative release. Today, photography is his all-consuming life passion and his full-time career. His graphic and industrial design study has heavily influenced his eye and work. Evolving from a sport and travel background, Mitchell has come to specialise in underwater, portrait, lifestyle, and fashion photography with a raw, minimal and graphic sensibility.
Balancing commercial and personal work with equal importance, an unquenchable visual thirst drives him to create. Documenting different layers and subcultures of the Australian social landscape captures his everyday photographic interest.
Career highlights include winning the 2015 Australian Moran Contemporary Photographic Prize, winning a category in the 2012 International Photography Awards, along with self-publishing two books. 
When he isn't working, he's planning his next personal project, publishing books, working on exhibitions, or spending every loving moment with his girl and son on the beach in his own backyard.