Q&A: Cybele Malinowski – fashion and music photographer
What initially drew you to the world of photography?
My awe of the world and people in it. As a kid, I was seeking meaning through a myriad of mediums including painting, writing, poetry and music. Being raised by a philosopher and a scientist, it subconsciously made me looked to the world around me for the answers to my inner thoughts. So many questions swirled through my head. Once I picked up a camera, the answers were more definite – shooting a single frame, there was something so finite in this infinity. A fleeting moment, amongst all the moments. 
This concept of time and the capturing of it encouraged the reflection to how limited the time we have here.
Aside from the philosophical side of photography, I was drawn to it as a career and its practical art. You can earn a decent living taking photos of people – meeting and connecting with people from all walks of life. Photographers are invited into worlds that are often out of reach from most. And the connection you can create during a shoot. When there is a camera in the room, I find a person's guard is let down. The camera acts as a conduit. A person sitting for a photo is sharing a part of themself with you and the camera. I feel privileged to have this access to people.
How would you describe your signature style or approach to photography?
Such a tough question, as I enjoy shooting so many different styles. So I will talk more on the approach. Whatever shoot I am working on, I try to approach it with openness, curiosity and passion. Whether a fashion shoot, music shoot, portrait or ad job, I throw myself into it with full force. 
My older brother Justin trained me in photography. When I first started he said something that still rings in my ear "Cybele, no matter what you are shooting, no matter how small or large, approach it with this thought – if it doesn't belong on a gallery wall, don't shoot it." 
Now that's a lot of pressure really, but I do believe living up to this standard for each shoot has pushed me further, and has forced me to continue to learn, grow and expand my skills. I have never settled into one style or trick. I will keep shooting for as long as I am curious and adventurous. 
Are there any photographers, artists, or sources of inspiration that have greatly influenced your work?
Gustav Klimt, Egon Schiele, Lee Miller, Diane Arbus, Annie Leibovitz (it was Annie who gave me the courage to propel further) Tamara de Lempicka, Helmut Newton, David LaChapelle, Man Ray, Matisse, Madonna, David Lynch, Little Dicky, and as of last week, Greta Gerwig and the Barbie movie.
Tell us about Model-Maison
I have been shooting models in their homes in cities and towns around the world for 9 years now! Generally, it's just myself and the model. Sometimes we have hair and makeup and a stylist, and make it a big production, other times, it's just me and the model playing dress-ups. I have a look through their wardrobe, choose 4-6 looks, then we move around their house finding the moments, and light.
It has taken me from LA to Shanghai, Palm Beach to Bondi. Paris to London, and also Kyiv. I have actually never published the Kyiv photos. It breaks my heart what is happening to these innocent people. My people. My grandmother was Ukrainian, that's what inspired the trip. 
Of all the homes I have been welcomed into via Model-Maison, the homes in Kyiv were the most welcoming and humbling of all. Most of the people I met didn't have much. The parents would often sleep in the living room, the kids would share the one bedroom. Compared to some of the luxuries and wealth in other cities, it was truly eye opening. Their houses were immaculate. There would be tea and cake waiting for me on arrival. They had so little, and yet gave me so much. I never published the Kyiv Model-Maison shots, life just got away with me. I have included a shot from this trip to Kyiv, maybe it will trigger me to finally publish them.
How did you find the transition from going from stills to motion? 
I have loved the process so much. Initially I was excited by the idea of stretching time out, and moving outside of one frame, allowing me to really embrace narratives and longer form stories. The hard work with film comes prior to the shoot. The pre-production is much more time consuming and precise. You have everything mapped out down to the smallest detail before shoot day. 
I am now often working on stills and directing in the same job. It's a delicate dance between the two worlds, they are very different mindsets to shift between, but I love it – the cohesion between the two worlds. I also enjoy the collaborative process on a film set! It's about finding the right team, giving them super clear direction and letting them do what they do. It's quite cathartic on the day. 
With your music portraits – do you like a high degree of post? Or do you try to get it right 'in camera'?
It really depends on who I'm shooting. Some people are more raw/film vibes. Others lend themselves to more of a surreal gelled world. 
Can you share a memorable behind the scenes /moments or story from one of your shoots?
Well, there is that time that Jarvis Cocker lit my cigarette, or when Jason Mamoa carried me over the ocean on his shoulder, or that time Juliet Lewis and I did a shoot in a toilet cubicle….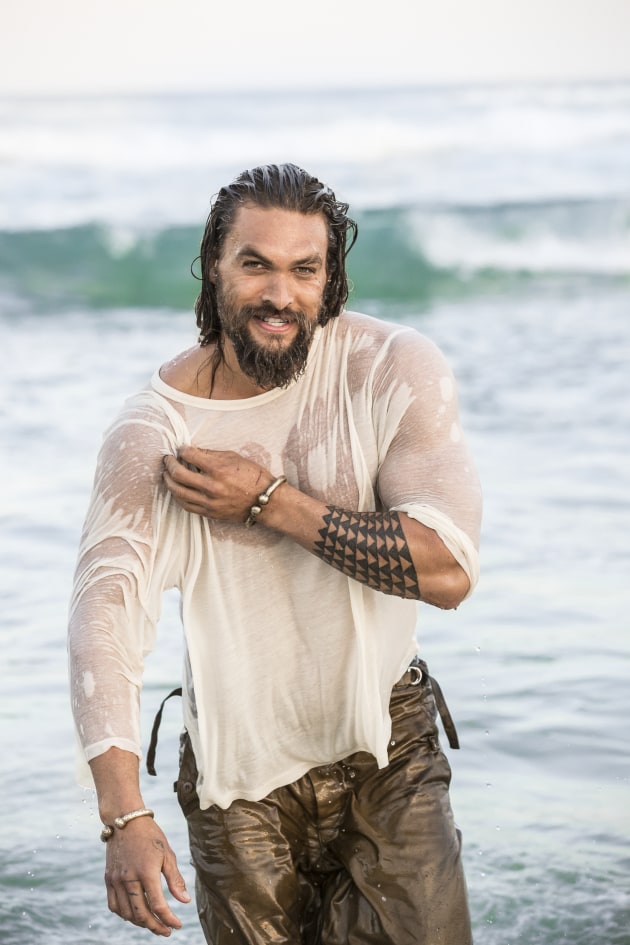 Do you do your own post or do you outsource it to a digital operator / pro retoucher?
I have a few great go-to's. My brother Justin Malinowski is a wizard. I also love the girls at She Touch. A good retouch is paramount – it can make or break a photo.
How has your photography evolved over the years?
Yes! I love change. I am constantly learning, evolving. Otherwise it would get pretty boring doing the same trick again and again. I see every shoot as a new opportunity to learn new things. I think that's how I ended up directing. I just wanted to expand my skill set. 
Any interesting projects coming up?
I'm working on a fashion shoot which is a subversive response inspired by the Barbie movie. Working with some incredible people, we will be shooting stills and motion. What started as a quick shoot with some friends, has now expanded into a bit of beast. I am so excited. The Barbie movie was impeccable. This is my response to it, throwing it into the cultural universe. What with Barbie and The Matildas incredible journey occurring simultaneously, this may be the tipping point culturally, a new stage in feminism.
What advice would you give to aspiring fashion photographers looking to make their mark in the industry?
Never stop learning, hustling, growing, testing and reaching out. Photographers are professional artists. Just don't let people exploit your passion.  
You can see more of Cybele's work on her website.