What the hell is an NFT, and why would someone pay $90 million for a JPEG?!
A digital artwork, Everydays — The First 5000 Days, has sold for an eye-watering US$69 million (approx. AU$90m) as an NFT in an online auction.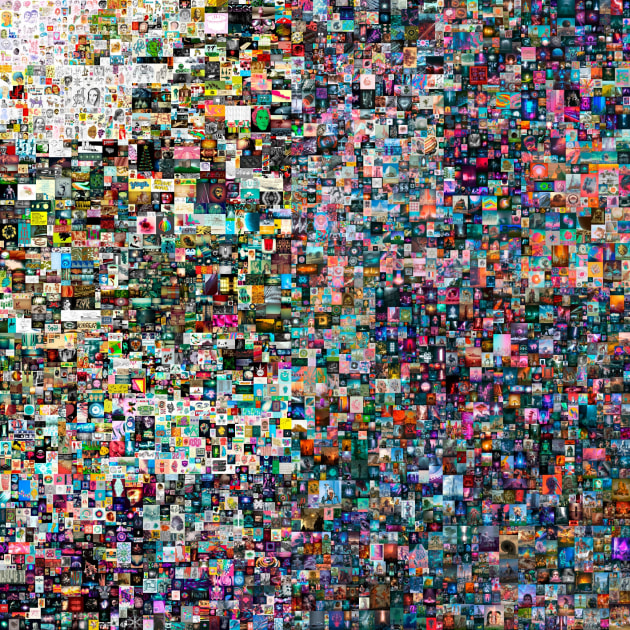 Cited in a New York Times article, a Christie's spokeswoman revealed that the final selling price was the third-highest auction price that has been attained by a living artist, after renowned artists David Hockney and Jeff Koons. With an opening bid of US$100, after two weeks the work finally sold for US$69,346,250, with over 180 bids in the final hour, and a total of 33 active bidders vying for the piece.
The work, created by graphic designer and motion artist Mike Winkelmann (b. 1981) who is also known as Beeple, is a collage that features all the artworks created and posted online by him, with one uploaded every single day from 1 May 2007 until 7 January 2021. 
As their first online auction of a purely digital artwork, Christie's listed the work as "a unique work in the history of digital art". Another first for the 255-year-old auction house was its acceptance of the Ethereum cryptocurrency as payment.
Beeple's JPG was officially 'minted', so to speak, in February as a 'non-fungible token' or NFT. As of late, NFTs have increased in popularity especially in the world of photography because the way they allow for verifiable and traceable sales and transfers of ownership with all transactions recorded on the blockchain – a digital ledger.
What is an NFT?
Essentially, 'non-fungible' means that the item in question, physical or digital, is completely unique and therefore cannot simply be exchanged for something of a similar value. Therefore, an NFT is a kind of cryptographic token that is representative of something that is unique.
NFTs are verified using the blockchain which gives a transparent and unchangeable record of the item's history of ownership, therefore creating a traceable chain between the original creator of the item and the current owner.
Simply put, whoever owns the token, owns the work. While other people can still view or download the work, there is only one registered owner of it, as reflected in the blockchain. 
To purchase an NFT, you need to transact in the same cryptocurrency as that of the blockchain the NFT has been created on. However, some NFT marketplaces allow users to simply sell and buy NFTs with the use of a bank account and credit card without the need to know anything about cryptocurrency. 
Notable, as well, is the fact that once photographers and visual artists have uploaded their image to an NFT marketplace, there is sometimes an option of attaching a royalty to their NFTs, such that they could earn a percentage on all future sales of their work. Read more about NFTs at this link.
Christie's Lot Essay
In May 2007, the digital artist known as Beeple set out to create and post a new work of art online every day. He hasn't missed a day since, creating a new digital picture every day for 5,000 days straight. Individually known as EVERYDAYS, collectively, the pieces form the core of EVERYDAYS: THE FIRST 5000 DAYS, one of the most unique bodies of work to emerge in the history of digital art.

Consumers of internet culture will already be familiar with the prolific digital output of graphic designer and motion artist Mike Winkelmann, better known as Beeple. The South Carolina-based artist's visionary, and often irreverent, digital pictures launched his meteoric rise to the top of the digital art world. He's attracted 1.8 million followers on Instagram and high-profile collaborations with global brands ranging from Louis Vuitton to Nike, as well as performing artists from Katy Perry to Childish Gambino.

In EVERYDAYS: THE FIRST 5000 DAYS, the artist has stitched together recurring themes and color schemes to create an aesthetic whole. Organized in loose chronological order, zooming in on individual pieces reveals abstract, fantastical, grotesque, and absurd pictures, alongside current events and deeply personal moments. Society's obsession with and fear of technology; the desire for and resentment of wealth; and America's recent political turbulence appear frequently throughout the work.
The notable difference between the pictures from Day 1 (1 May 2007) and Day 5,000 (7 January 2021) reveals Beeple's immense evolution as an artist. At the project's inception, EVERYDAYS consisted of basic drawings. Once Beeple started working in 3D, they took on abstract themes, color, form and repetition. In the last five years, however, his digital pictures have become increasingly timely, often reacting to current events.

"I almost look at it now like I'm a political cartoonist," Beeple explains. "Except instead of doing sketches, I'm using the most advanced 3D tools to make comments on current events, almost in real-time."

Get more stories like this delivered
free to your inbox. Sign up here.