Review: DJI Mini 4 Pro
Meet the Mini 4 Pro, DJI's newest featherweight wonder, that tips the scales at just under 250g.
It's also the first in DJI's compact Mini series to sport omnidirectional obstacle detection and avoidance. Plus, it's got a nifty feature called Waypoints, giving you the power to pre-plan your flights and relive routes over and over again.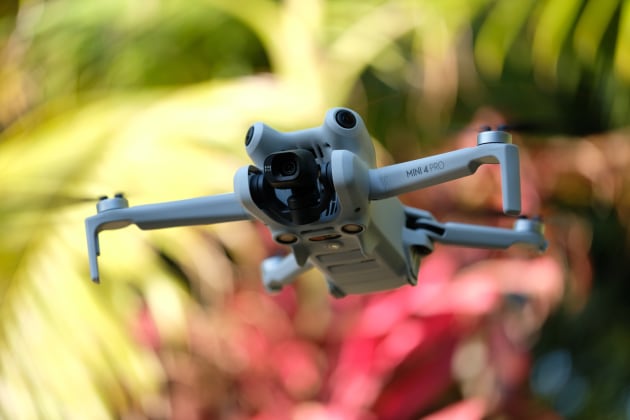 The Mini 4 Pro with DJI RC-N2 Remote Controller and one Intelligent Flight battery starts at $1,219, or with the RC 2 Remote Controller for $1,499. You can pay extra for the Fly More Combo, which includes the RC 2, three Intelligent Flight batteries, a two-way charging hub, and a carrying bag costs $1,849 while the Fly More Combo Plus, with Intelligent Flight Plus batteries is $1,939.
So, after a couple of weeks of putting it through its paces, did the hype soar to new heights, or is it time to consider an upgrade from the Mini 3 Pro that hit the skies not too long ago? Let's find out. 
Build quality
The Mini 4 Pro is tiny and weighing in at just 250 grams - which is remarkable when you really think about it - just consider how much a standard block of butter weighs!
The drone folds down seamlessly, making it a great choice for travelling when space and weight saving are critical - a step down in size when compared to the Air series.
As you'd expect, it has numerous obstacle sensors on all sides, with the vents on the Mini 4 Pro bigger and more pronounced, allowing for better airflow to help prevent overheating.
Externally, there's also a microSD card slot, and an impressive array of six fisheye vision sensors on the front, top, and bottom to manage the omnidirectional obstacle detection and avoidance.
This makes flying safer, especially for beginners, with the added peace of mind allowing users to either brake in front of or bypass an obstruction.
Opting for the pricier Fly More Combo Kit with RC 2 controller, you do get a more immersive flying experience. With the RC 2 controller you no longer need to have your smartphone attached to the controller, and it also comes with an efficient shoulder bag that fits the included three-battery charger, remote and drone, along with room to spare for all your extras.
Plus, it's a nice looking bag too, and the extra protective strap for the Mini 4 Pro is a smart addition. It helps safeguard those propellers when you're slipping it in and out of the bag.
Mini 3 Pro owners will be pleased knowing that the Mini 4 Pro shares the same batteries, so if you've got a collection already, that's a pocketful of savings when it comes to upgrading.
Speaking of battery life, you're looking at a solid 34 minutes with the standard Intelligent Flight battery, and if you opt for the Intelligent Flight Plus battery, you'll enjoy an extended flight of up to 45 minutes.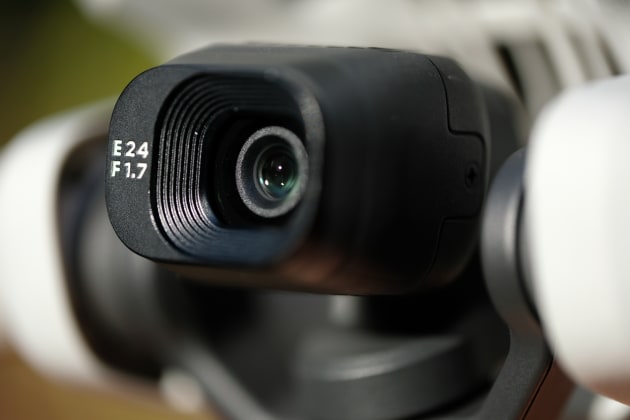 Keep in mind, though, that using the Intelligent Flight Plus battery does increase the overall weight, surpassing the 250g mark. This means you'll be sacrificing some of the perks of flying below that weight limit.
Finally, the Mini 4 Pro has internal storage, although this is just 2GB, which in reality is only a few minutes of 4K30 recording. Treat it as a last-minute failsafe for a lost memory card.
The camera
The Mini 4 Pro's camera mirrors its predecessor, promising similar photo and video quality. However, it amps up the game with the addition of D Log M, a flatter and more gradable picture profile than the previous D Cinelike.
The 48MP Type 1/1.3 CMOS sensor, likely the same as on the Mini 3 Pro, now comes with dual native ISO for greater image quality.
It also has the same 24mm equivalent lens and F1.7 aperture, which delivered consistently good results in my testing. The camera can also zoom up to 2X for photos and an impressive 4X when recording videos.
When it comes to capturing shots from different perspectives, the Mini 4 Pro allows users to rotate the camera a full 90 degrees for vertical shots - ideal for social media platforms such as Instagram and TikTok. This is achieved by the gimbal allowing a wider range of motion from -90 to 60 degrees.
In addition, DJI also offers an ND filter pack that makes controlling shutter speed possible in harsh or challenging lighting. And, if you're looking to expand your field of view, the wide-angle lens attachment (which will set you back about $50) will do just that. It takes you from a standard 82.1 degrees to a whopping 100 degrees, opening up new creative possibilities.
In testing I did notice some barrel distortion when shooting close subjects, however as you move further away this naturally diminishes. Its worth keeping in mind however.
Video
The Mini 4 Pro maxes out at 4K at 100 fps or 1080p at 200 fps, It also offers 4K at 60fps and 1080p at 120fps. You can digitally zoom, achieving two times in 4K and four times in 1080p, with a minimal loss in sharpness.
Videographers will love DJI's D-LogM, enhancing dynamic range for versatile post-production. While DJI provides a LUT for simpler conversion, additional editing might be beneficial.
It's worth mentioning the Mini 4 Pro also offers HLG mode, further lifting dynamic range. It also features 10-bit 4:2:0 capture for improved detail and minimal banding.
In flight
The Mini 4 Pro keeps DJI's user-friendly tradition alive - and as you'd expect there's no manual marathon needed if you're familiar with the company's gear. And don't be fooled by its size, this little powerhouse soars through the skies with the agility of its bigger counterparts.
For those who like planning their flying experience, the Mini 4 Pro introduces Waypoints Flight, letting you plan flights ahead. Plus, Cruise Control keeps a steady speed, reducing flight fatigue during recording, both new additions to the Mini series.
DJI has added to Mini 4 Pro's intelligent flight modes, known as ActiveTrack 360. The first of these is the Touch Trace feature. This allows for greater control over tracking for more precise adjustments in both direction and distance, especially when following dynamic subjects like cars or individuals.
The Mini 4 Pro also gains an improved transmission system, the O4. In testing, I found the acquisition of the GPS signal was extremely fast after powering on the drone, and I had no issues with connectivity even when dropping behind a mountain range, something with which my own Air 2S struggles with.
In summary
The DJI Mini 4 Pro is perhaps an iterative update, but it does strengthen the foundations set by the Mini 3 Pro. With enhanced obstacle avoidance, upgraded camera capabilities, and a wider array of flight modes, it presents a refined choice for both novices and seasoned drone enthusiasts.
The wrap-up
Handling (4 star)
Great for its compact size, lightweight, and it handles well.
Build Quality (2.5 stars)
Good. Although the plastic build necessary to keep the weight down does feels cheaper than other more 'premium' DJI drones.
Features (4 star)
Great features such as new sensors and transmission system make it worthy.
Image Quality (3 star)
Decent, but at 48MP images aren't perhaps as sharp as you might expect.
Final word
Whether you're diving into the drone world for the first time, considering an upgrade, or seeking a more manageable option, the DJI Mini 4 Pro is a clear winner. However, if you're already soaring high with the Mini 3 or Mini 3 Pro, the upgrade might not bring the seismic shift you might be expecting.
So while it may not be a monumental leap forward, what the Mini 4 Pro does do is fine-tune an already exceptional flying experience. It's versatile, caters to nearly every need, and its compact size and price point make it potentially more appealing for many drone users.