1950's Dorothea Lange print expeted to fetch up to $100,000 at auction
Perhaps one of the most famous photos of the Great Depression, a 1950's-era gelatin silver print of Dorothea Lange's famous image, Migrant Mother, will be auctioned on 12 May through Hindman Auctions.
The print was made sometime in the 1950's under Lange's direct supervision. Interestingly, the print was originally acquired from the family of the artist, and it also appears somewhat different to prints made earlier in that the subjects thumb has been removed from the image.
Lange originally captured the image in 1936, in Nipomo, California. The main subject of the image is Florence Ownes Thompson. Lange met her at a migrant camp occupied by field workers whose lives were devastated by the failure of pea crops. Lange had been employed by the Farm Security Administration, an organization that was formed to raise awareness of and provide aid to impoverished farmers.
Relating how the images was captured, Lange said years after its capture: "I saw and approached the hungry and desperate mother, as if drawn by a magnet. I do not remember how I explained my presence or my camera to her, but I do remember she asked me no questions. I made five exposures, working closer and closer from the same direction.  
"I did not ask her name or her history. She told me her age, that she was thirty-two. She and her children had been living on frozen vegetables from the field and wild birds the children caught. The pea crop had frozen; there was no work. Yet they could not move on, for she had just sold the tires from the car to buy food. There she sat in that lean-to tent with her children huddled around her, and seemed to know that my pictures might help her, and so she helped me. There was a sort of equality about it."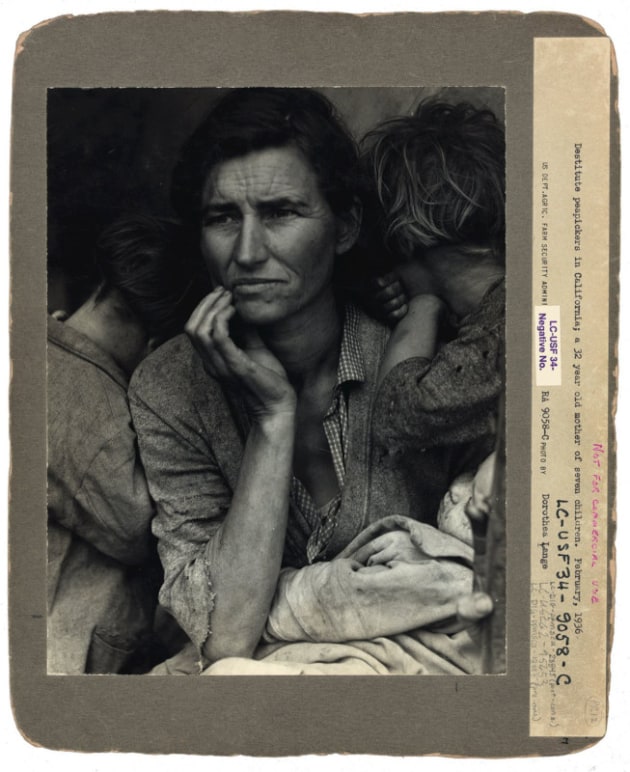 Migrant Mother is expected to fetch between US$50,000-$70,000 ($A$71,000-$100,000).
To learn more about the image, follow this link.

Get more stories like this delivered
free to your inbox. Sign up here.