Tested: ASUS ProArt PA32UCG-K 32-inch HDR monitor
SPONSORED
If you've been searching for a premium monitor, boasting some of the most impressive specs around, then your search is over. Look no further - ASUS' 32-inch 4K HDR PA32UCG-K is the monitor you've been waiting for. Positioned at the premium end of the market, the company's newest flagship boasts an impressive array of features along with a price tag to match. I'm not kidding when I tell you that a "wow" escaped my lips when I first powered it up, and if you're the kind of photographer who demands the best, then this is the monitor for you.
Geared towards an HDR workflow, the PA32UCG-K is perfect for colour critical work, whether photographic or motion, and photographers and cinematographers will be impressed with its capabilities.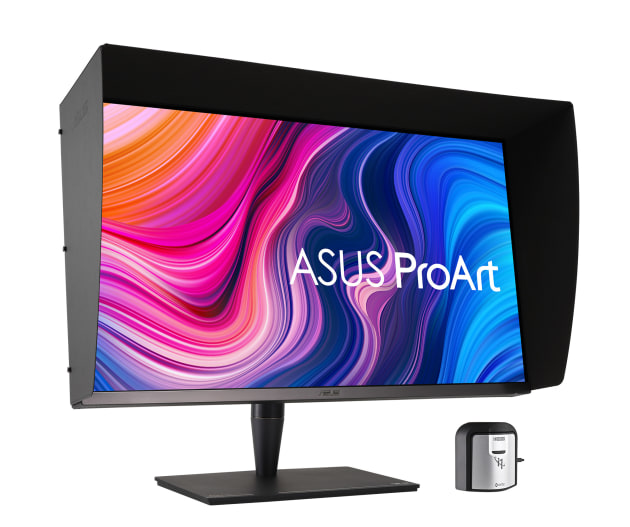 Not only is this the world's first panel to boast a peak brightness of 1600 cd/m2, sustained at 1000 cd/m2, it has an industry leading refresh rate of 120Hz. Colour purists can rest easy knowing that the panels come factory pre-calibrated, along with a detailed report. In fact, the comprehensive three-page report reveals testing done to reflect industry-leading Delta E < 1 colour difference for both Adobe RGB and sRGB. The report for this panel reviewed showed the average Delta E for sRBG as 0.55 and 0.32 for Adobe RGB.
Setting up
As with other ASUS monitors we've reviewed, set up was straightforward. However, given the size and weight of the PA32UCG-K, you'd be wise to have a colleague on hand to assist with attaching the panel to the stand.
The base feels super solid, which is just as well given the size and weight of the panel. The stand also features a hole for cable management. But, if you prefer to have it wall mounted, this is also an option. 
Finally, the monitor also comes with an easy-to-attach hood ideal for reducing ambient light and reflections for greater accuracy and more realistic colours. 
Performance
A 10-bit IPS panel, this ProArt panel offers superb contrast and colour from any angle and relies on ASUS' Off-Axis Contrast Optimization (OCO) technology to deliver superb contrast and colour from any angle, perfect for when viewing images with clients.
Boasting a contrast ratio of 1,000,000:1, you'll be assured of sensational contrast between the deepest black and brightest whites. And, knowing that the panel comes factory pre-calibrated to the highest standards, means you can be assured of colour fidelity right out the box. 
Other features
The ASUS PA32UCG-K also boasts a wealth of features to thrill those working with motion, including support for Dolby Vision, HLG, and HDR-10. The panel comes with a certified high-speed HDMI cable designed to take full advantage of the new HDMI 2.1 standard which allows the panel to display 4k images at up to 120fps, compared with up to 60fps with HDMI 2.0. Importantly, the high refresh rate also makes the panel more comfortable to work on for extended hours.
Compared to conventional panels of the same size, the PA32UCG-K has three times the number of LEDs, and its reliance on MiniLED technology with 1152 backlight zones means that there's considerably less light bleed for the crispest of images. 
The Picture-by-Picture (PbP) mode allows you to view up to four different settings simultaneously by placing multiple input sources onscreen side-by-side. This will be of benefit to many photographers who may like to plug another laptop into the panel to view how an image appears in both sRGB and Adobe RGB, for example.
As with other ASUS panels, the PA32UCG-K features ASUS' Ultra-Low Blue Light technology which allows you to dial down the amount of blue-light emissions from the screen. Obviously, this is not something you want to do when doing colour-critical work but it's crucial for late night sessions, when sifting through your e-mails or other admin tasks and is beneficial to your vision. The filter can be set from zero to five. Adjusted via the on-screen display menu, you can also set a user-designated quick-access shortcut.
True colours
If colour accuracy is crucial to you and your workflow, you'll be pleased to learn that the PA32UCG-K offers impressive coverage of Adobe RGB (99.5%), sRBG (100%), and DCI-P3 (98%) – the cinema colour range. Even the best monitors require regular colour calibration, and just so that you have no excuses at all, the PA32UCG-K ships with an X-Rite i1 Display Pro colourimeter to calibrate your monitor. Being a hardware calibrated monitor, as opposed to lower-end offerings that are software calibrated, ASUS ProArt Calibration technology saves all colour profiles on the ProArt monitor's internal scaler IC chip, instead of on your computer.
Control and connectivity
The monitor has a minimalist design. All the controls are located on the rear right of the monitor and include a joystick for navigation along with five buttons and standby power button.
The multitude of connectivity options make for a seamless creative workflow and include one HDMI (v2.1), two HDMI (v2.0), DisplayPort 1.4, two Thunderbolt 3 USB-C, and a USB hub with three USB-A ports. USB-C power delivery sits at a healthy 60W, so it is possible to power your laptop.
Final thoughts
There's no doubting that the PA32UCG-K is a premium offering, with industry-leading features and amazing build quality, and it's also perfect for an HDR workflow where colour accuracy is critical. That said, it's not something for the budget-conscious, and as a result is priced at the upper end of image-editing monitors. However, with industry-leading features and boasting a number of world-firsts, it's likely to be high on the list of those demanding the very best. 
Finally, what's the worst part of this review? Knowing I'd have to part with the panel eventually, along with the fact that it made working on my laptop feel like staring into an abyss. 
Specs
Panel Size (inch): 27
Aspect Ratio: 16:9
Display Viewing Area (H x V): 596.74 x 335.66 mm
Display Surface: Non-Glare
Panel Type: IPS
Viewing Angle (CR≧10, H/V): 178°/ 178°
Pixel Pitch: 0.233mm
Resolution: 2560 x 1440
Color Space (sRGB): 100%
Brightness (Typ.): 350cd/㎡
Contrast Ratio (Typical): 1000:1
Display Colours: 16.7M
Response Time: 5ms (GTG)
Refresh Rate (Max): 75Hz
Flicker-free: Yes
LCD ZBD Warranty: Yes (3 yr.)