Selecting paper stocks for Fine Art and Photography
Choosing the right paper for a printing job can be a daunting task. It doesn't have to be though! When selecting the best paper type for a particular job, you are often faced with an overwhelming number of options. 
With today's multitude of media options, here are some valuable points to consider when choosing your paper, making it a more enjoyable process.
Samples
Request a sample pack from your supplier or contact your local Spicers Fine Art & Photography specialist to help guide you through the array of paper stock options best suited to your specific requirements.
It's important to look, touch, and feel the paper and textures. Obtain printed samples where possible to inspect the gamut of the stocks.
How and where will your work be displayed?
This plays an important role in selecting the right paper stock. Will it be framed or mounted? There is always a paper finish that will best suit the environment or space in which your image will be displayed.
Printing
Consult with a Fine Art and Print Specialist as they will be able to guide you through technical, aesthetic techniques, and all other options to produce your desired effects. Use professionally made Profiles to avoid disappointment in print.
Personal preference
You may already have a 'go-to' or signature stock, so choose something similar in look and feel. Personal preference is always key.
Technical and Aesthetic considerations
Samples
Request to view samples to help you select the suitable papers for texture, structure, and surface. i.e., Satin, Matt, Metallic, Gloss, Canvas, etc.
Matt vs Gloss
Matt finish papers have a smooth and natural looking surface without the sheen and reflection that comes with a gloss paper. A matt finish can help emphasise different colours, tones, and offer an authentic, sharp look for art reproductions.
Gloss paper generally has an ultra-smooth, reflective surface created by a resin coating. Gloss finishes are great for bringing out contrast, detail, and radiant colour (punch) in your images and the smooth shiny surface allows for pin-sharp detail.
Gloss finishes are popular for posters and commercial photographs. Keep in mind however, if you are displaying your image on gloss paper you may have trouble with glare at certain angles. It has less resistance to fingerprints, scratches, and scuffs which may cause handling issues, so handle with extra care.
Smooth vs Textured
Textured papers feel pleasant when handled and can help enhance image depth and reality. Certain textures suit particular art reproductions as they can add another dimension to the image.
Generally, smooth substrates will look better and more detailed when exhibited     behind glass than highly textured papers as too much texture can confuse an image and shift focus.
Thickness
Fine art and photo print papers come in different grammages (gsm). Artists prefer a heavier paper as it offers rigidity and a more substantial feel. However, it can also retain more curl memory when using large roll media, therefore working with thicker stocks requires more skill in production and handling.

Gamut
The range of colours a printer/ink/paper combination can reproduce. Print Gamut is also affected by the colour space of the camera, computer (software) and printer. Seek advice from your print specialist to ensure the appropriate print profile is used for your media to achieve a colour accurate print.
Longevity
Select paper stocks which have Archival Certifications or Rating to resist fading. This is particularly important to museums, galleries, and long-term collectors.
Choosing paper should be an enjoyable process as it helps elevate and complement your image or artwork. "It all comes down to personal preference and a few specific requirements. A good paper choice can take the artwork to the next level in artistic expression and improve its value to the collector," says Daniela Barth, Spicers Fine Art & Photography specialist. "There has been an increase in demand for more sustainable and greener options that can guarantee extraordinary print results and outstanding reproduction. Hahnemühle have been pioneers in this field and have introduced the Natural Line in its Digital Fine Art Collection," she adds. Hahnemühle has been a trusted brand since 1584, and is synonymous with true quality and brilliance.
Why use Hahnemühle Digital FineArt papers?
Their special inkjet print coatings have been developed over many years and are subject to continuous testing. Quality Control is everything and no one does this better than Hahnemühle. The product range includes a large selection of textures, and finishes, with an array of sheet and roll sizes that appeal due to their unique feel, superb surface structure and outstanding colour gamut. The Digital FineArt papers have been developed for artists who place extremely high demands on Fine Art papers for inkjet printers.
All Hahnemühle papers have been certified by independent institutes to be highly resistant to ageing and are vegan, in order to meet the highest requirements of customers. The collection is a comprehensive assortment of FineArt inkjet papers, created for customers who are looking for something special and want to get the best out of their images.
Hahnemühle is the favourite amongst fine art specialists and enthusiasts.
Technical fact sheets can easily be obtained through the Spicers website or by contacting your local Spicers representative. Print profiles can be downloaded from the Hahnemühle website.
Natural Line
A collection of FineArt inkjet papers made from unique raw materials: bamboo, hemp, and agave. The plants that provide the cellulose require minimal maintenance, grow quickly and don't need any pesticides. Their rapid growth means that more cellulose can be produced on the same cropland than with other raw materials, and they also require much less water, helping to save valuable resources and protect the environment.
The Hahnemühle Natural Line range has been awarded Best Inkjet Media: Fine Art Finish Award for 2020 voted by the readers of Photography News Magazine UK.
This is the second award for the recently launched range, following on from the TIPA World Award in the category of Best Inkjet Photo Paper as voted by the editors and publishers of 30 photo and imaging magazines in 2020.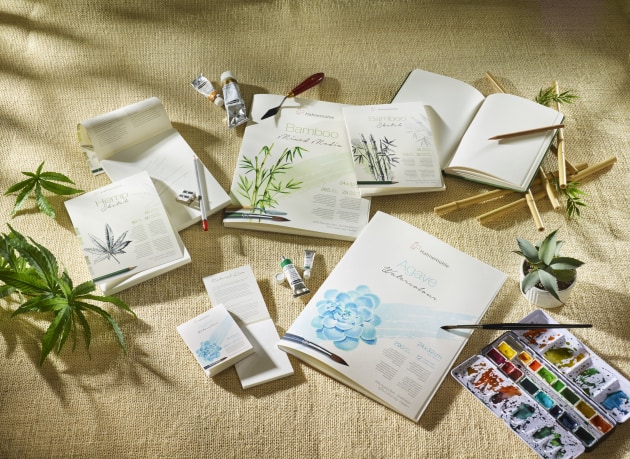 Matt FineArt Smooth
All the paper types in the Matt FineArt Smooth range have a delicately matt surface.
Matt FineArt Textured
The range covers all matt papers with a distinctly textured surface.
Glossy FineArt
These artist papers made of 100% cotton or pure alpha cellulose are provided with a Premium-Inkjet coating. The gloss range extends from subtle gloss (Satin) to mid lustre (Pearl) through to high gloss (Baryta).
Canvas FineArt
The Canvas assortment for FineArt inkjet printing offers a wide choice of canvas made from cotton or poly-cotton blends. With its selection of colours and structures the assortment enables every artwork to have a unique character.
:The Hahnemühle range is a favourite amongst my customers of Artists, Photographers and Fine Art Printers. It's the brand they prefer due to the reliability of the product, luxury and prestige of the Hahnemühle brand – Spicers is thrilled to be the Australian and New Zealand distributer," says Daniela Barth.
Whether it's a print of a portrait or rolling landscapes, your choice of paper has a crucial role to play in fine art printing. It's a personal choice that allows you to create consistency in post processing, presentation and to show your own style in selecting a signature paper. It's adding that special touch.
For further enquiries or a sample, contact your local Spicers Fine Art & Photography specialists on 1300 132 644 or visit spicers.com.au