Review: ASUS ProArt PA329CV
We now look at more content than ever on our computer screens and while many people use two or more monitors to view everything at once, some are preferring to work with just one big 4K monitor. Aside from the fact that 4K monitors have four times the pixel density of a conventional display, a large 4K monitor also makes it a lot easier to enjoy big pictures.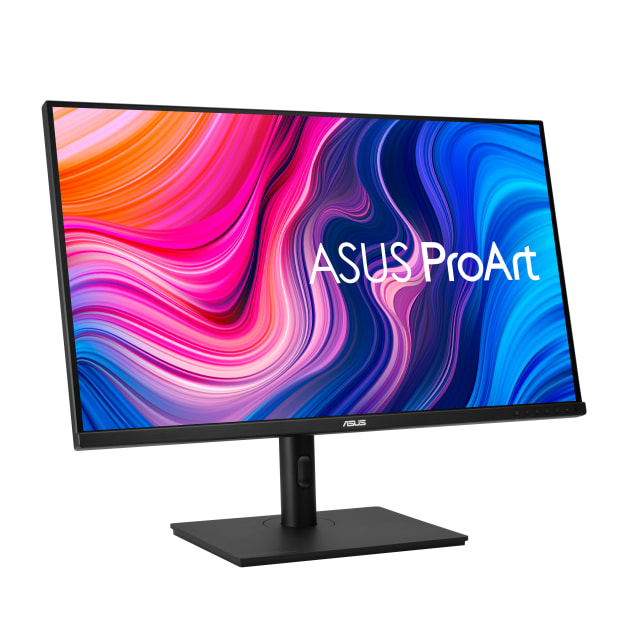 Until recently, photo quality monitors in this class were costing $3000 or more, but recently ASUS released a 32" 4k monitor for just $999 and it could be the perfect display choice for recreational photographers.
The ASUS ProArt PA329CV 32-inch 4K UHD (3840 x 2160) monitor has a viewing area of 708 x 398mm, which over 100mm wider than an A2 print. This makes it easy to view multiple documents at once or study spreadsheets and schedules without doing much scrolling, but more importantly, it makes the monitor perfect for working on photos and videos at a comfortable size.
The ProArt PA329CV is illuminated by a flicker-free WLED backlight that provides a maximum luminance of 350 cd/m² and a peak of 400 cd/m² in HDR. Controlling the picture is an In-Plane Switching (IPS) panel that has a wide viewing angle of 178º (horizontal and vertical) and a passive contrast range of 1:1000.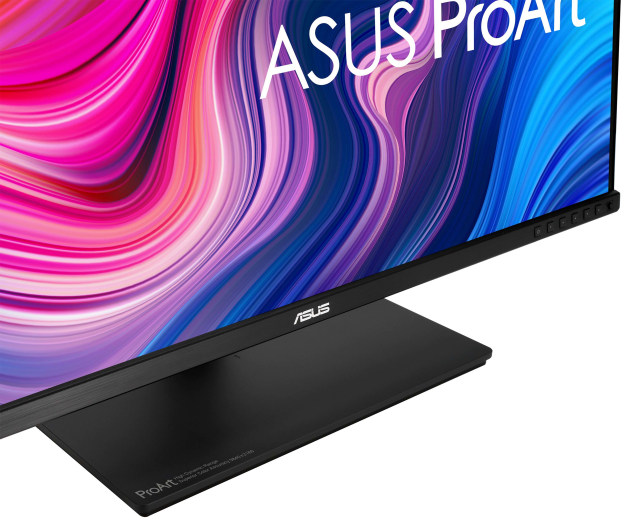 Operating in 10-bit colour to reveal over 1-billion colours, the ProArt PA329CV monitor can display 100% of sRGB and 100% of Rec. 709 colour gamut. A Calman Verified colour calibration testing report is also supplied with the monitor to verify it has a factory calibrated Delta E of < 2, meaning any colour variation between pixels is almost imperceptible.
Design wise, the ASUS ProArt PA329CV is rather elegant; the display is supplied already mounted to a black powder-coated metal column that easily attaches to either a desk stand or a C-clamp stand that latches to the rear of a desk; both are supplied. A small opening in the base of the column makes it easy to manage the power and data cords.
Connections into the monitor include a Display Port 1.2, two HDMI 2.0 inputs, a USB Type C port and four USB Type A downstream connections. The monitor also has 2x 2watt speakers and 3.5mm stereo headphone jack.
When mounted the display can be raised or lowered 130mm, tilted upward 23º and down -5º, swivelled left or right 30º and pivoted 90º between landscape and portrait orientations. The antiglare screen is surrounded by a slim 2mm bezel but when you turn on the display the apparent black edge is closer to about 7mm.
A 15mm bezel at the bottom of the display houses five control buttons and a mini joystick for system navigation. While most of the buttons have an obvious function (power, input, brightness, etc), the "ASUS Ultra-Low Blue Light" control seems out of place.
By selecting one of the four presets you can control how much blue light you are seeing for the monitor, thereby protecting your eyesight; this can be useful when reading documents or watching movies but it is impractical when doing colour critical work on Photographs.

Once the monitor is connected to your computer it soon becomes rather indispensable, smaller screens just seem small! You do have to sit back a few extra centimetres to enjoy the view, but even in 4K mode the text in most applications is easy to read.
Wake up time is about 9-seconds, which can be annoying if you let your computer regularly go to sleep, but that is a small niggle. The display delivers super crisp images with colours that are consistent and reliable, even when reviewing files that have been edited on much more expensive screens.
The monitor does lack some features that you might find on more expensive monitors, including a display hood and built-in self-calibration, but you are paying less than half or even a third the price of those machines.
And yes, there are cheaper 32"4K monitors on the market too, but whether they have an IPS panel that can such clarity and colour accuracy is another question too.

For $999, the ASUS ProArt PA329CV is actually very good buying. Now to see how long I can keep using it before they ask for it back!
The W

rap-

U

p
Set-up and Handling ★★★★★
The monitor is easy to set on either the base or C-stand (both are supplied). Connecting the computer iseasy, particularly if you use the USB-C connection for the display. The main controls are also easy to use and understand. The only thing worth checking before you buy this monitor is that your computer's display output can support 4K.
Features ★★★★
The fact this monitor uses a colour calibrated IPS panel is a plus in anyone's book. What the display does lack compared to some other screens in this class are items like a monitor hood and built-in hardware calibration, but most people aren't going to be worried about this.
Image quality ★★★★
This screen is overall very enjoyable to use; text and documents are very easy to read on it, but more importantly, images look great on this screen too. Colours appear smooth and clean and the large amount of realestate makes it easy
Value for money ★★★★★
With a recommended retail price of just $999, the ASUS ProArt PA329CV is one of the more affordable 32" 4K monitors on the market to feature a colour calibrated In-Plane Switching panel.
While some more professionals might prefer to buy a more expensive option, this monitor is definitely well suited to recreational photographers looking for an affordable yet reliable display.
Specs
Panel Size: 31.9 inches
Panel Aspect Ratio: 16:9
Native Resolution: 4K / UHD / 3840 x 2160-pixels
Refresh Rate: 60Hz
Panel Technology: LED illuminated IPS
Viewing Angle: 178 degrees
Brightness: 350 cd/m2
Static Contrast: 1000:1
Viewing Options: 130mm height adjustment, ±30º swivel, -5 to +23º tilt and±90º pivot
Gamut: 100% sRGB and 100% Rec. 709.
Connections In: 1x USB 3.1 Type C upstream with 90 watts power delivery. 4x USB Type A downstream, 2x HDMI 2.0, 1 x DisplayPor 2.1and a 3.5mm stereo headphone jack.
Power: 100-240 volts
Supplied in box: Monitor, Stand and Base and C-stand clamp, Pre-calibration report, HDMI cable, DisplayPort cable, USB C cable, power cord and quick start guide.
Dimensions (HxWxD) w/o base: 428.13mm x 727.08mm x 67.72mm
Weight 8.03 kg without stand, 12.6kg with stand
Price: $998