Leica M11
The latest camera to be announced by Leica is the new M11. Aesthetically the M11 appears to share much with its predecessors – a classic M-series design that dates back to the 1950s. However, look beneath the surface and Leica's newest rangefinder boasts a number of impressive features.
The Leica M11 has a full-frame BSI CMOS sensor with Triple Resolution Technology which allows for RAW files in DNG format and JPEGs to be recorded at 60, 36, or 18 megapixels, always using the full sensor area. The 60-megapixel sensor is a big jump from the 24-megapixel M10 and the 40-megapixel M10-R.  The M11 has an ISO range of 64 – 50,000, with images recorded in 14-bit colour depth. It has a dynamic range of up to 15 stops.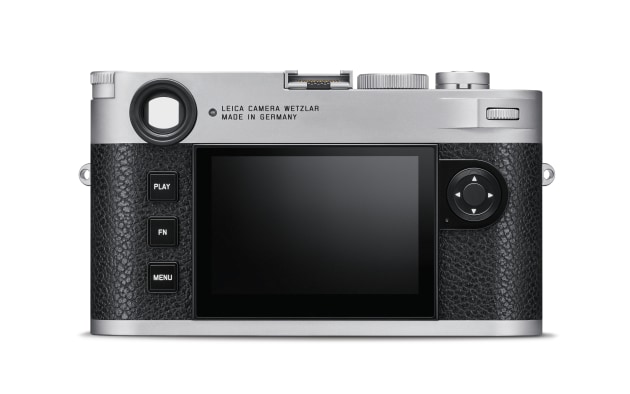 In terms of ergonomics, camera controls have been arranged in a user-friendly layout around the new, 2.3 million pixels, high-resolution touchscreen, which is up from 1.04 million pixels on the M10 models. Users of Leica's Leica SL2 and Q2 will find the menu structure remains consistent across the M11.
Unlike earlier models, the M11 has no traditional base plate, and instead offers photographers direct access to the battery and SD card. The M11 is the first M-model to save image files simultaneously onto two different storage media – the SD card along with 64GB of internal storage.
The 1800mAh battery of the M11 stores 64% more energy than before. Combined with the camera's more efficient operation, users will have considerably longer shooting sessions with a single charge. For convenience, the newly added universal USB-C port also serves to charge the camera's battery using most USB-C chargers.
The black-finish variant of the Leica M11 features a top plate made of high-quality aluminium with an especially scratch-resistant coating, resulting in a body that is approximately 20% (100 grams) lighter than its silver-chrome counterpart. By comparison, the silver-chrome M11 features a classic brass top plate and weighs in at 640 grams. 
The Leica M11 body is available in silver or black with a price tag of $13,500, available from Leica dealers or the Leica Store.
 A presentation of the new camera appears below.

Get more stories like this delivered
free to your inbox. Sign up here.