ASUS ProArt PA278QV: Is this your next monitor?
A stylish all-rounder at a budget-friendly price, offering 100% sRGB coverage, makes the ASUS ProArt PA278QV a great choice for a variety of tasks.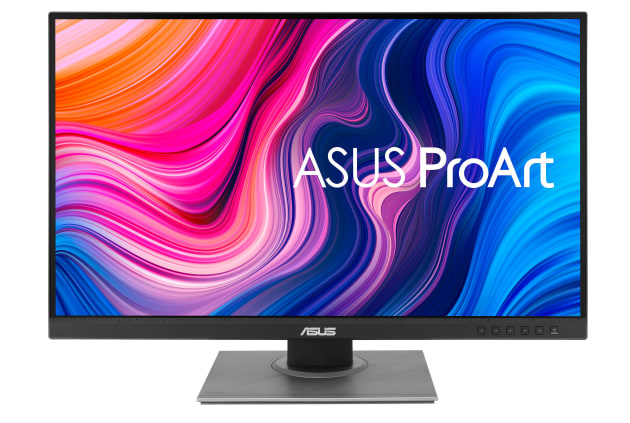 The ASUS 27-inch PA278QV ProArt panel is the entry-level offering in the ProArt series of monitors and is ideal for those after a very capable monitor at a friendly price point. The WQHD panel boasts a resolution of 2560 x 1440 pixels and is suited to a wide variety of content creators from photographers to videographers, cinematographers and colourists. 
The setup
Setting the monitor up is, in a word, effortless. The base has a brushed metallic look and attaches simply and easily to the adjustable arm of the monitor with a single screw to finger tighten.

It is certainly easier and less fiddly than some other offerings on the market. Its solid build makes it feel like a quality product, and it is also rather stylish in appearance.
There is no evidence of any dead pixels or magenta/green tinting. (The best way to check this with any new monitor is to open a white document, ensuring it covers the entire screen.)
The versatile four-way ergonomic stand features a relatively compact, squarish footprint (23 x 26 cm) and allows you to adjust height (0 to 150mm), swivel (+90° to -90°), tilt (+35° to -5°), and pivot (+90° to -90°) of the display for either landscape or portrait orientation depending on the task or your preferred way of working.

The stand also features a rectangular hole for cable management. 
Performance
The monitor can reproduce 100% of the sRGB colour gamut. In terms of colour consistency, the PA278QV is excellent for on-screen viewing, image editing, and colour print matching.
That said, if you are preparing images for exhibition purposes or, say, still-life high-end advertising use, you might want to consider one of the higher-end panels in the ProArt range.
Those processing images for print will find the ASUS QuickFit Virtual Scale particularly useful. The feature allows you to overlay a grid or virtual ruler on the screen so that you can align and preview images in their actual sizes without having to print until you've made all your adjustments. Current preset sizes include A4 and B5.
The ASUS ProArt PA278QV comes Calman Verified and includes a Color Calibration Testing report for each individual monitor with its unique serial number stated.

Factory colour calibration provides accurate reproduction on screen along with colour accuracy of Delta E <2, providing confidence that what you're viewing on the screen accurately represents the colours in your images.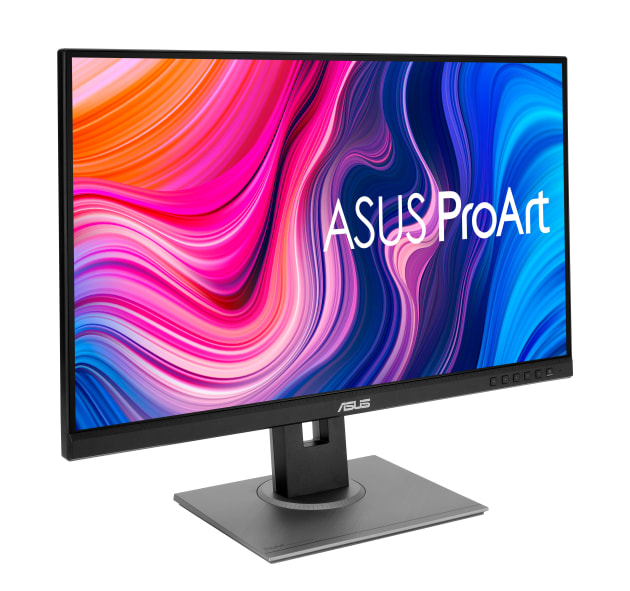 Save your eyes
ASUS' Ultra-Low Blue Light technology is particularly useful for general admin tasks after dark. It allows you to adjust the amount of blue-light emissions from the screen, as these can be harmful to your vision.

There are four filter settings that can be adjusted via the on-screen display menu, or via a user-designated quick-access shortcut.
When working on colour-critical work, set the filter to zero, but if you're working late into the night trying to tame an out-of-control inbox, you might want to crank the filter to maximum. 
Control and connectivity
An array of buttons on the front of the monitor makes navigating the on-screen display menu a breeze, and adjusting and tweaking the settings according to your preferences or working conditions couldn't be easier, including the ability to set up two shortcuts for frequently accessed setting, such as the Blue Light Filter. For convenience, each of the five buttons will bring up the menu. 
In terms of connectivity, there are several options including DisplayPort 1.2, Mini DisplayPort, DVI-D, HDMI (v 1.4), 3.5mm audio input, 3.5mm headphone jack, along with a built-in USB hub with four USB 3.0 ports so you can not only charge devices, even in standby mode, but also take advantage of ultrafast transfer speeds with external storage devices.
Final thoughts
Overall, a great monitor from ASUS, the PA278QV is perfectly suited for a variety of uses and offers solid performance in a stylish package.

An affordable, budget-friendly offering with excellent features for the price, for peace-of-mind, the monitor comes with a three-year warranty that covers the panel and system hardware.
More information