2020's Most Powerful Mirrorless Cameras
If you are looking to upgrade your camera from an older model or make the switch from DSLR to a mirrorless option, then we have put together a handy guide on the hottest and most powerful options which you could choose from. A mirrorless camera is able to offers something very different from most DSLRs which you can find on the market, more agile, more compact and with the ability to help the photographer take shots which meet a very high standard indeed.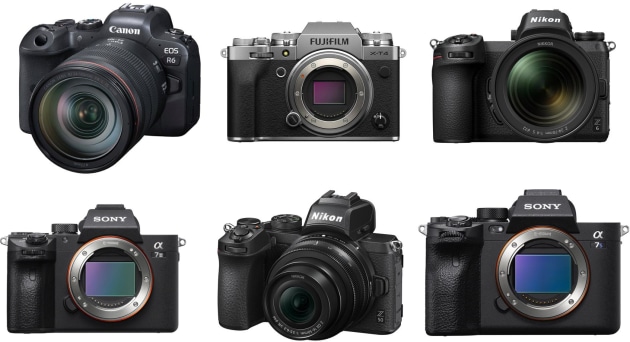 There are more amateurs taking up photography than ever before and those Instagrammers and new hobbyists require high quality and slick products to shoot videos and high-quality images. This is undoubtedly one of the reasons why this year in particular, has seen the arrival of some seriously high-quality products. Moreover, this year, each manufacturer has placed greater importance than ever on the all-in-one experience, which packs in automatic settings for the finest photographs and videos. Let's take a look then at some of this year's releases which you should be considering for your next camera.
Canon EOS R6
In terms of Canon mirrorless cameras which are on the market, this is the best of the bunch. The EOS R6 may be at the higher end of the price scale but given what it offers, many will say that it certainly provides value for money. Key highlights of this product include outstanding autofocus, dual card slots and a seriously impressive IBIS system. This may not be the best option for those who will be looking to shoot a lot of videos, as the R6 does have some recording limits. For pure photographers, this is an excellent choice.
Nikon Z6
For anyone looking for a great all-rounder, the Nikon Z6 is where you ought to be looking. From its 24.5MP sensor to its 4K video recording quality, there aren't too many weaknesses which can be found in the Z6's arsenal. Beyond this the product offers a razor-sharp 3.69 million dot EVF, as well as a tight, 273-point autofocus. This is the ideal product for those at the intermediate/expert levels, who will certainly enjoy exploring the vast capabilities of this product.

FujiFilm X-T4
There aren't too many cameras which are able to offer such high quality in both video shooting and taking photographs, quite like the Fujifilm X-T4. As if offering such a high quality was not enough, the common complain of many Fujifilm cameras has been addressed, and the battery life issues are now very much a thing of the past. The X-T4 has been given the IBIS treatment too and its shutter is the quietest of any camera which they have created. Packed with 425-point autofocus and a resolution of 26.1 MP, this is undoubtedly one of the best mirrorless cameras which we have seen so far this year.
Sony A7 III
Somewhat surprisingly Sony were one of the latest companies to release its first mirrorless camera, yet given the quality of the piece, it was certainly worth the wait. The A7 III features an incredible 693-point AF system, with burst shooting of 10 frames per second. Another surprise with this Sony product, and possibly the only criticism which could be made, is that the touchscreen is very limited with regards to options and usability. Beyond this however it is the quality of the image on which we should focus, and this is exactly why this product makes the list. What Sony have done here is to strip the very best features from its A9 and A7R III products, and repackage it within the A7 III. With this camera, photographers will find that professional grade photos are within their reach more than ever before. To date, Sony mirrorless cameras are considered to be one of the most feature-rich cameras that you can get your hands on.
Nikon Z50
Nikon have created something of a reputation for cameras which handle well and the Z50 is no different. In fact, for those who have decided to migrate from their DSLR, this could be the perfect entry product into the world of mirrorless cameras. There is of course much more to a camera than the way in which it handles, and you'll be pleased to learn that the Z50 also packs quite a punch on the hardware side of things. Offering viewfinder of 2.36 million dots, more than any other on this list, plus with 4K movies at 30 frames per second, this is a camera for all conditions and uses. Given that this was Nikon's first foray in the mirrorless camera market, they have managed to create a truly wonderful product for beginners and intermediate level photographers.
Sony A7S III
Given the growing demand for cameras with which high quality videos can be taken, we have decided to include in this list the Sony A7S III, a videographer's idea of heaven. The photography which the camera can achieve is to a good standard, not worthy on its own of featuring in the most 'powerful mirrorless cameras' list. What it lacks in photography however, this camera more than makes up for it when it comes to shooting video. There is no other mirrorless camera on the market which can offer the quality of low-light video which this can and its enormous battery life offers hours of uninterrupted filming. There has been something of a rush by many to try 6K or 8K products, neither of which the A7S III is able to offer. In spite of this however, the crispness and the automatic noise management under high ISO levels make this one of the finest mirrorless cameras out there for video shooting.
Plenty of options

These are just some of the finest offerings which we have seen so far this year. As the year progresses, we will ensure that we keep you updated with which mirrorless cameras are the best with regards to value for money and the quality which they are able to offer. Any products you think we may have missed, don't hesitate to get in touch.