The Year in Review – Wedding & Portrait
In March 2020, weddings were being postponed or cancelled across the world. And portrait sessions became impossible as people were confined to their own homes. This didn't just last for weeks. It was months before we all emerged from isolation. To describe the situation as 'challenging' hardly comes close to encapsulating just how difficult a time it's been for wedding and portrait photographers. But, many mustered new resources, found new attitudes, and dusted off dormant skills. Candide McDonald reports.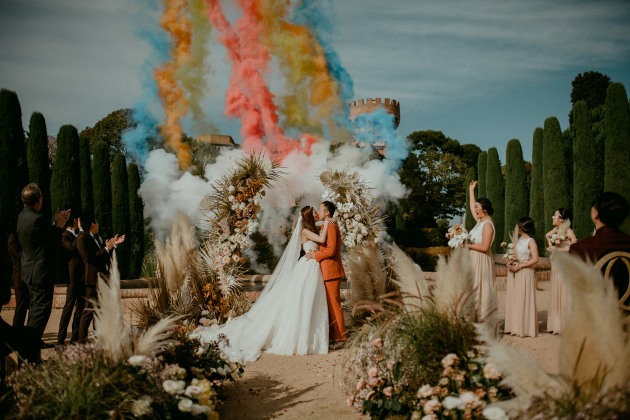 For ACT wedding photographer Kelly Tunney, smaller, intimate weddings were the only way forward, and she seized this trend to keep her business buoyant. This wasn't, though, her first response. "I didn't want to consider anything new when this all started. I didn't want to adapt my business or do 'front porch' sessions from my car. Call it denial, but I was too down and depressed to think creativity. I felt very content to quit my business after fourteen years. It was a few months of fear, but things turned around…eventually."
Conquering negativity
Tunney's motivation to look for and seize opportunities waxed and waned throughout the year, she adds. "Some new business ideas have been exciting to experiment with, but also scary. Nobody knows how this will pan out for our industry. If you ask me, say, on a Tuesday, I'll be stoked for these new developments, but try me again by Thursday, I might be depleted from all that good energy and ready to quit. It's a weird roller coaster so many of us are on." What did help, she notes, was the power of Zoom. "While we weren't able to meet loads of couples in person, technology is definitely easier than ever before. I know photographers have made Zoom a second camera for them to shoot portraits of their clients in their home."
One of Tunney's businesses, All Grown Up Wedding Photography, decided to offer 'intimate' wedding packages for a limited time to get through a forever changing time. "Couples just weren't booking ten-hour packages, and we didn't blame them. Many were choosing to opt for a wedding celebration of under thirty people, maybe an intimate dinner at their fave restaurant, and a few meaningful portraits with their favourite people," she notes. Tunney also used this time wisely to shape up the business, revisiting contracts, updating galleries, fine tuning its CRM, and creating a brand refresh.
"Look, to be honest, some of us don't truly know when we will be earning 'real' money again," Tunney states. "So, perhaps the only thing wedding photographers are currently purchasing is a new bottle of gin every fortnight," she concludes. "The new world of weddings will have to adapt. I feel couples will strip back a lot of 'fluff' and, hopefully, get back to what truly matters. The big weddings may not be possible in the current climate for quite some time. The industry will just have to adapt to that, and I have to say, I'm into it!"
Overcoming uncertainty
This year, the greatest challenge for Perth wedding photographer James Simmons has been the uncertainty surrounding COVID restrictions on events. "Back in March [2020], it was chaos with everyone postponing or cancelling, and having to try and reschedule. As things became COVID-normal, we saw a number of clients looking to change their whole wedding to be in line with restrictions." Being able to identify what the new wedding situation looks like and pivoting to provide a service to suit has been his crucial to his business.
Simmons noticed a trend towards people having small, simple weddings, despite being allowed full numbers in West Australia with the two metre square rule. "It feels like people are starting to be resigned to the fact that interstate and international guests may not be able to travel for years potentially. If they can't have everyone they love there, the tendency is to keep the event quite modest," he says. Most of his big weddings were postponed in the hope that things got back to normal.
Simmons' business also adapted to a shift in what people wanted to buy as they became more tech savvy during lockdown. "People are not super fussed on USBs anymore. They are old tech anyway, and half my clients probably couldn't even use a USB3 connection with their current computers. Downloads seem to be enough for people, and if you have a system that makes accessing and sharing images via mobile easy, you are on a winner. Online systems that make it easy for clients to purchase albums and prints after the wedding were awesome for us over lockdown too." And a new product emerged, the home-visit documentary. "It's a humble and authentic experience for families, which I'm loving over the studio-style set up – finding beauty in mundane spaces and exploring real connection. Simmons began to provide packages for people specifically having small and home weddings. "They are a pared back, limited coverage deal that potentially appeals to people who perhaps weren't ever going to have professional photos, but now because some family can't make it, the value of having it captured well becomes a bigger priority," he explains. He adds that providing a guarantee for date changes and refunding deposits, or coverage by associate photographers has helped with client confidence as well.
Re-evaluating what matters
ACT portrait photography business, Heartstory had two huge challenges this year say its owners, Jeremy Byrnes and Katie Kolenberg. "First were the bushfires, which came so close to Canberra we could see the flames on the hills near our most southern suburbs, and then of course COVID. Both have affected consumer sentiment and lost us bookings and revenue," they state. COVID's lockdown forced Heartstory to shut down its studio for seven weeks early in the year. "However, the impact for us, and many portrait photographers, hasn't been as long-lasting as it has for wedding photographers, or for those in Victoria. As soon as restrictions eased, we were able to get back to business, with some new practices and habits, like extra hygiene precautions and physical distancing." They spent lockdown working on marketing to ensure they were ready to press go as soon as they were allowed. "That was the best thing we could have done to ensure a quick recovery," they note. "The biggest perceived 'threat' from the situation post-lockdown was that clients might not want to spend money on luxuries like family portraits, but it seems that the opposite has happened. We have found many customers have been more generous with spending than before the COVID lockdowns.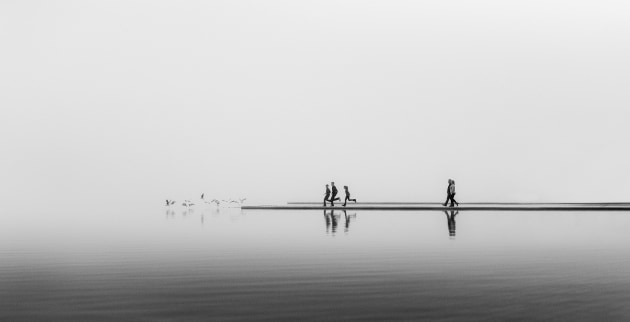 When lockdown hit and Heartstory still had clients booked in for in-person purchasing appointments, they switched to Zoom meetings to fulfil this part of their business. "We were nervous that it would inhibit our clients' experience and therefore their investment, but our average spend was exactly the same as it was when doing in person appointments. We also, like many, added an online gallery portal to our 'after sales' service to create a passive income for ourselves, which hasn't proven to be greatly successful, but it's still an extra trickle," they add. While Zoom sales sessions gained a long-term place in many portrait photographers' businesses, Heartstory found that its clients couldn't wait to come in and meet in person as soon as lockdown restrictions eased. "People are still buying what they always have with us," they add, "which is wall art. Overall, we've noticed a push towards wall art from a lot of other portrait photographers, which is supported by some of the biggest suppliers in Australia offering more options to make it easier, such as wood prints, multi-image frames, and framed canvas."
One aspect of Zoom offered an enduring benefit, though. "We used it during lockdown for client ordering, and for delivering coaching sessions and webinars. Heartstory also introduced Acuity scheduling which, they say, saved a lot of admin time. "We use Acuity for our leads and potential clients to book phone consults with us. This saves constant follow ups, voicemails, and texts, and helps the client have more control of the enquiry process," they state. "2020 has forced many of us to really evaluate our businesses; where we spend our time and money, and what makes us happy," they conclude. "Our words for the year are optimism and proactivity – that's how we can continue to get through this."
Anticipating a boom in 2021
The greatest challenge for Canadian wedding photographer couple Dallas and Sabrina Kolotylo was that all of their clients decided to either postpone their weddings until next year, or cancel. "Most of our couples had planned a destination wedding far away from where they live, so the option for them to elope in the same destination with travel restrictions was impossible for most of them. This left us with a lot of free time that normally would have been occupied by a busy work season, which, to be honest, was quite a challenge for us. We were left feeling at a loss as to what we should be doing during this time, but slowly we worked through it," they recall.
On a positive note, quarantine and the unexpected time that came with it, gave the pair time to think and reassess their life choices and decisions, to see what's truly important to them, and really have a hard think about where they want to go in the future. "In a more practical way, providing online services, such as online mentorships with other photographers has been great for us in getting through this quiet year. We have also been focusing on other services that we usually don't have too much time for, such as offering albums to past clients and offering portrait sessions." With more time to research technology, they also found a new aid for their editing. "We use Lightroom to edit photos, and honestly the advances they have made in the last few years are incredible. Simple things, like the edit preview when you hover over a preset, have made editing so much faster and, honestly, more fun. It's definitely reinvigorated our love for something that was becoming a bit of a chore," they state.
"We think that 2021 will be an incredibly busy year for wedding photographers. From our experience, the majority of clients have decided to postpone until next year, which is filling in a ton of wedding slots that would normally be filled by other clients," they conclude. "During lockdown, so many people had more time to think about what they want in life, and, for many, that's the decision to get married. This time has also been great for developing relationships. So much free time has created the perfect opportunity to get to know someone, and many friends of ours are dating right now. It's especially true for couples that have been separated during this time. As soon as they are able, they are getting married."
Adaptability is everything
Victorian photographer Kristen Cook feels that COVID merely accelerated challenges that were already mounting in her industry. "Wedding and portrait photography was already facing growing challenging in recent years with retail and consumer-based technology becoming more and more accessible, and forcing professional photographers to really step up their game to be able to show value in what they do. As a Victorian who has had their business all but shut for most of this year already due to stay-at-home restrictions, it's become equally challenging to take such a financial hit when your business model as a wedding/portrait photographer is designed around having to do the work you do in the presence of your client," she states. "In an industry that is already deemed a luxury and not a necessity, the ability to keep your head above water during such times can be quite the struggle."
Online platforms such as Zoom have now become her greatest ally, she adds. "Although it removes the ability for clients to touch and feel products in person, it has forced me to update the way I can show products knowing that clients may not have any other opportunity to do so. For photographers whose service model has allowed clients to purchase after the fact and not upfront, it has been vital to adapt to that new environment to still be able to meet sales goals, she says. "At the moment, my sales average for clients I've been able to serve in between lockdown periods seems to have stayed the same, which is positive." More clients have asked for digital files in the past year, she notes, sometimes with and sometimes without the purchase of printed products.
Being right for what's wanted
Australian wedding photographer, Samm Blake has lived in New York for the last eight years, where COVID's effects have been particularly vicious. "I lost all my bookings for the year when COVID first hit in March-April. Every last one of them," she says. "I wasn't even sure if I would be shooting anyone with everyone moving their weddings until 2021 – a huge loss of income. Every wedding I had booked for 2020 was either postponed until 2021, or cancelled. So, with all the weddings moving to 2021, I couldn't take new bookings for next year because they'd taken all the popular dates."
By August, with only two months left of the wedding season, New York was still only allowing weddings with under fifty guests, but micro-weddings had become the new trend, she adds, and people began booking her again from June. Zoom weddings also became popular. "One Zoom wedding I shot was the bridal couple and me," she recalls. "They literally got married over Zoom. The officiate, the bride's father, was in another state. I was the witness. But that was abnormal. Most people chose to have at least their parents present."
Blake is finding that she is now sometimes being booked for two weddings – the micro-wedding and a larger one next year. "People had already paid for all the expenses like the dress and flowers," she notes. Engagement shoots are also popular. She has been observing a re-evaluation of the big wedding as well. "COVID has taught couples that weddings are not about the big showiness that has been a feature over the last few years," she says. "People have been reminded of what a wedding is really all about – family and connection, and being able to come together, so I feel there will be shift change to more authentic wedding photography." She is already noticing a trend towards more candid documentary photography, and less of the showcase of the pretty dress, pretty flowers, and pretty décor. This is a positive sign for Blake, who tends to be hired for "the real stuff". Elopement photography is also on the rise for Blake, who is in a unique position to capitalise on that as an Australian in New York. "People come here from all over the world. It intrigued me when I arrived. I've been shooting twenty to thirty elopements a year. They're mostly Australians who come over here to get married, so I really tap into that market."
It has been an extremely difficult year for wedding and portrait photographers and, as Kirsten Cook noted, COVID presented an extra bundle of challenges on top of the challenges that the industry was already facing. Some of the wedding and portrait commissions that were postponed, will be reinstated when COVID restrictions are fully lifted, but that is still only something that photographers can look forward to in the future, and there is still the ever-changing environment to conquer.
Contact

Get more stories like this delivered
free to your inbox. Sign up here.