My job, my saviour: art as therapy
What if photography, the job you've chosen, was an effective treatment for mental health issues? Here's the great news. It is. It's not just the distraction. It's not just the filling of time. It's biochemical, and there is a growing cohort of photographers who are receiving its benefits. Candide McDonald reports.
Throughout history, people have found that creative expression can decrease anxiety, stress, and mood disturbances. This has often been a source of wonder, and many studies have been done. In 2010, researchers Heather L. Stuckey and Jeremy Nobel undertook the massive task of analysing 100 studies focussing on the effects of art on physical and psychological health. Now, there is scientific evidence to suggest that photography, as a form of art and self-expression, helps people to view the world more objectively, increase their self-worth, and reduce the stress hormone, cortisol. It's also therapeutic as an accessible means of communication that allows people to pay more attention to what they see, think, and feel, and to share their thoughts – including darker ones – their viewpoints, and frustrations. And it can change the photographer's viewpoint. By looking at a photo, the photographer sees its subject from a different angle. That can be a valuable aid in the process of developing a more positive outlook.
Lastly, there are times when expressing emotions in words become too difficult. Photography supplants the need for words.
Therapy that launched a career
Photography began solely as a therapeutic tool for Swedish fine art photographer Gabriel Isak whose work has since been exhibited throughout the world. Isak now travels globally for personal and commissioned projects. "I began exploring photography when I faced a depression many years back. At the time, photography helped me to express my state of mind through self-portraits, before I fell deep into depression [again] and quit photographing." It wasn't until seven years later, when the burden of depression was lifting, that Isak took up photography again. "I unconsciously began to explore the deepest parts of my mind, and to express what life in depression was like through different metaphors, symbolism, and ideas conveyed in my imagery," he explains. This became the signature style which attracted the art world's attention.
"Photography has been a great therapy to help me process everything in life and has been an aid to combat the experiences I've had over the years," he notes. "It has helped me understand my personal meaning to this life, and also been a medium I use to shine light on mental health, and the darker and lonelier side of the world that is many times covered up by the society we live in."
The main goal of Isak's work, he says, is to have the viewer interact with the subjects and scenes portrayed, and reflect back on their own life so that they take something away from it. "It is also very important to me that my work continue the greater conversation on mental health and shine light on this very important topic," he adds.
Therapy that made a photographer
In the case of landscape photographer Adam Williams, therapy became the catalyst that turned a builder into a photographer. "In hindsight," he recounts, "my anxiety was heightened by a combination of the stress and worry of being trapped in an unfulfilling job and a fast-paced unhealthy lifestyle that took its toll, sending me spiralling into daily anxiety and panic attacks. I can vividly remember thinking to myself, maybe feeling miserable is normal and that is just what we have to do to pay the bills and support our families. That got me through another year or two, however, it got to the point where I was so drained, just getting through each day was a battle."
Then he found photography, "the outdoors, the long walks, the fresh air, and for a few brief minutes my only worries were focus, exposure, ISO, and shutter speed; nothing else mattered. I quickly fell in love with photography and those moments of escape." At first it was a hobby and aid to the anxiety that his lifestyle was turning into depression. He sold a couple of prints, finished in the top ten in an international photo competition and somehow convinced his wife to sell everything they owned, buy a caravan, and take a dream trip around Australia. Williams had decided to launch himself as a professional photographer. "I got a reality check a couple of months in when I realised that I knew very little about photography and my goals quickly changed from trying to become a professional photographer to using the next twelve months to bring my photography up to a professional level." One year passed. The trip ended. Williams was not a viable professional photographer and now he had a baby on the way. He returned to the job he hated, but began to think about how to make photography work. "What did I want it to look like?" he asked himself. "And more importantly, and for the very first time, what do I want my work to say? What stories am I going to tell?" he pondered.
While the health benefits weren't immediately apparent, Williams was able to get things off his chest by secretly incorporating his troubles into the dark, lonely images he began creating. "For me, a lot of the power of anxiety and depression comes from my concern about 'What will other people think of me?'" Williams admits. But "putting it out there" through his photography gradually changed that. "[Now] I regularly stand up and talk to 50 or 200 people at photography presentations and openly talk about my anxiety and depression," he states. Another effect was more instant. "From the moment I allowed myself to be vulnerable and tell my truth through my images, I began to receive more recognition than ever before." He won his first ever Gold award with the highest scoring landscape print in the APPA print awards in 2014, as well as being named APPA Australian Emerging Photographer of the Year the same year. The following year he was named AIPP NSW Landscape Photographer of the Year. "Maybe it is a coincidence, or more likely people were now connecting and relating to my images," he suggests. "Rather than chasing superficial prettiness, I had tapped into an endless supply of inspiration. My images had emotional depth, a story, and a soul, and my audience was feeling it and connecting like never before. I had stumbled on the secret of every notable artist in history – the power of the emotional connection that develops with being vulnerable and telling my own unique story."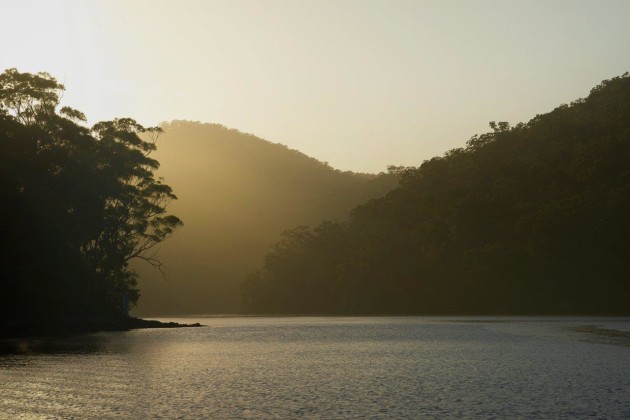 Therapy in your day job
Andreas Smetana has been a commercial advertising photographer for more than twenty-five years and a director for the last five. His job has its stresses and strains. Ask him about those and he replies, "If you like to be judged on every job you do, work under constant time pressure, and have to prove yourself over and over again, no problem." Smetana loves his work, but he also admits that when every job starts with "We have no money, we need it now, and we want something ground-breaking," it's not an easy career path to follow. He knows, too, that his having longevity in the industry without getting cranky and having two companies is no mean feat. These days more than ever, he says, a successful photographer needs to keep finding creative ways to deal with fast moving changes. He also emphasises the importance of attitude; a positive attitude. Smetana's is, "So what, I say. The world has bigger fish to fry."
Smetana has always found photography to be therapeutic, and its benefits, he says, have changed over the years. "In the beginning, I got a powerful kick out of doing great creative work. The older I get, the more I enjoy simply working hard, being responsible, and putting my all into meeting my clients' needs. Commercially, these days I can get more excited about a hard job than a good one." He has always had a bent for personal work, but little time to indulge it. "Having said that, I have begun to shoot a series of beautiful landscapes recently, called Navigable Body of Water, and that has been remarkably and oddly satisfying. I think it was the first time in a long while that I have shot pictures purely for the sake of shooting them. After years of being too busy and wanting to spend time with my children, I feel I've found the spark again to simply have fun with a camera." Smetana's personal work, when he has time to do it, is what grounds him, he notes. Not thinking commercially, not photographing with a purpose, keeps him on an even keel. "I have sometimes lost this balance, along with my career, so it is something I want to keep and not lose again."
To retain the therapeutic benefit of photography in his commissioned work, Smetana makes sure all of his jobs are carefully pre-planned. "Experience is a great and beautiful thing," he explains. "Things are faster these days. There is less money, time, and planning than there has been." Smetana maps out every job carefully so that it will reward both himself and his client. The benefit is clear. "Jobs well done are satisfying. Extremely so. I like to work hard, as crazy it sounds. There is value in pushing and pushing, trying to make every piece of work as good as possible. It means I am doing my job right and it makes all involved happy. These are most certainly assets I believe in and have worked for me."
Therapy that grew into a movement
Being vulnerable isn't always easy. Tara Wray's work focusses on mental health and the ambivalence of family ties – subjects that are very personal to her. "I make art to understand the world around me and my place within it, and to that end, I photograph and document that which is closest to me both in terms of proximity and circumstance," she explains. That can be confronting. "It's not difficult at all while I'm doing the work," she explains. "It's only difficult when I step back after the process and start second-guessing my choices. Do I really want to share these things about myself? The work ultimately wins out over fear."
Wray began the online hub, Too Tired Project, in August 2018, a month after the release of her photobook, Too Tired for Sunshine, which was a document of her own struggles with depression and anxiety. Its goal was to give people a place to connect around photography and depression. It now has more than 16,000 followers, and has received more than 12,000 submissions from them. Growing the Too Tired Project is now her full-time job. In April, she made her first hire, Polish photographer, Zuzanna Szarek, "which has been amazingly helpful in terms of the day-to-day of things," and put together a board of directors. The project's latest slideshow exhibition, #TooTiredVermont, took place on May 19 at the Vermont Center for Photography. In 2020, Yoffy Press will publish a softcover photobook curated from submissions to the project, which will be a document of life with depression as seen through the eyes of around fifty diverse artists from around the world. Also, next year, Wray's new book, El Dorado Freddy's, will be released by Belt Publishing. The book is a collaboration with poet, Danny Caine, that explores issues of authenticity, artifice, history, socioeconomics, parenthood, and personal identity through the lens of the chain restaurant, Freddy's Frozen Custard & Steakburgers.
Wray's photography, she says, "gets me out of my head and into a more mindful state of being and seeing. Photography allows me to refocus my energy when I'm spinning out. The camera is a buffer that protects me in moments when I feel vulnerable or out of place. It gives me permission to move through the world with mindful purpose."
Every job has stresses and strains. Deadlines, rejections, revisions, and cash flow are just some. The art of photography, though, is a natural antidote. When it comes to work-life balance for good mental health, photographers have an in-built head-start. It's just a matter of using it. 
Contacts

Get more stories like this delivered
free to your inbox. Sign up here.