World Press Photo of the Year revealed
American photographer John Moore's image, Crying Girl on the Border, has been named World Press Photo of the Year. According to competition organisers, "this award honours the photographer whose visual creativity and skills made a picture that captures or represents an event or issue of great journalistic importance in that year".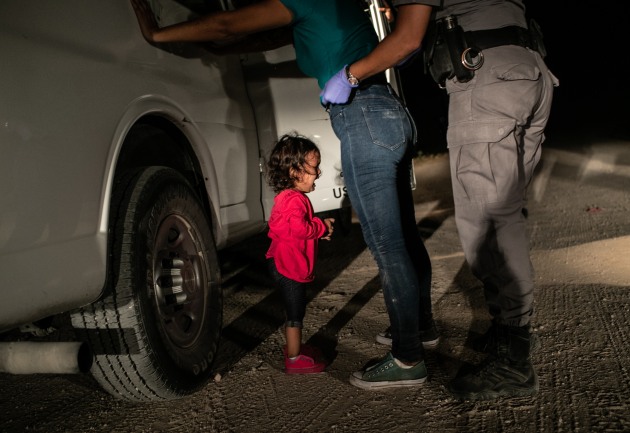 "Throughout my decade of coverage, the goal has always been to humanise this complex issue of immigration," says John Moore. "US officials continue to allow me access, not necessarily because they like my pictures all the time, but because they believe I'm fair and that I have no secret agenda," says Moore. "When working on long-term projects like this, it's key to have editors that support you, and that help you along the way. All the credits have my name on them, but they would not be possible without the editors and the support of Getty."
Since 1955, the World Press Photo Contest has recognised the best single exposure pictures that contributed to the prior year of visual journalism.
About the image
12 June, 2018
Honduran toddler Yanela Sanchez cries as she and her mother, Sandra Sanchez, are taken into custody by US border officials in McAllen, Texas, USA, on 12 June.
Immigrant families had rafted across the Rio Grande from Mexico and were then detained by US authorities. Sandra Sanchez said that she and her daughter had been traveling for a month through Central America and Mexico before reaching the US to seek asylum. The Trump Administration had announced a 'zero tolerance' policy at the border under which immigrants caught entering the US could be criminally prosecuted. As a result, many apprehended parents were separated from their children, often sent to different detention facilities. After this picture was published worldwide, US Customs and Border Protection confirmed that Yanela and her mother had not been among the thousands who had been separated by US officials. Nevertheless, public outcry over the controversial practice resulted in President Donald Trump reversing the policy on 20 June.
About John Moore
John Moore is a senior staff photographer and special correspondent for Getty Images.

He has photographed in 65 countries on six continents and was posted internationally for 17 years, first to Nicaragua, then India, South Africa, Mexico, Egypt, and Pakistan. Since returning to the U.S. in 2008, he has since focused on immigration and border issues.

Moore has won top awards throughout his career, including the 2005 Pulitzer Prize for Breaking News Photography, World Press Photo honors, the John Faber Award and the Robert Capa Gold Medal from the Overseas Press Club, Photographer of the Year from Pictures of the Year International, the NPPA, and Sony World Photography Organization.

In March, 2018 powerHouse Books published his book Undocumented: Immigration and the Militarization of the United States-Mexico Border. This work represents ten years of Moore's photojournalism on the issues of immigration and border security in the United States. The goal of the project was to take a comprehensive approach in humanizing the issue of immigration, which is often related in terms of statistics. Moore is a graduate of the University of Texas at Austin, where he studied Radio-Television-Film. He lives with his family in Stamford, Connecticut.
This is the fourth time that Moore has been awarded by World Press Photo.