Will copyright law finally catch up with Richard Prince?
American "artist", Richard Price is no stranger when it comes to law suits filed against him. He's the artist best known for reusing, but some call it stealing, the work of other photographers, and then blatantly passing the creations off as his own without or attribution to the original creator.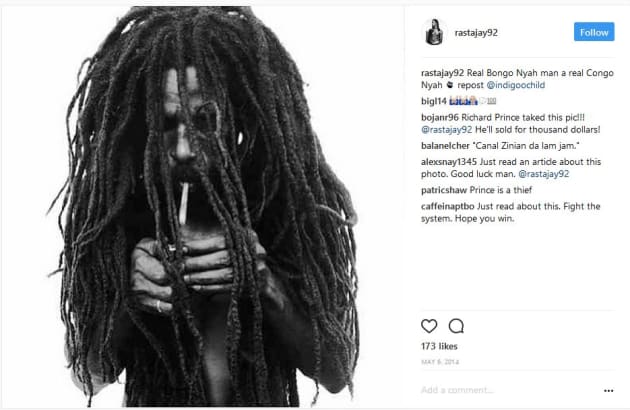 A few years back, he lifted images from numerous Instagram accounts, added a few comments and emojis, and then printed the images large, selling them for upwards of US$100,000 each. Australia's very own, Peter Coulson, no stranger himself to having his work stolen, was caught up in the controversy with one of his images being included by Price at the exhibition at the Gagosian Gallery in New York; just one of the sixteen contemporary art gallery owned and directed by Larry Gagosian in locations including London, Paris, Rome, and Geneva.
But it seems like Prince's idea of fair use, and how they law views it will be tested in court. Following the 2014 exhibition, ironically called New Portraits, photographer Donald Graham, whose image, Rastafarian Smoking a Joint, was included, filed a cease-and-desist order against Prince, and then a lawsuit in 2015.
As reported in the New York Times recently. a federal judge in New York has refused to throw out Graham's lawsuit against Prince. The outcome could set a precedent for how the fair-use doctrine relates to Instagram. The United States District Judge Sidney H. Stein challenged the premise put forward by Prince,the Gagosian Gallery and the gallery's woner, Larry Gagosian, that the work was transformative, and wrote that "The primary image in both works is the photograph itself. Prince has not materially altered the composition, presentation, scale, color palette, and media originally used by Graham".

Image © Donald Graham. In this Instagram post, Graham is hoping
to teach the Gagosian Gallery the correct way to credit an image
We're certainly looking forward to seeing how this pans out. Stay tuned for further updates.