Top Sydney advertising photographer snags covers of both Capture and AdNews' Annuals
It's not unusual for the work of the country's best and most talented photographers to appear on the cover of publications held in high esteem. But to have the work of one photographer appear on the cover of two of the industy's most respected titles, for exactly the same issue, The Annual 2019, is indeed pretty unheard of.
Sean Izzard, one of Australia's best advertising photographers managed to pull off the feat. What follows is a behind-the-scenes look at how DDB brouight the cover of the AdNews 2019 Annual edition together.
This article first appeared in the AdNews 2019 Annual edition, and then online.
The creative contingent of adland is the beating heart of the industry. To fully embrace this, and with a mission to create awesome and inspiring covers, each month AdNews hand-picks an agency to work its magic. Tasked with designing a cover for The Annual feature, 'Where is the Money?', DDB Sydney created a spoof industry "fight" over client budgets with everyone vying for their piece of the pie. The industry dinner party (turned battle) featured high-profile executives from different sectors of the advertising and marketing industry – including creative, media, tech, consultancies, production companies, PR, and more. On closer inspection, you'll see some familiar faces, like PwC's Russel Howcroft wrestling with The Monkey's Mark Green, DDB MD Priya Patel taking on Claire Salvetti, and McDonald's Director of Marketing Jo Feeney and IAG CMO Brent Smart wondering what on earth everyone is doing.
What were your initial thoughts on the brief at hand?
We were asked to land an idea that delivers on the cover feature of the AdNews' Annual, 'Where is the Money?', which would investigate where CMOs are spending their marketing budgets. The theme has never been more pertinent. As an industry, there are a plethora of channels and partners for marketers to choose from and often smaller budgets to play with. 
Post first brief chat, what went through your mind, and what were the next steps you took as a team?
Our Chief Creative Officer, Ben Welsh had the creative department present different concepts for the cover. Over a couple of beers, creative team Richard Shaw and Jeremy Hogg started thinking about the conversations we as an agency have every day: How much do we have to spend? What channels do we use to execute the idea best? Who can we partner with to get the best result for our client?It didn't take long to turn this conversation into the idea of every facet of the industry having a "fight" over client budgets with a pie on the table, to signify the marketing budget.
How did you know you'd landed on the best concept?
It's not every day that you get people of this stature and seniority to do something beyond the usual black-and-white PR shot. Once we heard that some of Australia's most high-profile agency leaders had agreed to take part, we knew we had landed a great concept. Even Sir Martin Sorrell backed the idea, donating his PR images so we wouldn't have to pay thousands for a stock photo from Getty.
Who from the team was largely involved, and what were their roles?
It's ironic that for an AdNews issue discussing budgets, one of the major issues with the idea was budget. It was a fairly ambitious little scamp that started all this, so we knew anyone who came on-board would be doing it more for love than money.Thankfully, Sean Izzard and the team at Pool Collective loved the idea and nervously smiled at the funds available. They put their heads together and were unbelievable at finding a location, styling, and didn't even skimp on the catering on set. With the support of Pool Collective and someone as talented as Sean behind the camera, we knew it was going to be a great shot. Woody, our print producer, pulled a similar rabbit out of the hat when it came to retouching. Limehouse put their hand up to do the job; again a great team you trust to deliver the goods. The final product couldn't have happened without the hours of retouching Duncan and his team invested. But this whole thing would be nothing without the industry people involved.
Again, we knew we could rely on DDB. You can tell by the fact that our Chief Creative Officer, Tara Ford, agreed to swing from a chandelier. Lindsay, our Marketing and New Business Director, instantly got us a great list of names.At one point, we were trying to work out the head hours of having everyone on the cover involved. Then we stopped counting, worried that this would be the most expensive idea of the past 12 months.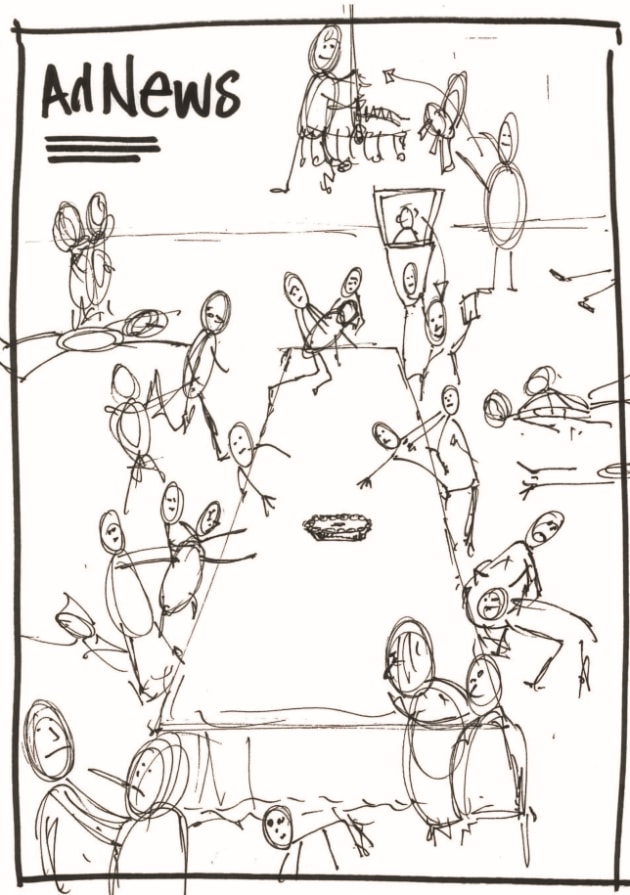 What were the biggest hurdles to making this a reality? Any challenges?
We've covered the budget. Then one of the most challenging tasks fell to Lindsay again in recruiting the most senior leaders from across the industry. Lindsay wrangled diaries (potentially bribed PAs) to make it happen. Sean shot for a night and a day to fit everyone in.
Tell us about the actual creation techniques. How did it come together?
We knew we had limited time to shoot each industry executive, with each having incredibly busy schedules, so we had to know the actions before their arrival. This meant calling on Noah Regan's skillset (also referred to as Lord of Art) and setting up a rough version of the scene using a few people from the agency. This gave us a detailed outline and the only conversation left was who was happy to wrestle who. From there, it was a series of plates and some amazing re-touching from the team at Limehouse. There were over 40 images to create this one.
Biggest challenges with the whole process? Did anything keep you up at night?
Until you start to see things come together, you always have the creative paranoia it is going to look average. Thankfully the likes of Mark Green, Russel Howcroft, Andy DiLallo, and Michael Richie were first up to be shot. When you see people like that throw themselves into the idea, you know it's going to be okay.There were endless diary clashes, but everyone involved was so generous with their time we need not have worried.
Best bit about the process?
The best moment was the response from the industry to the idea. People knew what we were trying to achieve and happy to be involved. There were some heavy hitters there on the day and you only have to look at the image to see everyone was great to work with.Thank you to everyone that gave up their time to make the idea happen. The talent, Pool Collective, and Limehouse.It goes to show that while we may all be "fighting" over a piece of the pie, we still all back brave ideas and want to see them happen – even if it's from a competitor. Ironically, the shoot is the ultimate sign of industry collaboration.

The stars (Clockwise from centre)
Imperfect Circle Co-founder David Nobay
TBWA Sydney Chief Creative Officer Andy DiLallo
Revolver/Will O'Rourke Managing Director Michael Ritchie
CHE Proximity CEO Chris Howatson
Mango Communications Managing Director Tabitha Fairbairn
Interbrand Managing Director Nicola Mansfield
McDonald's Director of Marketing Jo Feeney
Emotive CEO Simon Joyce
Head of Facebook Creative Shop Steve Coll
GroupM Digital Strategy and Investment Officer Venessa Hunt
Facebook Head of Agency Ellie Rogers
Finch CEO Rob Galluzzo
Wavemaker CEO Peter Vogel
DDB CEO Andrew Little
Tribal MD David Rennie
S4 Capital Executive Chairman Sir Martin Sorrell
PwC Chief Creative Officer Russel Howcroft
Accenture Interactive CEO Mark Green
Former WPP AUNZ CEO Mike Connaghan
DDB Managing Director Priya Patel
Former One Green Bean CEO Claire Salvetti
IAG CMO Brent Smart
Cummins&Partners Managing Director Kirsty Muddle
Publicis Groupe CEO Michael Rebelo
Spark Foundry CEO Imogen Hewitt
Havas Media Chairman Mike Wilson
M&C Saatchi Group Managing Director Russell Hopson
Special Group CEO Lindsey Evans
DDB Chief Creative Officer Tara Ford
Credits
DDB
Sydney Chief Creative Officer – Ben Welsh
Head of Art – Noah Regan
Senior Copywriter – Richard Shaw
Senior Art Director – Jeremy Hogg
Senior Print Producer – John Wood
Marketing and New Business Director – Lindsay Bennett
Photographer – Sean Izzard
Producer – Bridget Curtis
Art director – Karla Milat
James Lucas – Head of Retouching
Ashlee Savins – Post Producer
Duncan Harriss – Managing Director