SMH photographer scoops $10k Australian Life prize
The youngest photograper at The Sydney Morning Hearld, Dominic Lorrimer (28), has been named the overall winner of the $10,000 Australian Life photography prize for his image, Haka. The image was at Lakemba Mosque following the mass shooting in Christchurch in March this year. It shows Punchbowl High School students embracing prior to performing the Haka as a mark of respect outside the mosque.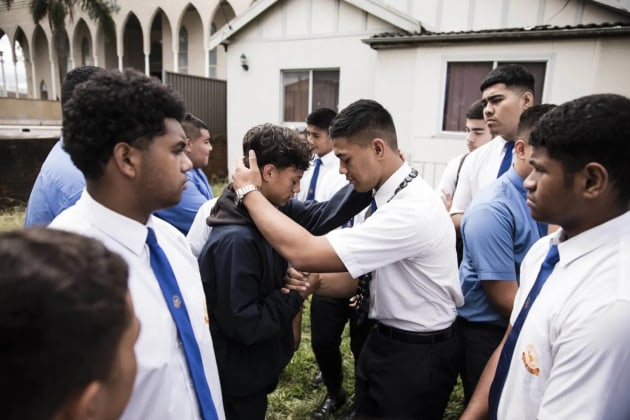 Of the winning image, Cherine Fahd, one of the judges said: "Dominic has photographed the scene from the perspective of being in the inner circle. The image poses alternatives for viewing what is a politicised community."
A total of 28 photographers from across the country have been selected to be shown in the annual Australian Life photography competition. The exhibition is running along the St James walkway of Hyde Park, in Sydney, from 19 September to 13 October. Curated by Sandy Edwards, finalists' images have been blown up to bedsheet-size. The Australian Life exhibition is a showcase of depictions of life in Australia, from landscape and cultural diversity, to humanitarian and political issues.
The images were selected by a panel of judges, including Sydney Morning Herald Managing Photo Editor, Mags King, artist Dennis Golding, and artist, academic, and Director of Photography at University of Technology Sydney, Cherine Fahd. 
"The finalists' images represent Australian life beyond stereotypical perceptions and show its diversity through a spectrum of daily life moments, intimate stories and events," King said.
"There is a range of energy and emotions in these images that take the viewer through a journey; from a serene, ghostly image of Uluru, to a dynamic group of young women dancing in the rain in Melbourne, to a reflective embrace of a group of school boys in Lakemba a week after the attack in Christchurch.
"I found the level of thought and consideration impressive – these finalists celebrate a multitude of stories that make up Australian life and there are thousands more to be told."
"The images captured by this year's finalists are striking and original reflections of what life in Australia means to them," Lord Mayor Clover Moore said.
More information can be found on the Australian Life website.
The 2019 finalists
Aaron Chapman
Alan Coligado
Alex Benetel
Alex Vaughan
Alexandrena Parker
Amala Groom
Anna Kucera
Antoine Veling
David Smith
Dominic Lorimer - overall winner.
Fiona Wolf
Gary Ramage
George Fetting
James Brickwood
Jesse Marlow
Jessica Lindsay
Joel Pratley
Judith Parrot
Klari Agar
Liz Keene
Marty Walker
Matthew Abbott
Nic Walker
Sally Coggle
Scott Barbour
Tanya Lake
Tom Putt
Tristan Still

Get more stories like this delivered
free to your inbox. Sign up here.