Semi-finalists revealed for $50,000 Moran Contemporary Photographic Prize
The judges of the 2019 Moran Contemporary Photographic Prize (MCPP) have revealed their list of semi-finalists. A total of 230 images from the almost 3,000 image submissions have gone through to the next round of judging. The finalists of their year's MCPP will be announced on 3 April, with all vying for a slice of the prize pool which totals $100,000, including a first prize of $50,000.
Renowned photographer and filmmaker Stephen Dupont – one of three on the 2019 judging panel – had the following to say: "Judging this year's semi-finalists was an epic challenge. It's a bit like holding your breath under water and each time you come up for air you are graced with a surprising and poetic moment in Australian photography. I am looking for the imperfections and uniqueness emotionally that only photography can give".  
Other judges on the panel this year include Cheryl Newman, a respected international photographer and curator, and Jon Jones, a celebrated international photojournalist and photo editor.
Key dates
3 April – Finalists announced
4 May to 2 June – Exhibition at Juniper Hall (Thu to Sun)
7 May – Winners announced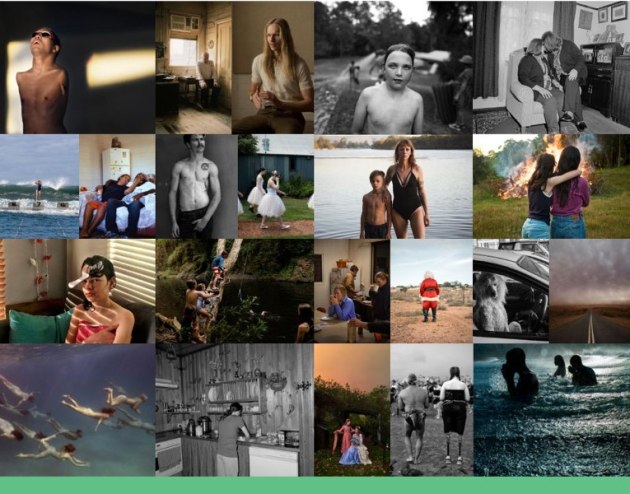 Credits
Brian Cassey, Tomotaro on the block
Adam Ferguson, Drought 2
Michele Aboud, Daniel
Tamara Dean, Dean Jack 0
Emma Phillips, Untitled
Brydie Piaf, Sunday
Nathan Stolz, Joanne and Anthony
Mark Rafferty, Bronson
Toby Zerna, Ballet Boots
Liz Ham, Self Portait with First Born 2018
Sam Harris, Uma & Yali
Sam Harris, Yali combing accident
Tamara Dean, Waterhole 0
Matthew Abbott, Breaky before dawn
Adam Ferguson, Drought 6
James Kerr, At the shopping centre carpark
Ryan Stuart, Storm Mundi Mundi
Tamara Dean, Endangered
Emma Phillips, Untitled
Sam Harris, Sisters 2018
Wayne Quilliam, Cultural Evolution
Paul Blackmore, Heat
 Semi-finalists for 2019
Follow this link to check out the work by the semi-finalists.
1. Matthew Abbott Double Life
2. Matthew Abbott Breaky Before Dawn
3. Matthew Abbott The Yards
4. Matthew Abbott Young Ringer
5. Matthew Abbott Pet Cow
6. Matthew Abbott The Help
7. Matthew Abbott Dust and Sweat
8. Marian Abboud Crying the Ocean
9. Michele Aboud Daniel
10. Peter Adams President of the AIPP
11. Peter Adams Adam Scarf Photographer
12. Jenna Agius Waiting Game
13. Scott Andrews Holden Dave
14. Anna Maria Antoinette D'Addario Lamin Tucker's Children
15. Sarah Barker Matilda
16. Janie Barrett Pokie Addiction
17. John Benavente Fernando Fishing
18. Simon Bernhardt Greater Western Sydney
19. Simon Bernhardt Portrait of Matthew, Live Export Driver, Kangaroo Island
20. Madeline Bishop An Alternate Reality Where I Never Put you Down
21. Paul Blackmore Heat
22. Paul Blackmore Immersion
23. Paul Blackmore Heat 2
24. James Brickwood Friends
25. Megan Broadbent Matriarch
26. Millie Brown Zoe and Matilda
27. Tanja Bruckner Emma II
28. Chris Budgeon No One Plays Here Anymore
29. Chris Budgeon Stumble
30. Chris Budgeon Tom and Orlando on a Sunny Day
31. Alfonso Calero Community
32. Ross Calia Hazel Isn't Tired
33. Dave Carswell Gold Coast
34. Narelle Carter Timeshare 2019
35. Rebecca Carter Blended
36. Aletheia Casey Ella
37. Brian Cassey Tomotaro on the Block
38. Brian Cassey Rain Over Black Mountain
39. Aaron Chapman Todd & Alana (2018)
40. Rachel Clarke Breathing Rain
41. Mike Clements When you Wear the White Jump-Suit you are Elvis
42. Tim Coad Her
43. Adrian Cook Alexis Okeowo
44. Adrian Cook Elizabeth
45. Adrian Cook Sam & Mark
46. Fiona D'Alessandro Dust
47. Dean Dampney Boys
48. Karen Davis Old Man Reminiscing'
49. Karen Davis The Weathered Farmer
50. Gitama Day The Art of Making Paper Planes
51. Tamara Dean The Waterhole
52. Tamara Dean Howl
53. Tamara Dean Jack
54. Tamara Dean Slip n Slide
55. Tamara Dean Next in Line
56. Tamara Dean Tree Notches
57. Tamara Dean Staring Competition
58. Tamara Dean Endangered
59. Yask Desai Sailor, Craigieburn, 2018
60. Damian Dillon My Sadness at her Forgetting
61. Melissa Drummond Christmas Night, West Kalgoorlie
62. Sarah Dugan Ghosts and Memories Live Here Too
63. Jenny Evans Our Darling is Dying
64. Adam Ferguson Drought 1
65. Adam Ferguson Drought 2
66. Adam Ferguson Drought 4
67. Adam Ferguson Drought 5
68. Adam Ferguson Filipino Immigrants, Pyramid Hill
69. Adam Ferguson Drought 6
70. Adam Ferguson Drought 7
71. Adam Ferguson Ned Kelly Impersonator, South Australia
72. Adam Ferguson Drought 8
73. Adam Ferguson Drought 10
74. Sam Ferris King Street, November 2018
75. Sam Ferris Manly Ferry, June 2018
76. Sam Ferris From the B1, Narrabeen, August 2018.
77. Ian Flanders Gerringong Boat Harbour III
78. Christian Fletcher Looking for shade
79. Mark Forbes Siblings
80. Jon Frank Harry Jones, Stockman. Yuendumu, NT; 2019
81. Alex Frayne Celebration
82. Camilla French The Playground
83. Camilla French Summertime
84. Nicholas Garcia Girl Looking Out of the Window
85. Adam Gibson Life on Station
86. Dean Golja The Australian
87. Jesse Grant Suburban Rhapsody
88. Mike Gray This Monkey's Gone to Heaven
89. Katherine Griffiths A Simple Love
90. Natalie Grono The Gift
91. Natalie Grono Cooling
92. Liz Ham Self Portrait with First Born (Pre Partum Post)
93. Sam Harris Sean
94. Sam Harris Sisters 2018
95. Sam Harris Yali, Combing Accident
96. Sam Harris Uma & Yali
97. Sam Harris The Little Ones at the Circus Festival
98. Simon Harsent Summer
99. Matt Harvey Wreck
100. Andy Hatton Man-Gala
101. Sahlan Hayes The End
102. Bronwen Healy After the Race
103. Leigh Henningham Cat and a Hot Tin Roof
104. Greg Hillman James 4:14
105. Lachie Hinton Portrait of Iranian Refugee on Nauru
106. Lisa Hogben Ngarigo Woman
107. Alana Holmberg Greta and Jeremy by Edgars Creek
108. Mark Hopper Cupid - The Flying Cupid of Venus Bay
109. Alexander Housalas Saver of Life
110. Alexander Housalas The Bondi
111. Max Howe Directions
112. Jessica Hromas Angela Penrith
113. Glenn Hunt How To Make Gravy
114. chris Ireland Jonathan
115. chris Ireland Cultivation
116. Chris Ireland Jonathan Study 1
117. Sean Izzard Cowboy
118. Sean Izzard Cowboys
119. Marieka Jacobs Girls on Balcony
120. Ketakii Jewson-Brown Down by the Line
121. Mike Keevers Market Street, 2018
122. Todd Kennedy Living the Dream
123. Todd Kennedy Plastic Shoreline
124. James Kerr At the Shopping Centre Carpark
125. Isabella Kerstens Tanline
126. Charlie Kinross Hilary Finch
127. Charlie Kinross Chan Nyok
128. Charlie Kinross Riverside Station
129. Joseph Koh Revelry
130. Ashlee Laing Tallangatta
131. Sandra Lamonaca Backyard Cricket
132. Dean Lewins 100% Drought
133. Dean Lewins Mismanaging Menindee
134. Max Mason-Hubers Home
135. Jonathan May Sal and Claudia
136. Wendy McDougall Don't Kill Live Music
137. Joseph McGlennon Dark Wings
138. Charles McKean Mum's Last Breath
139. Trent Mitchell Jack Macrae. Inner Atlas, 2018.
140. Trent Mitchell Robert Sherwood. Inner Atlas, 2018.
141. Trent Mitchell Jack Macrae. Inner Atlas, 2018.
142. Nicholas Moir Death on the Darling
143. Graham Monro Christmas
144. Rachel Mounsey Between Acts
145. Justine Muller Uncle Badger Bates- Barkandji Elder and River Activist
146. Cameron Neville Last Drinks
147. Alexandra Nielsen Swimming with Barramundi
148. Alexandra Nielsen Back Porch Kangaroo
149. Rosalie Nilson Insouciance
150. Naomi Norris The Story Teller
151. Jake Nowakowski Hungry Flock
152. Tajette O'Halloran Untitled
153. Tajette O'Halloran Untitled
154. Tajette O'Halloran Untitled
155. Tajette O'Halloran Untitled
156. Susan Papazian The Backyard Portrait
157. Alexandrena Parker Unsupervised at The Broken Hill Housewives Association
158. Pamela Pauline Last Light
159. Emma Phillips Diane Washing Dishes at her Father's House
160. Emma Phillips Denise and Diane Twinning
161. Emma Phillips Lucy at Sammy's House
162. Brydie Piaf Sunday
163. Brydie Piaf Vera
164. David Porteus Pretty Ugly Eleanor
165. Joel Pratley Simone
166. Joel Pratley My Brother & his Family
167. Joel Pratley Fayez & Abs
168. Jonathan Pui Rush Hour
169. Wayne Quilliam Cultural Evolution
170. Peter Rae #Climatechange 2
171. Mark Raffety Bronson. Melbourne. November 2018. Young Aboriginal Artist and Man of Action
172. Gary Ramage Dad's Alzheimers
173. Asanka Brendon Ratnayake Kaleb the Aboriginal Bull Rider
174. Alberto Monte Rego Danielle, Under the Clouds of the Sea #2
175. Alberto Monte Rego Jade in the Pool #1
176. Madelena Rehorek Kaif
177. Jon Reid Trial Bay Snorkel Posse
178. Johannes Reinhart Junction
179. Johannes Reinhart Snow in Perth
180. Sarah Rhodes Identical Twins on the spectrum
181. Tess Rice Into The Music
182. Hayden Richards Lost at Sea
183. Hayden Richards The White Highway
184. Hayden Richards Mid Summer Madness
185. Lindsay Roberts Oscar and Lucinda (Bridget)
186. Chris Round Near Bronte, NSW
187. Sandra Ryan Temporary Permanent
188. Russell Shakespeare Currumbin Valley Rock Pool
189. stephanie simcox The Reservoir
190. Peter Solness Gavin Wilson and Maggy Todd - Warry's Cottage Hill End NSW 2018
191. Peter Solness The Night Garden (Haefligers Cottage Series #5) Hill End NSW 2018
192. Prue Stent In Her It
193. Tristan Still Serwah
194. Tristan Still Raynen
195. Nathan Stolz Anna and Nungarrayi
196. Nathan Stolz Barkly Work Camp
197. Nathan Stolz Fatma, Sydney
198. Nathan Stolz General Store
199. Nathan Stolz Joanne and Anthony
200. Nathan Stolz Irene, Lajamanu
201. Nathan Stolz Moroopna Mosque
202. Nathan Stolz Lollipop Lane
203. Nicola Stone Golden Hour
204. Ryan Stuart Emu, Mica Street
205. Ryan Stuart Storm, Mundi Mundi
206. Cassie Sullivan Mum 02
207. Jason Thomas After the Show
208. Jason Thomas Who Talks For My Country Now?
209. Noah Thompson Susan
210. Tobias Titz Ute country
211. Tobias Titz Joseph Lane
212. Craig Tuffin Me Too
213. Craig Tuffin Plastic Homicide
214. Abigail Varney Totem
215. Alex Vaughan On The Cusp
216. Alex Vaughan Sumbawa Pride - Down The Hatch
217. Belle Verdiglione Amber
218. David Wadelton Pascoe Vale South Bedroom
219. Hilary Walker Canary For Sale
220. Hilary Wardhaugh Women's Campdraft Queanbeyan Rodeo
221. Drew Wheeler Rusty Landscape
222. Drew Wheeler Red Board Bells
223. Drew Wheeler Sunbather
224. Les Williamson Stranded
225. Felix Wilson 6ft.13in
226. Rebecca Wiltshire O
227. Rebecca Wiltshire Dog Beach
228. Marta Yebra Water heads
229. Toby Zerna Ballet boots
230. Yb Inside

Get more stories like this delivered
free to your inbox. Sign up here.