Lip kissing photo gets photographer beaten and sacked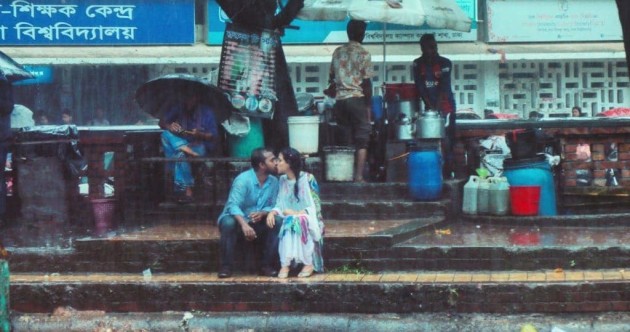 When it comes to cultural sensitivities, people tend to get kind of . . . sensitive. An image by a Bangladeshi photojournalist, Jibon Ahmed, of two lovers "lip kissing" in the monsoon rain, taken on the campus of the University of Dhaka, has resulted in him being beaten up and sacked after the image went viral.
"The couple had a spontaneous lip kiss; I found nothing wrong in them or no obscenity," Ahmed said. "Of course I am disheartened. Some people in our country became educated only in papers, but they are not educated in a real sense. They failed to realize the underlying meaning of my photograph," he said.
Bangladesh, a majority Muslim country, is experiencing a deepening of extremism. According to the Bangladesh News 18 website, one conservative blogger wrote: "Lovers are getting more audacious by the day. Earlier these things were done in secret. Now they are doing it in broad daylight. The day is not far when they will be making love in public."
In an interview with The Washington Post, Ahmed said that he shot the image while scouting locations. Sending the image to his editors, he was disappointed to learn that they would not run the image as they felt it would prompt a negative response. Sadly, they were correct. He subsequently shared it on Facebook and Instagram. The following day, he was beaten up by fellow photographers, and his boss asked him to turn in his laptop and ID, without providing a reason.
During such "suffocating" times, a photo of such "uninhibited innocence instills hope that all is not yet lost," special correspondent Tanim Ahmed wrote in an opinion piece about the controversy in the Dhaka Tribune week, with the headline "Kissing liberty goodbye?"