Touching Pool by Honey Long & Prue Stent
Inspired by the touching pool often found at aquariums and the sensorial connections with nature they elicit, this exhibition speaks to the conflicted and estranged relationship people have with the natural world. Using a pared down visual language of colour, texture, and form, Touching Pool captures performative encounters between bodies and the natural environment.
In these works, submerged bodies writhe, dance, bend and twist into organic matter while materials adeptly used by the artists such as shimmering transparent fabrics, wax, glass, and netting, blend and merge the body and landscape. Zoomed-in, tightly cropped, abstracted, and enveloped, bodies become creaturely while aquatic animals, riverbeds and rock formations evoke human forms, revealing sights/sites of commonality and connection that "sing to each other".
In 'Touching Pool' we turn a loving and somewhat provocative gaze upon wet bodies and environments that stir something deep inside. These evocative moments and textures have been gathered from our ongoing practice of abstracting bodies and materials within environments. Condensed morsels, they provoke a host of feelings: affection, repulsion, lust, wonder, hunger, joy. Despite the fractures that exist, when one starts to string bodies and scenes together, these seemingly disparate things seem to sing to each other.
- Honey Long & Prue Stent, 2020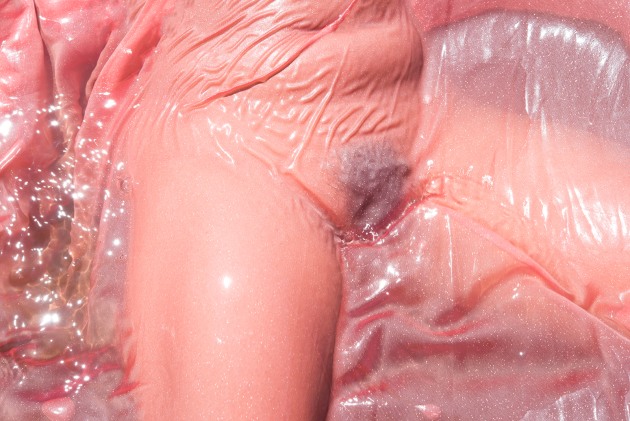 About the artists
Working across photography, performance, installation and sculpture, Honey Long and Prue Stent (both b. 1993, Sydney, Australia) have been making art together since they were teenagers. Long completed her Bachelor of Fine Arts at Sydney College of the Arts, Sydney, in 2015 and Stent completed her Bachelor of Arts (Photography) at RMIT, Melbourne, in 2014. Their work has been shown across Australia and in various countries internationally, including Switzerland, Spain the United Kingdom and the United States.
Recent exhibitions include Bowness Photography Prize, Monash Gallery of Art, Melbourne (2020); In Her Words, Horsham Regional Art Gallery, Horsham, Victoria (2019); 'Eyes on Main Street' Wilson Outdoor Photo Festival, Wilson, North Carolina (2019); Josephine Ulrick and Win Schubert Photography Award, HOTA, Queensland (2018); Phanta Firma, ARC ONE Gallery, Melbourne (2018); Oceans From Here, Australian Centre of Photography, Sydney (2018); Anticipation is part of the seduction, BLINDSIDE Gallery, Melbourne (2018); London Photo, The Female Lens: 9 Contemporary Female Photographers, Huxley- Parlour Gallery, London (2018); Future Feminin, Fahey/ Klein Gallery, Los Angeles (2018); Long and Stent, Nicola Von Senger Gallery, Zurich (2018); Players, curated by Cristina De Middle Puch, Photo Espanña Festival, Madrid (2017); and Sites of the Imagination, ARC ONE Gallery, Melbourne (2017). They have participated in a number of projects, including City of Sydney Site Works, Sydney (2019); The Billboard Project, Incinerator Gallery Moonee Valley City Council, Melbourne (2019); This_ _ _ _ _ _ _ may not protect you but at times it's enough to know it's there, collaboration with Amrita Hepi, Underbelly Arts Festival, Sydney (2017); Sound and Vision, Sydney Opera House, Sydney (2016); and Gucci #24 Hour Ace, LA. Their work is held in the collections of Horsham Regional Art Gallery, Deakin University Art Collection, Artbank, HOTA, and the City of Sydney.