"I'm not a professional photographer; I'm a failed academic who now works as a high school teacher but in every spare, waking moment I have, I am making photographs or thinking about them. In my sleep, I'm dreaming them," says Sydney-based Sam Ferris. As a result of having a "miserable time" in the academic world, in 2010, Ferris began carrying a camera everywhere he went. The same year, Ferris took a trip to Europe where he focused his camera's lens on daily life, or "'street photography' - as I discovered it was called after I put some online and received comments and messages from people all over the world." Another significant moment for Ferris came shortly afterwards when he discovered the colour street photography of Joel Meyerowitz, and instantly fell in love with it. "From there, I made more discoveries and quickly became obsessed. I knew I wanted to shoot street and have researched, devoured, and taken pictures every day since then," Ferris says.
Self-taught, but visually literate from a young age, Ferris' father is a well-known painter, and he grew up surrounded by cavasses and shelves of art books. "My dad was meticulous in the approach he took to work. He would always explain his images to me; drawing little sketches to demonstrate a concept. I learnt how perspective worked; about lines and vanishing points; he explained composition, form, layering and colour pallets too," he says.
Primarily a street photographer, on occasion Ferris has also shot events, weddings, and fashion/editorial work. But it's in the street that he finds the greatest inspiration. "Over time, themes have emerged in my work through the editing process where I've noticed recurring motifs or conceits of isolation, disconnection, beauty in the everyday, and the temporality of life," Ferris explains. With the streets of Sydney forming his canvas, Ferris says that the light in Sydney contributes to his style. Reflecting on his perceptions of the world around him, Ferris has come to see light as a "disclosing tool".
Juggling a number of simultaneous ongoing projects, Ferris' main one, In visible light, interrogates his perceptions and experiences of living in Sydney – a city where the cost of living has never been higher and the sense of anxiety never more acutely felt. "The work is steeped in the rituals of daily, public life played out in stark light," he says. "For me, it is there in the minutia of the rush to or from the office – the stress of finding a work/life balance to have it all."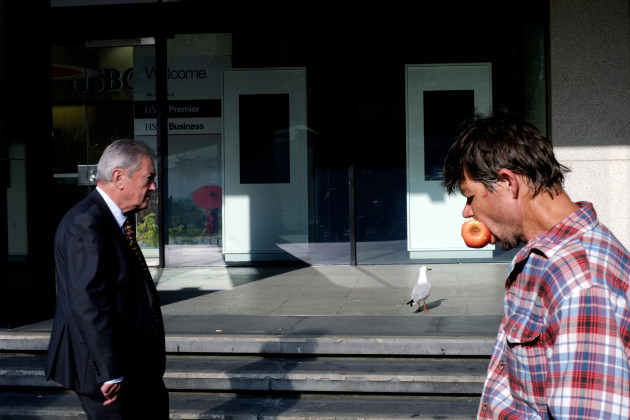 One of Ferris' proudest achievements to date is his co-creation and co-organisation of AUSSIE STREET, a dedicated Australia street photography community, festival, and competition. Other accolades include having his images exhibited in two featured street photography exhibitions at Head On Photo Festival, in Sydney, as well as in exhibitions in Europe, the USA, and UK. He's been a finalist and prize winner at Street Photo San Francisco, a finalist in the Art and About 'Australian Life' Photographic Prize, as well as a finalist in the Miami Street Photography Festival, Street Photo Italia, and the Brussels Street Photography Festival. And recently, alongside Trent Parke and Jesse Marlow, Ferris was one of the three Australian street photographers selected for the book, 100 Great Street Photographs, released in 2017 by Prestel Publishing.

Get more stories like this delivered
free to your inbox. Sign up here.