Q&A: Kelly Tunney
One of the most awarded women in Australian wedding photography, Kelly Tunney shares her secrets of success, and how to stay in the game longer. Capture reports on a remarkable photographer.
Before embarking on a career as a professional wedding photographer, ACT-based Kelly Tunney originally followed a traditional path, working as a public servant. But not for very long. Fortunately, she discovered photography, and her life's never been the same since.
Her images embody the way she relates to the world – they're candid, honest, fearless, and warm; and they always manage to find the amazing in everyone. Tunney relishes in the agony and ecstasy of imagining and creating contrasts to play with in her images. She secretly enjoy the rush that comes with the fear of pushing boundaries as far as they can be moved.
A Master of Photography, with two gold bars, Tunney is the current AIPP ACT Wedding Photographer of the Year – an accolades she's received five times. She's twice been named AIPP ACT Professional Photographer of the Year. In 2015, she was named AIPP Australian Wedding Photographer of the Year – the first female to ever win the prestigious title in the organisation's 40-plus year history. In 2017, she was awarded the NZIPP International Photographer of the Year, and gained First Place at WPPI in the Wedding Creative Category.
Keenly aware of the benefits and importance of working in a collaborative environment, in 2013, Tunney established the wedding collective, All Grown Up Weddings with Dan O'Day. The eight photographers in the group shoot weddings all over Australia, and around the world. In 2017, together with wedding photographer James Simmons, she launched a comprehensive, Australia-wide workshop series, Clarity Project.
Capture: Why did you choose to become a wedding photographer, and how did you get started?
Kelly Tunney: I started out taking photos of my friends for the Year 10 school yearbook. I was around 16 at the time. I think it was people that drew me into photography in the first place. Even though I was a fairly shy kid, I found photography helped give me confidence I didn't have without a camera in my hand.
Like many people in the field of wedding photography, I fell into it by mistake. I had completed my studies and was still living at home (yes, it was quite sometime ago), and a friend of my mum's asked me to shoot her wedding. It was all on film and I processed and printed everything myself.
To be honest, I really didn't enjoy the process. I didn't engage with the couple at all, I just tried to be arty. But I kept going back, got more confidence, and before I knew it, I had started my own business and suddenly loved the thrill of a wedding day.
Capture: As the first, and so far only woman to be awarded the title of AIPP Australian Wedding Photographer of the Year, what can be done to help raise the profile and presence of female photographers in Australia?
Kelly Tunney: I know, it's still comes as a surprise to me! And with so many amazing, talented women in the industry, I would love to see this change. I feel lucky that the AIPP award gave me a great platform on many occasions to get the word out.
I spoke at a women's photography conference recently in Melbourne, and that was incredible. I was able to share my story of ups and down in the business and just be honest with a group of women. Being confident to get your work and your talents out there takes time, passion, and drive. I never had that at the beginning of my career. It took time and loads of perseverance.
I'd become a mum before I started my own business. Being a mum, a wife, and a business owner has its challenges. I am a walking juggling act. Every. Single. Day. But I wouldn't change it for anything! I think it's important for all women to know, you can do all of the above. It might take one year, might take ten. But it's not a race to get yourself out there.
And with my newly appointed role as a Nikon Ambassador, one of the first females to be announced in Australia, I hope to use the platform and opportunity to inspire other female photographers and innovators in our industry. Nikon are huge supporters of this, and I feel pretty damn lucky to be part of their crew!
Capture: To an outsider, one of the key creative challenges to shooting weddings is that the event appears to be essentially the same every week. How do you stay fresh and inspired to shoot the best possible images for your clients?
Kelly Tunney: It's all about your mindset. You need to have a genuine interest in people and be willing to engage with them and their family. The wedding is the backbone of the story, but the people and the emotion is the main event. Everyone is different and everyone has different family dynamics. It's an opportunity to learn peoples' stories and then contribute to part of their history. Without the sensitivities and empathy towards your clients, wedding photography can be simply just wedding photos.
Between the collaboration with your clients and their unique personalities, the number of different lighting scenarios and locations as well as the number of people that need to be included, and the time constraints, it's almost a relief that some things on a day are consistent. It's a bit like conducting an orchestra, but each time you do it, it's with a full set of new players that don't know the music.
Sometimes you need to embrace the unknown, take risks, and rely on trial-and-error. Weddings are a consistent challenge and if you're getting bored with them, it's time to push a little harder, change up your routine. Look deeper into the uniqueness of the characters you are surrounded by. Set yourself a personal goal like shooting something more stylised or with a different format or a new light source, or plan a shot at a different location, for example.
There are always opportunities to create content for your business too. Without the challenge, creativity dies. Having friendly competition can keep you on your toes, and that's where community comes into play. Peers that can help push you, get feedback from, and support you helps a lot.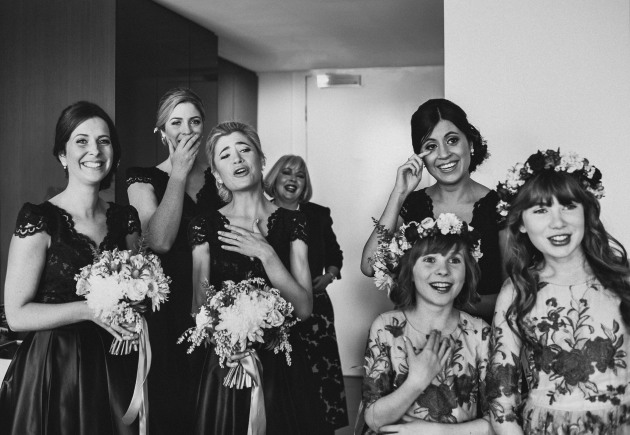 Capture: A signature style is crucial for success. What suggestions do you have for newer photographers keen to find and develop their own style?
Kelly Tunney: Start with your own actual voice – the way you personally communicate, person-to-person then person-to-group. How do you use language, what is your style of communication? Fast, slow, loud, soft? Casual, formal? Jovial, serious… all of these things can help you identify an approach to shooting that will be a good reflection of your personality. If your personal style matches your shooting style, you will start to attract people that relate to your work and will relate to you.
Find three words that describe your personality. See if you can see them in your work.
Become discerning in what you like, and what you don't like in your images. This feeds into your personal philosophy via your preference bias.
Develop a motto or tagline or a philosophy. It can be something that you can anchor yourself to when you get distracted by other things. And just know, like anything in business, it will take time.
Capture: After many years working solely as a professional photographers, you now do mentoring and workshops. With a market that is saturated with offerings of this kind, including from those with less than two years' experience in the industry, how does someone ascertain how best to invest in their ongoing professional development?
Kelly Tunney: Choosing a workshop that speaks to you is important. You don't want to waste money on something that is below your level of knowledge, or outside your area of interest. A lot of people work by themselves as photographers and it can be hard to break out of creative ruts without outside stimulus. I think choosing a workshop run by, or that has presenters you admire is a good place to start. Then you can look at the schedule or teaching points and see if they are in fact the things you would like to hear/see from those people.
Do your research. Ask questions of the organisers or the teachers. With so much to choose from these days, you want to find the right fit.
Capture: In 2017, along with the AIPP Australian Wedding Photographer of the Year, WA-based James Simmons, you started Clarity Project? What exactly is it, why did you launch it, and of what benefit is it to other photographers?
Kelly Tunney: We became good mates at a Nikon event where we had the opportunity to hang out with a few drinks surrounded by our common interest. That particular event provided a backdrop to network, get out of our comfort zone, and meet new peeps. The idea of providing that opportunity to others is awesome. We really want to give back to the community that has supported us as well as getting to undertake a different type of business challenge with each other. No one can operate in a vacuum. This whole project is about finding (on-going) clarity in your photography and in your business. Clarity Project is a platform where people can build their network based on shared experience and interests.
The core of the workshop info is based on how we have done what we have done in business and photography. We aren't trying to tell people how they should be doing things, just presenting things that have worked for us, the philosophies we hold, and things that have been instrumental in our careers. I think it's a humble approach to teaching as people can choose what to adopt, or get a form of confirmation that they are doing the right thing.
There are some other technical photography lessons too, such as lighting and editing, and loads of practical tips, but the majority of what we do as wedding photographers is in the communication and exchanges we have with people. A lot of the tools we give people are to help them find what works for them, hopefully giving them clarity in what they do.
Capture: Many photographers get bogged down in the administration side of their business, instead choosing to focus just on what they love doing – taking photographs. How have you maintained discipline in how you run your business? And how can one turn weaknesses into strengths?
Kelly Tunney: A good balance is key. We need to hone our craft and look after the creative side as that is what we will be hired for. However, setting yourself up with a solid business structure is vital to the longevity of your business. I think understanding your short-comings in business is key to your success, especially if you can identify an area where you don't want to be spending time, like accounting, for example. You can implement a system that makes it easy, or takes the majority of that job away.
You really don't have to reinvent the wheel. There are plenty of tools you can use out there to help make running your business easier. Being super organised relieves stress for me too, so using client relationship management software (CRM) to manage your bookings, schedule, hold client data, and invoices is a must. If you know where you are lacking, or if there is something that you just hate or dread, it's an opportunity to create a system that works for you. I think that is the real art to running a small business that is sustainable – setting up a structure that revolves around the way you like to operate.
Capture: Running a successful business that stands the test of time comes down to a lot more than just taking great pictures. Can you share some examples of creative ways that you've run your business operations to help ensure its longevity?
Kelly Tunney: In a nutshell, try something new. Experiment with new ideas. Collaborate with your mates. Enter awards. Find a business mentor. I could list 30 more . . . I feel like this topic is just so important in today's market.
I want to stay in this industry any way that I can. It's a great environment to work in and very supportive. But it's very true that photographers burn out, get bored, or just don't want to change from their Old-School ways.
I fell into this trap about three years ago, and what I was doing wasn't sustainable anymore, and wasn't making me happy. I had to gain my confidence back through 'fearful' photography. It wasn't much to begin with – a few editorial shoots, and I became a stills shooter on a movie set. But they were all steps that helped me get back in the game with my wedding and client work. And since then, I've been lucky enough to be given a number of different speaking platforms to showcase these examples and set tasks for creatives to get out of their rut.
Capture: Why should photographers care about winning awards, and what can they be doing to better improve their chances of recognition and success?
Kelly Tunney: I think the result is just a distraction. Winning should be a bonus, but the real value is in the journey. It's a very vulnerable position you put yourself in to have work judged in a competition. The process is what makes you better. You force yourself out of your comfort zone, you start to look at your work very critically. It gives you the opportunity to fine tune some images, and in some cases get to take the time to carefully print them. Then there's also the community that goes along with it, and the feedback. Winning stuff is fun, but it's the grit that it takes to get there that is of real value. I think if people care too much about winning awards, they can lose sight of the bigger picture and get lost in the ego of the whole thing, and that's where arrogance creeps in too. Awards can be good for marketing, exposure, and kudos, but it's usually just to other photographers.
If you want to increase your chances of winning, you need images that are technically perfect – compositionally and graphically beautiful, and the content needs to tell a great story or convey an interesting mood. A lot of single image competitions perpetuate the 'wow' image, as it needs the initial impact. Portfolio style competitions need a series of images that hang together stylistically and complement each other, and speak of the photographer's skill.
Capture: What are your top tips for running and maintaining a successful business in the long term?
Kelly Tunney: Far out, it's competitive out there! In such a saturated market, it's more important than ever to stand out from the crowd. And it's this very reason, we are taking so much time to cover it our Clarity Project.
A few things that come to mind:
Balance. You want to remain sustainable in this business; you still need to have a life. Outsourcing the things you don't enjoy, the things you're not good at is always a great start.
It sounds simple, but do work that you're really passionate about; it will always keep you in the game longer.
Stay on your toes. Extend yourself in every job. Get uncomfortable and find the magic again.
Never get complacent. This industry moves too quickly. You have to try and stay a step ahead of it whenever you can.
Stay educated and stay inspired by those around you, no matter how long you've been in business.
Experiment with new business models. Take time out every year to sit down with your business and update.
Contact

Get more stories like this delivered
free to your inbox. Sign up here.