Robert Irwin's drone image wins Wildlife Photographer of the Year People's Choice Award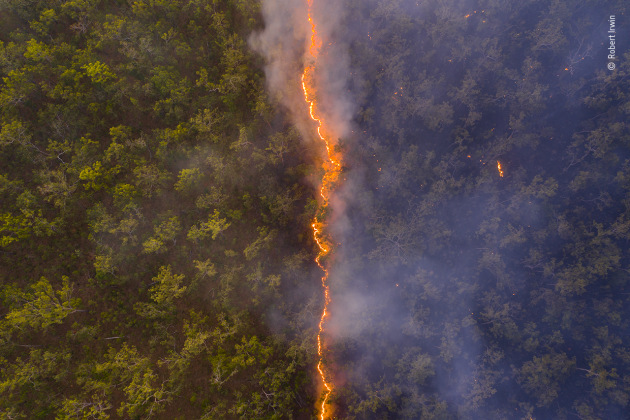 A drone shot by Steve Irwin's son, Robert, has been announced as the winner of the People's Choice Award in the annual Wildlife Photographer of the Year competition. The image, Bushfire, documents a fire in Northern Australia. Irwin launched his drone after spotting smoke billowing on the horizon. The image was captured near the Steve Irwin Wildlife Reserve in Cape York, Queensland. The area is of high conservation value and is home to over 30 different ecosystems with many endangered species.
Irwin said: "For me, nature photography is about telling a story to make a difference for the environment and our planet. I feel it is particularly special for this image to be awarded, not only as a profound personal honour but also as a reminder of our effect on the natural world and our responsibility to care for it."
Director of the Natural History Museum, Dr Doug Gurr, stated: "Robert's image is both stirring and symbolic. Last year the world stood aghast at the devastating wildfires that struck much of Australia, and this photograph depicts just one example of a staggering biodiversity loss caused by the detrimental impacts of climate change, habitat loss and pollution. But it is by no means too late for us to act. I hope those who see this image are enthused to learn more about the problems our natural world faces but also to take action in their daily lives – be it changing dietary or travel habits or even joining a local wildlife volunteering group."
Irwin's image, along with four others that were awarded Highly Commended for the People's Choice were selected from a shortlist of 25 images, chosen by the Natural History Museum from over 49,000 images that were submitted for their annual competition.
Highly Commended awards went to Ami Vitale (The last goodbye), Andy Parkinson (Hare ball), Neil Anderson (Drey dreaming), and Guillermo Esteves (Close encounter).
Click the link to see more work by the finalists for the People's Choice: www.wildlifephotographeroftheyear.com
Winners of the Wildlife Photographer of the Year can be seen at this link: www.capturemag.com.au/news/wildlife-photographer-of-the-year-revealed
About Wildlife Photographer of the Year
Wildlife Photographer of the Year is developed and produced by the Natural History Museum. This year is the 56th time the competition has been run. Finalists have their work displayed on lightboxes in an exhibition that tours the world. This year, almost 50,000 entries were received.

Get more stories like this delivered
free to your inbox. Sign up here.