2020 Pulitzer Prizes for Photography announced
The recipients of the 2020 Pulitzer Prizes have recently been announced in atypical fashion as a result of the coronavirus pandemic. Usually held at Columbia University in New York City, this year's Pulitzer announcement took place in Pulitzer administrator Dana Canedy's living room, being livestreamed via YouTube.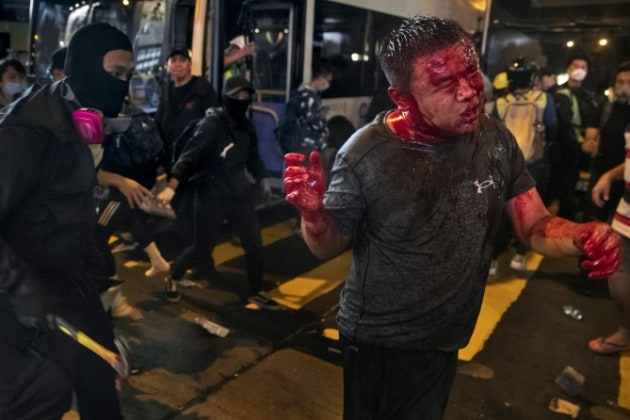 Each year, two main awards for photography are presented, being Breaking News Photography and Feature Photography. Photography Staff of Reuters received the prize for Breaking News Photography for their wide-ranging and illuminating photographs of Hong Kong as citizens protested infringement of their civil liberties and defended the region's autonomy by the Chinese government. Finalists for the category included Dieu Nalio Chery and Rebecca Blackwell of Associated Press, for images from Haiti, conveying the horrors of lynching, murder and human rights abuses as the country wrestles with ongoing unrest and Tom Fox of The Dallas Morning News for coverage of a would-be shooter outside Dallas' Earle Cabell Federal Building, which houses federal courts, photographed at great personal risk.
The 2020 Pulitzer Prize Winner in Feature Photography was awarded to Channi Anand, Mukhtar Khan and Dar Yasin of Associated Press for striking images captured during a communications blackout in Kashmir depicting life in the contested territory after India stripped it of its semi-autonomy. Finalists in the category included Mary F. Calvert, for work published by The New York Times and Yahoo News that look intimately at male sexual assault survivors in the armed forces, and the lasting effects of trauma on them and their families, and Erin Clark of The Boston Globe, for respectful and compassionate photography of a working Maine family as it falls into homelessness and finds new housing, albeit precarious.
The jury
Darcy Eveleigh (Chair) – Photo Editor/Visual Journalist, Glen Ridge, NJ
J. David Ake – Director of Photography, Associated Press
Marcia L. Allert – Director of Visual Journalism, The Dallas Morning News
Daniel Berehulak – Freelance Photographer, Mexico City
Robert Cohen – Staff Photojournalist, St. Louis Post-Dispatch
About the winners
Channi Anand is based in Jammu, a strategic location not far from the India-Pakistan border that experiences frequent cross border violence. Seeing people flee their homes has become routine but it still affects him each time he covers stories of displacement. He has followed political developments between the neighbours relentlessly for the Associated Press since 2000.

After more than two decades in the field, Channi now finds himself at home working on social issues, natural calamities, live encounters between security forces and terrorists or the extreme weather conditions that is harshest for the homeless. He has also traveled to work on a story on Siachin Glacier, the highest battleground in the world. He lives with his wife and two children.
Mukhtar Khan was born and brought up in the Indian portion of Kashmir, where he has lived all his life. In his over two-decade long career, he has extensively covered the region--following the Kashmir conflict on a daily basis, the 2005 earthquake that shook his region, stories between the nuclear-armed neighbours India and Pakistan, along with other major stories that unfolds in his beat.

Through it all, Khan has focused on the daily life of war-torn Kashmir. He started working with the Associated Press in 2000 before joining the organization fulltime in 2004. He won an Atlanta Photojournalism Award in 2015.
Dar Yasin, born in 1973, in Indian Kashmir. Studied bachelor's in computer science and technology in South of India. Dar has extensively covered the Kashmir conflict, South Asia Earthquake and its aftermath, and the historical opening of the bus route between divided Kashmir.

On assignment in Afghanistan he has covered the Afghan War, Afghan Refugees and Daily life of war-torn Afghanis. Dar has also covered the Rohingya refugee crisis who fled large- scale violence and persecution in Myanmar. His works have appeared in all the major newspapers and news magazines around the globe.
Dar's work has earned him dozens of international photo awards.

Get more stories like this delivered
free to your inbox. Sign up here.