Following the announcement by Fujifilm at Photokina 2018 of the development of a new medium format camera for their GFX range featuring a 100-plus megapixel sensor, after much speculation, excitement, and anticipation, they have finally delivered on that promise. Recently announced in Japan, the brand new GFX100 is billed as the company's "most premium camera yet". And after checking out the specs, handling the camera, and seeing the meticulous process that's followed at the Taiwa factory, just outside of Sendai, Japan, it's hard to disagree with the statement.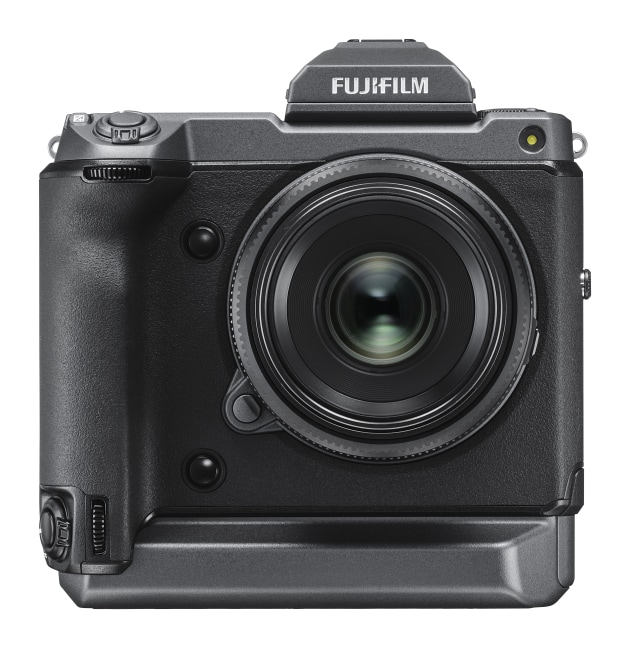 Endless possibilities
The new GFX100 boasts a massive back-illuminated 102-megapixel sensor. A sensor of this size and resolution might leave some scratching their heads as to why you'd need something so big for output, but once one sees the degree to which you can zoon in, and the mind-boggling clarity and detail that remains evident regardless of just how much you do zoom in, you'll soon realise that you might not need to enlarge your images to billboard size on a daily basis, but the ability to crop and rely on any part of the frame originally captured sharp opens up endless possibilities. Inside, the camera houses Fujifilm's X Processor 4, which, according to the company, is "capable of handling the massive amounts of data collected by the high-resolution sensor".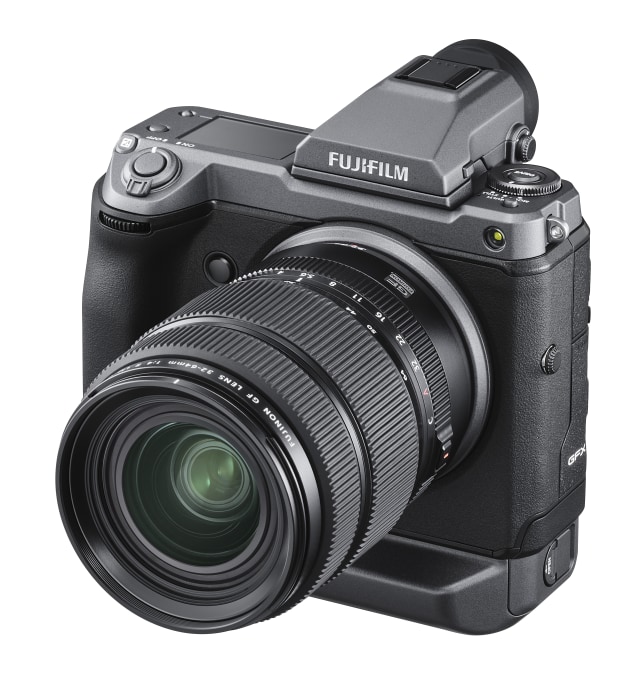 AF perfomance
Another first for the range is the GFX100's reliance on a phase detection algorithm for autofocus which makes full use of 3.76 million phase detection pixels across the entire sensor. The result: faster autofocus, better performance in low light, and significant improvements in tracking autofocus – something that will no doubt be tremendously appealing to a much wider audience. Fujifilm claims that when using a prime lens with a heavy set of focus lens elements, the GFX100 achieves a speed improvement of up to 210% over a regular AF system. Other benefits of this boost in AF performance include huge leaps forward in the accuracy of Face and Eye Detection AF which portrait and fashion photographers will no doubt relish.
Other world firsts
Besides offering double the resolution of both the GFX50S and GFX50R, the new GFX100 also boasts a number of other impressive firsts, including being the first medium format digital camera to feature five-axis in-body image stabilisation (IBIS), and the first camera of its sensor size (43.8×32.9mm) to offer 4K/30p recording. The new IBIS system offers photographers 5.5 stops of image stabilisation (with the GF63mm f/2.8 R WR) – a significant advantage for those shooting in low-light conditions. Meanwhile, the improvements in video capture will result in footage with a more cinematic look and feel with shallower depth-of-field effect.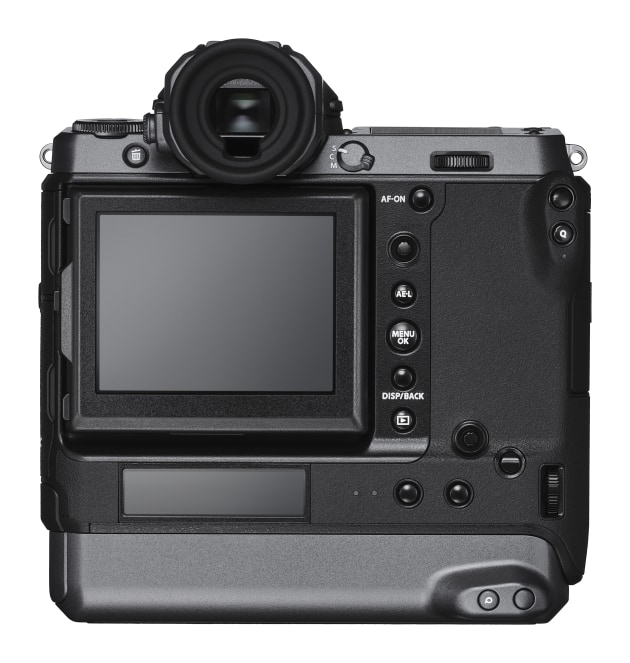 Handling
With a solid feel in the hand, the camera features a built-in vertical battery grip which will make shooting portraits far more comfortable. Despite offering a sensor approximately 1.7 larger than a 35mm full-frame sensor, the body tips the scales at just 1,400 grams, roughly the same weight as a typical flagship DSLR. The magnesium alloy body is weather-sealed in 95 locations to provide an excellent level of dust and moisture resistance, offering reliability in the toughest conditions.
The GFX100 houses slots for two SD cards and operational versatility improvements include both a 1.8 inch sub-LCD monitor on its top panel as well as a 2.05 inch sub-monitor on its rear panel. The panels display EXIF data, histogram, and camera settings in large text, and users have the ability to allocate different information across the monitors, as required.
Latest EVF
Along with the GFX50S, the GFX100 also features a detachable EVF system, however this latest EVF boasts the world's highest resolution – a panel with 5.76 million dots. The viewfinder has specifically been designed for the 102-megapixel sensor, and has a magnification of 0.86x and contains five optical glass elements including aspherical elements. The rear panel 3.2-inch monitor sports a 2.36 million dot touchscreen LCD which can be tilted in three directions.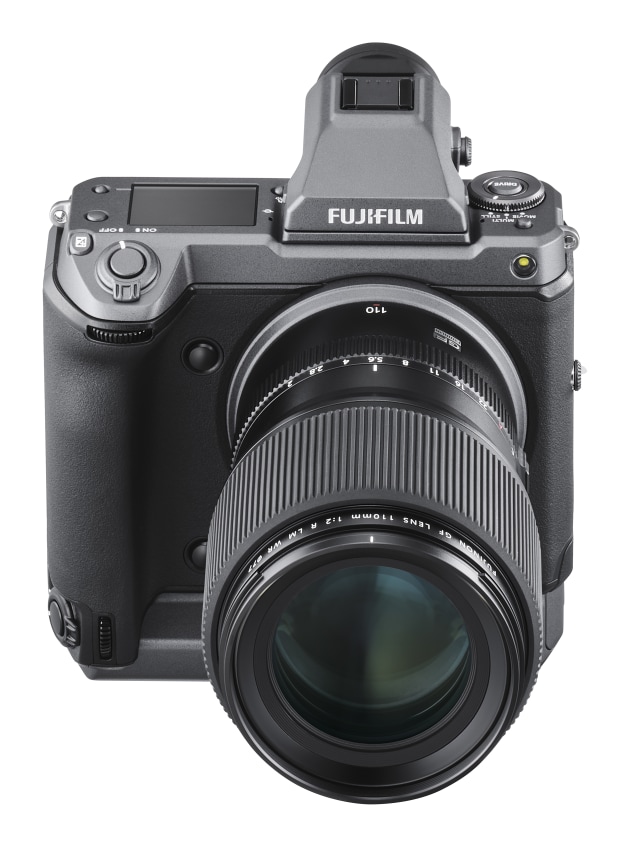 Battery capacity
Accommodating two NP-T125 batteries, on a full-charge, the GFX100 can capture approximately 800 frames when the rear LCD is used. As well as this, the camera can be powered and charged through a USB-C connection, enabling longer continuous shooting and simultaneous charging of the two batteries in the camera.
UPDATE - 5/6/19
Asked about which photographers are most likely to benefit from the capabilities of the GFX100, Warwick Williams, Fujifilm Australia's National Digital Sales & Training Specialist says that all genres will benefit as the camera is adaptable to many uses. "Since it is even possible to use the GFX100 as a point-and-shoot camera and with a far more attractive price than its competitors, it will appeal to a far wider audience," Williams says. "And that is before even considering it for movie recording!"
For those arguing that 100-megapixel is just too big, Williams indicates that the benefits are clear. "More detail does mean larger files, which is a fact of life," he says. However for those who require this detail, the GFX100's Quad Core processor is powerful enough to cope with high-resolution files so that the camera operates at the speed required for professional use. Using the camera to record 16bit RAW files and Super Fine JPEGs at the same time incurs no penalty as long as the memory card is fast enough. The amazing resolution and clarity means that even after heavy cropping the resulting images are still usable for large prints."
Real-world use
While in Japan, I was able to get my hands on the GFX100, and although time did not allow for a full and comprehensive review, the initial experience was indeed impressive. Below are a couple of examples of test shots. The images are of the back of the camera and reveal the unbeleivable level of clarity when zooming in. The tiny white square reveals the extent to which the image has been zoomed in.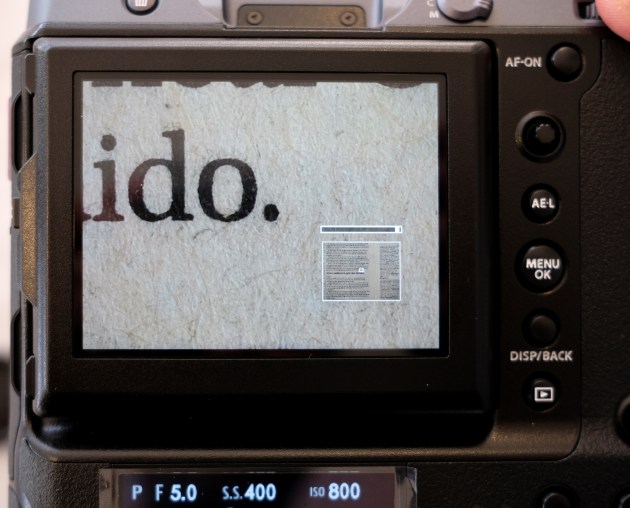 The single most outstanding feature of the GFX, according to Williams: "The ability to capture micro transition detail that is simply beyond the capability of a full-frame camera, but with the GFX100's physical form that is smaller and lighter than many high-end full frame cameras.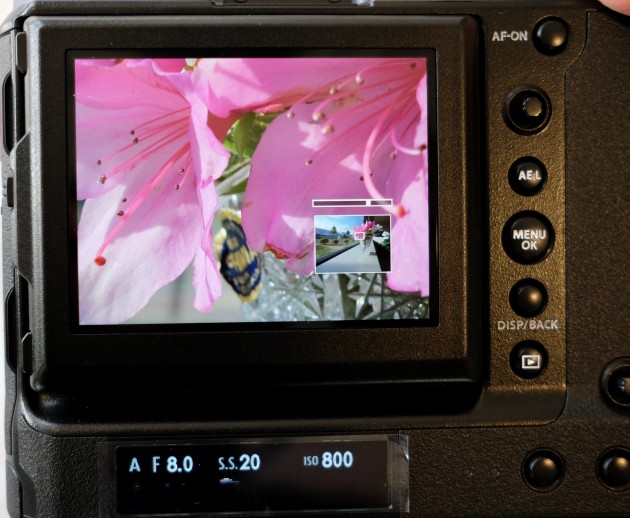 Over the next couple of years, Fujifilm will be releasing at least two lenses for the GFX system: a GF50mm f/3.5 R WR later this year, and a GF45-100mm f/4 R LM OIS WR which is due in 2020.
The GFX100 will be available from late June, for AU$16,499 (RRP) at leading photographic stores and selected retailers.
Click here for more information.

Get more stories like this delivered
free to your inbox. Sign up here.