Top tips to lift your sports photography game
In my opinion, sport photography is probably the most complete and challenging form of photography there is!
To be a successful sport photographer, you need to be able to capture action in a variety of different conditions: outdoor, indoor, from bright to extremely low light, but you also need to be able to capture emotions, backgrounds, landscapes, work with sponsors and organise commercial portraits. And most of the time, you only have one take. Plus, you'll also likely have strict deadlines dealing with clients, including newspapers and magazines.
Now, doesn't all this also relate to many other areas of photography, including weddings, portrait, photojournalism, and landscape photography?
When I decided sport photography was what I wanted to do, I thought it was just going to be a matter of increasing my shutter speed and all would be fine. What I produced on my first real attempt was a bunch of static, badly timed and badly framed images.
It was then that I realised that I had to change completely the way I was taking photos.
In this article I will guide you through my top tips to help you take your sport photography to the next level.
EQUIPMENT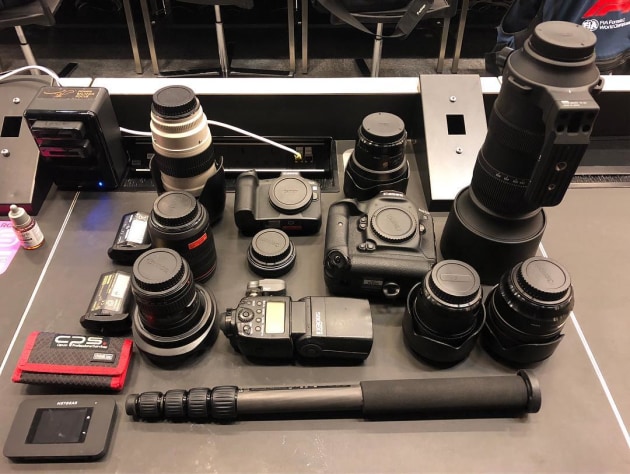 While every camera on the market allows you to take pictures with fast shutter speeds, it doesn't automatically mean that every camera is right for sport. For sport, what you need is fast and reliable autofocus, high frames per second capabilities, and a file size big enough to guarantee great quality images, but not too big to slow your processing time.
I've had a few colleagues telling me how great it is to have a camera with 35-40 megapixels, and how useful it is to be able to crop into images and still be able to have a decent size file. What they didn't realise is that unless you are shooting with no media urgencies, their big file size would fill their cards faster, need more powerful laptops to process, and longer time to be sent to their final destination, and not forgetting that those cameras usually have slower autofocus and frame rates.
Mirrorless is certainly catching up with the big and heavy Pro DSLRs, especially Sony, but in my experience their autofocus is still not good enough in comparison with a Canon 1Dx or a Nikon D5. Also, it takes time to get used to seeing everything though an electronic viewfinder, instead of straight through a lens
Crucial in your kit as well is quality lenses. And reach is also a key factor when you pack your bag, as there are not many sports that don't require the use of a big telephoto or zoom lens.
Sigma is definitely a great cheaper alternative to Canon and Nikon glass, and their lenses have earned space in my bag. Not just because they are cheaper, but because they are in most cases on par if not sharper than the Big 2.
Remember to always pack your rain gear. There's is nothing worse than being wet and miserable at an event, along with having your gear damaged.
KNOW YOUR SPORT
This is almost more important than your gear!
Firstly, your pictures will be a lot better if you are photographing something you are passionate about. However, if you are assigned to capture a sport that is not your favourite, take the time to learn its rules and key moments.
This will help you anticipate the action and getting those important shots. It will also allow you to know when is the right time to take a break from the action and concentrate on your surroundings, the venue, fans, managers, reserve players – they are all part of the game and they have to be part of your coverage.
Part of knowing the sport you are photographing is also knowing where you allowed to be at any time, as well as understand different vantage points to make your shots different, along with ensure that you capture the required imagery.
It might seem like a minor point, but always make sure the equipment of the sports are always in the frame – balls, bats, clubs, etc. should always be visible to understand which sport you are showcasing.
SETTINGS
It is very, very rare that I allow my cameras to make decisions for me as I need to be in control all the time. And this means shooting in Manual mode.
You might also ask, "Why can't I just use my trusted Shutter Priority settings? I can still have the control of my shutter and decide what kind of feel my images have".
The reason is very simple: when you have fast moving subjects, most times with different colour jerseys, the area where you focusing is not always that precise on an athlete's eye, and the different tones trick the cameras to give very different exposure. If you cover motorsport, to photograph a white car or a black car can result in an incredibly under or overexposed image, and in a field where you only have one chance to take a picture, leaving the control of your exposure to your camera might not be a risk you are willing to take.
Continuous single spot autofocus is another of the "must-use" settings. Very rarely will I expand my single spot focus point, and I have learnt how to move it around pretty quickly in my frame.
There is a setting that is not mandatory for sport photography, but I strongly recommend you check it out. It's the Back Button Focus. It can be a pain to get used to, but once you get it right, you will never go back. The main advantage is the fact you can start and stop shooting a burst of images without the need for the camera to refocus on your subject. You simply don't let your thumb off and the camera should keep tracking your subject. The second advantage is to be able to recompose your shots even if you are using continuous autofocus. In this instance, just let go of your thumb. Since your shutter button only controls the shutter, you can recompose and shoot.
SHOOTING
I remember when I started out, I was always looking for advice. I used to spend days looking at other people's work, and while this is definitely something you should be doing, don't try to copy someone else's style. Find your own, be different. Your goal should be having others looking at your images and immediately say, "I know who shot this!" Replicating someone else's shot will not take you very far.
I tend to shoot a lot wide open. I like the feel of an athlete or a car photographed with a very shallow depth of field, but it does come with some risks. Shooting something or someone who moves constantly, at f/1.4, requires a steady hand and well calibrated gear, so you don't end up with your focus point on the tip of the nose, or a helmet visor, instead of an eye.
I also like to include a lot of movement in my shots. Coming from a motorsport background, there is nothing worse than an image with the feeling of a parked car, while it was in fact travelling at 300km/h.
My advice is to get your money shot out of the way and always leave yourself some time to experiment with your settings.
Find new angles, even if your brain tells you they are the wrong ones. It's probably right, but that 1 out of 10 times it's wrong, you can end up with something very unique and extremely rewarding.
Try to avoid looking at your camera after every shot. I can guarantee you; something will always happen while you are not ready to shoot.
PROCESSING
There are two different approaches to processing your images in sport photography; one if you are working for a sponsor or the images are destined to an exhibition or a book, and one if you are working as a media photographer.
In the first case, the post processing is exactly as any other type of photography. You can go nuts in Lightroom or Photoshop and create or fix anything, but as a media photographer, urgency is definitely a key factor in your post processing. Your shots should be pretty much ready from the camera. You won't have time to do major adjustments; you will need any spare time you have for captioning your shots and sending them to the appropriate outlet – first one in gets the money!
Over the last few years, Wi-Fi transmitter are a must-have for a sports photographer. Most of our key shots are sent straight from the camera using mobile networks – another good reason to get the shot right in camera!
I use Photo Mechanic, and so do the 90% of sport photographer I know. It is fast and has everything you need built in. You can use code replacement for your captioning, it integrates with Photoshop, and sends via ftp without the need to switch programs, which is a real time-saver.
While sport Photography is a very challenging and expensive branch of our beloved art, it's also one that allows you to travel, follow something you are passionate about and most time spend time outside.
About Manuel Goria
Photography and cars are Manuel Goria's passion. He started to photograph racing at local events and worked his way up to photographing the F1 Grand prix in Melbourne in 2010, shooting for Ercole Colombo, Ferrari's photographer since the early 1970s. In 2013, he started working freelance, with a season contract for Sutton Images.
Goria is a team photographer in Formula E for Dragon Racing, Renault, Venturi, NIO, and Techeetah. He's also personal photographer to Nelson Piquet Jr, Salvador Duran, and Jean Eric Vergne.
 In 2016, he was awarded Western Australian Sport Photographer of the Year, and the same year was named runner-up for the title of Australian Sport Photographer of the Year.
For the 2018 F1 season, he was team photographer for the Sauber Alfa Romeo F1 Team with Charles Leclerc and Marcus Ericsson.
Manuel will be presenting a session on travel photography at the Photo Live Expo in Perth on 28 July. For more information about the event, and all the speakers and workshops on offer, please click this link.
Contact

Get more stories like this delivered
free to your inbox. Sign up here.