The world's greatest cameras
If you could create your ultimate camera, the one that was absolutely perfect for you, what would it be like? Never mind that it's too expensive. Never mind that it hasn't been invented yet. This is a fantasy, an exploration of what helps to make great photography great. Candide McDonald reports.
Henri Cartier-Bresson's ultimate camera is well-known. The photographer referred to the Leica M3 with a 50mm lens as an extension of his eye. Richard Avedon was famous for his preference for large-format cameras and for his favourite, the Deardorff 8X10. Annie Leibowitz spreads her love across a range of cameras, and even camera brands, but according to Leibowitz when she shot her seminal photo on a Polaroid – the picture of John Lennon and Yoko Ono that she took a few hours before Lennon was murdered, and which was used as the cover image of Rolling Stone in January 1981, she knew she had captured something profound.
Camera technology has changed dramatically since the 1930s when Cartier-Bresson rose to fame, and even since 1992, when Avedon became the first staff photographer for The New Yorker. But the truth is it's changed most during the last decade and a half. The demands that a top photographer would expect to be met in his or her fantasy camera are far greater that anything these two photographers would have dared to dream. Here are the fantasy cameras of five top photographers, plus a sneak peek at the fantasy camera elements that may become real camera elements in the near future.
The advertising specialist
Sean Izzard is one of Australia's top advertising photographers with an impressive collection of awards from the most prestigious international advertising competitions, including AWARD, Cannes Lions, D&AD, One Show, New York Festivals awards, and ADC awards. He has also been a Moran Contemporary Photographic Prize finalist three times and been named in the Lürzer's Archive Top 200 Photographers Worldwide four times.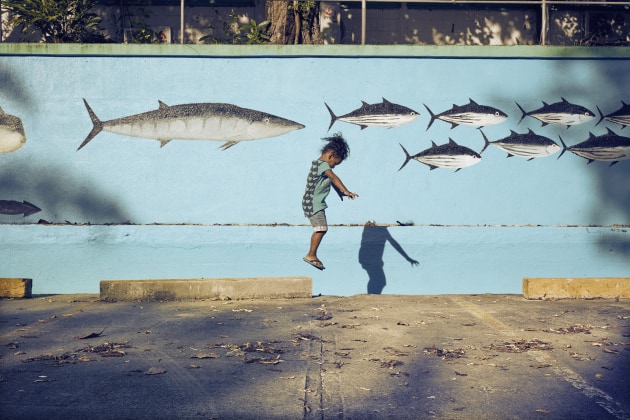 His style is shaped both by former influences and present day demands. "I am still very much a lover of shooting what's in front of me, relying as much on subject matter and composition as the unexpected that unfolds. Commercially, planning and pre-production is imperative, yet I still aim to bring reality and spontaneity to the picture."
This is Sean Izzard's fantasy camera. I'm always walking through life seeing opportunities for great pictures without having the necessary equipment at hand. Having taken photographs for so long, my eyes now automatically take on the qualities of lenses. My ideal camera does away with the hardware altogether. No need for a box full of mirrors or shutters. Instead, the chip is inserted directly into the cortex of my brain, hard-wired both to the backs of my retinas and also into the frontal lobe. My eye sees the image and instantaneously converts to the appropriate lens, along with exposure and effects. The image is burned to the chip and exported wirelessly to the laptop, though I'm sure there must be a way to circumvent this too – I'm no expert. This form of camera isn't limited to what I see in front of me, it can also convert images from my 'minds-eye', from pure imagination.
The Architectural Aesthete
"Luca Zanier's luscious photos inside nuclear power plants, coal-fired power stations, storage facilities for nuclear waste and other energy systems seem like the sets of science-fiction films."
Luca Zanier shoots buildings. He shoots them devoid of people. The description above is of his series, Space and Energy. His other recent series, Corridors of Power, captures the dramatic interiors of building throughout the world where political decisions are made – the United Nations General Assembly in New York, the Executive Committee of the International Football Association (FIFA), and the European Parliament in Strasbourg, are included.
Of this series, Zanier says, "Decisions made by individuals determine a large part of our collective existence. Our societal, economic, and political leadership or command is in the hands of a few decision-makers, and the location and place in which they make their decisions may be pompous, representative, and publicly accessible, and sometimes small, inconspicuous, and covert. In any case, they are 'Spaces of Decisions'. They are spaces which I wish to portray photographically."
This is Luca Zanier's fantasy camera. The camera, or the combination of camera, lens and back, is of great importance for my free, artistic work such as Corridors of Power or Space and Energy. I tried out various systems and finally found my (almost) perfect, ultimate fantasy camera. It's amazing to work with the following gear – Camera: ALPA FPS. Lens: 17mm Canon tilt-shift. Digital back: Phase One IQ150.
Compared to the previous models, this combination has seven unbeatable advantages, provided that the lens is seriously tested and perfectly sharp. It's possible to take a single picture without stitching so that issues to do with pixel accuracy and colour coherence are a thing of the past.
Vignetting at the borders no longer has a discrepancy of up to 1.5 f/stops. I can work with Live-View and this makes it possible to adjust the sharpness precisely. There's no need to double-check on the computer afterwards. The shutter speed can be set as desired. Exposure bracketing simplifies life. And there is no image shift because of manual assembly of the lens. But I do have a tiny little dream for the ultimate fantasy camera: It would be brilliant if there was a viewfinder for the ALPA without compromises; to have a preview as with an ordinary 35mm camera.
The Wastelander
Dan Dubowitz travels the world in search of abandoned, decaying buildings. He documents these to explore how the spaces people abandon reveal much about humankind and the psyche of contemporary societies.
He is the founding director of Civic Works Ltd, which runs two practices in parallel – urban design and artworks. Civic Works has developed cultural masterplans for city-scale developments across the UK, public artworks, as well as Dubowitz' fine-art photographic series. He has published four books.
"I fear we will lose the last of the authentic great camera and lens makers soon."
This is Dan Dubowitz' fantasy camera: I had my dream camera once, 15 years ago, but when I moved on with my work, there wasn't a camera that offered what I needed. In 1999, I dug deep and spent a small fortune investing in what I thought would be my camera system for life, a Hasselblad 501CM with 50mm lens, light meter, and a small carbon fibre tripod with pan and tilt head. I take photographs of lost places, often abandoned, sometimes far off the beaten track, such as Ellis Island before it reopened as a museum or Fordlandia in the amazon, or a former fascist holiday camp on the Lido in Venice. Sometimes these lost spaces are right in the heart of a city underneath a motorway or the new military capital Naypyidaw in Myanmar or the piers on west-side highway. Invariably, they are not entirely abandoned and having a visible camera kit and a slow set-up is a problem.
So for my first eight years as a fine art photographer, I went out for a day or night shoot on foot with a knackered-looking school backpack, wrecked clothes, tripod, camera, and loads of 120 roll film in the bag. I could shoot an entire final series in a day, and this was often all I had.
Then I started exhibiting 2.5m wide prints, people started collecting my prints, and curators nudged me towards trying a plate camera with a shift lens. It was a revelation shooting with such good glass as a Rodenstock Grandagon 155mm, weighing in at 2kg, onto a 20x25cm transparency. And having a shift lens allowed me take photos I couldn't take before, without hiring a crane. But now when I want to shoot in the Amazon or shoot a fascist holiday camp, I needed four bags, a giant tripod and head, a ladder, a car, and at least one assistant. Also film has died and I have no choice but to post film to get it processed, and post it again to get it drum-scanned, which is no fun.
So my dream camera is something I can carry in a small bag, takes a digital and film back interchangeably, can handle bursts so I can do portrait work in abandoned spaces, has a built-in optical viewfinder and pin-sharp focusing, has lenses like the Rodenstock large format with beautiful glass and a large image circle, has the option of a different fast lens at f/2 for portraits and decent bokeh, and as with my Hasselblad kit, can operate as simply and reliably as the Hasselblad did without batteries and lots of attachments. I'm only going to carry one piece of kit and I might not have power for a week or any opportunity to replace or repair anything. Lastly, I need to be able to afford it. I need a working tool, not a luxury item.
The Documentary Photographer
Jack Picone is a documentary photographer, who sees himself as a storyteller presenting both what he calls the "visual footprints" of his own life and the life stories of the people he photographs. "Documentary photography enables me to approach people from cultures vastly different to my own and interact with them…I like the idea that my photographs can be a conduit of communication between different people in different places," Picone says.
For the past three decades, he has covered wars and major social issues in Australia, Asia, Africa, and Europe. He is a co-founder of Australia's Reportage photography festival, the founder of Reportage Workshops (a series of documentary photography workshops in Asia), and a member of the war photographers' collective, °SOUTH. He has won World Press Awards, the U.S. Photographer of The Year Award (POY), and the Mother Jones/IFDP Grant for Social Documentary Photography. His work is held in collections at The Australian War Memorial, State Library of New South Wales, and National Portrait Gallery in Canberra.
This is Jack Picone's fantasy camera. It is difficult to say what the world's best camera for me would be for me. The world's best camera is the camera I work intuitively with and is a natural extension of me. It is the camera that is reflexive to use. So much so, I hardly notice that I have a camera in my hands at all when I am making photographs.
I still shoot a lot with film cameras, and why the romance continues with film cameras is because of their simplicity. The common denominators are: tank-like build quality, high acuity lens optics, manual focus, aperture, shutter speed, manual modes and, of course, a stellar light meter.
I use Fujifilm X-Pro2 [bodies] for digital photography and there is little I find that isn't seductive about the camera. It is the closest I have come to in a camera that I feel is a natural extension of me when making photographs. That said, that closeness could be closer still. Like many photographers using state of the art digital cameras in the 21st century, I don't use four-fifths of the options available in its War and Peace-like menu. Wading through the rarely, if ever, used options buried in the menu is tedious and inhibiting. When a photographer can stop thinking about the camera's functions, they start thinking more intuitively and completely about the moment they are about to make. That moment, which often unfolds in a nanosecond, is what is critical in making compelling photographs, not the labyrinth of pages in the camera's menu. There is no option in the menu to bend time and make a moment happen again.
In an ideal world, if I could tell R&D to make changes, I would say, in a heartbeat, to strip down to the bare bones the high number of pages in high-end digital camera menus. Copy what history undeniably got right and the genius of film camera simplicity itself, that is all the common denominators mentioned above – all from the near past – and paste them into contemporary digital cameras of the present. A confluence of the simplicity of a manual 20th-century film camera reinterpreted and incorporated in a 21st century digital camera "off the graph" technology, would be where the close becomes closer to a camera which is a natural extension of me.
The Underwater Specialist
Jem Cresswell's commercial work covers architecture, interiors, lifestyle, people, and travel, but his passion is for underwater photography. His personal work is a glorious exploration of the world beneath and on the surface of water – from oceans to natural pools. He was a finalist in the 2013 Travel Photography Awards, the 2014 Head On Portrait Prize, and the 2014 Head On Landscape Prize.
His passion for water photography began when he was a "youth with camera in hand, exploring the desert coastline, surfing, and camping with friends".
This is Jem Cresswell's fantasy camera. My dream camera would be a hybrid medium format digital stills and video camera, where the weather sealing on the camera body had been taken to another level so as to be completely waterproof. When combined with a new line of wet optic lenses, it could be used underwater without the complications of camera housings and dome ports. Having native wet optic lenses would allow for better sharpness across the frame and a higher level of quality underwater, with completely seamless transition to shooting above the surface also. These thoughts come off the back of the incredible optics of the old Nikonos R-UW wet lenses, such as the Nikonos R-UW AF 13mm f/2.8 lens, which some people are now converting to be used with modern digital underwater housings.
The cameras of tomorrow
2017 was not a big year for new cameras. Just 35 were released – a drop of 39% compared to the year before. But "there are lots of interesting indications for where camera technology is going," says Sean Ellwood, a senior product specialist at Sony.
Those "interesting indications" all revolve around sensors. Last year, Sony showed off how mirrorless cameras can offer speed advantages, shooting up to 20 frames a second with no viewfinder blackout. The α7R II was the first full-frame camera to use a backlit sensor, which meant that Sony could fit a lot more systems onto the same sensor space, improving speed and quality. It was a breakthrough that Nikon followed.
Up until recently, sensors were constructed in a single layer, like a street map, and decisions had to be made about how much space was given to various functions, like light-gathering versus readout, for example. Early this decade, researchers found ways to add a second sensor layer. These "stacked" sensors made it possible to increase speed in a way that would have been impossible in earlier generations, and have been slowly finding their way into cameras.
The Sony α9 is the first full-frame camera to feature such a stacked CMOS sensor, with 24.2 megapixel resolution and a focusing system covering 93% of the frame, with 693 phase detection AF points. Its stacked architecture lets the α9 read the sensor as much as 20 times faster than previous sensors, allowing it to shoot silently, and vibration free.
Then, at the 63rd IEEE International Electron Devices Meeting in 2017, Sony presented the industry's first three-layer stacked CMOS image sensor (CIS) technology. The technology shares many similarities with the research being done in the computing world. Its newest industrial sensors can capture high speeds without distortion, due to a global shutter design made possible in large part by a stacked sensor architecture.
The global shutter is something of a holy grail for photographers. Ordinary mechanical or electronic shutters scan the sensor over a period of 1/200th of a second or longer. In a global shutter the entire sensor turns on and off instantaneously. Every pixel in the frame is captured at exactly the same time. Things like moving wheels and spinning fan blades are captured without distortion. Global shutter tech will provide advantages such as the elimination of most banding and will provide incredibly fast flash sync speeds.
Currently, global shutter sensors are limited to industrial and computer-vision applications, because the global shutter hardware crowds the sensor and impacts the quality of the resulting images. "With the ability of stacked sensor designs to alleviate these kinds of real-estate issues, future camera generations may overcome this challenge, and the possibilities for professional cameras are exciting," Ellwood notes.
Meanwhile, in February this year, Panasonic created an industry-first global shutter organic sensor that's capable of shooting 8K or 36-megapixel images. An organic sensor differs from a traditional CMOS sensor in that it has one layer for an organic photoconductive film that captures the light and another separate layer of circuitry for storing the charges created when the light hits the sensor. This is why it can capture a wider range of light and deeper colours. The appeal of global shutters and organic sensors has been less distortion and higher dynamic range. The limitations of both have prevented the tech from entering high-resolution cameras. Putting them together negates those limitations.
Also built in is the ability to control the sensitivity of the organic sensor by adjusting the voltage sent to the sensor. This means that Panasonic has been able to mix the global shutter with the organic sensor design. The sensor also has two different modes, one for high sensitivity and another for high saturation that allows it to capture a wider dynamic range in a single shot compared to traditional silicon-based sensors. It also has an electrical neutral density filter simply by adjusting that voltage.
While Panasonic presented its "industry-first" global shutter organic sensor capable of shooting 8K or 36-megapixel images in a Lumix prototype, this new tech, like Sony's, is not available yet. But as Ellwood noted, "the possibilities are exciting".
Contacts

Get more stories like this delivered
free to your inbox. Sign up here.