Kookaburra family photo scoops People's Choice award at Nature Photographer of the Year comp
An image by New South Wales photographer Charles Davis, Better Together, has been named thePeople's Choice winner in the 2021 Australian Geographic Nature Photographer of the Year exhibition at the South Australian Museum. The photograph, of a family of kookaburras captured after a blizzard, was taken in Kosciuszko National Park.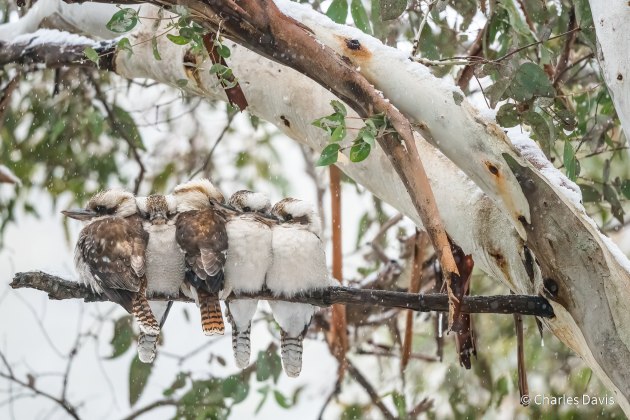 No stranger to the accolade, Davis has won the People's Choice in both 2017 and 2019 for his photographs of wombats in the snow. "To win a category is a great feeling on the night, but to receive People's Choice is its own special feeling – in some ways it is the greatest prize on offer," Davis said.
The behaviour displayed in the photograph is quite rare, with Mr Davis explaining that only by chance did he get to witness it firsthand. "I had seen kookaburras huddle like this only twice before – always at night and always in the rain. To see a family huddled in the day, the weather must be truly cold and brutal, as was this day's blizzard. This photo happened more by luck than anything else," he says. "I had seen kookaburras there before, but the only reason I was pulled over on that bit of the road was to take the chains off a bus. I saw only one kookaburra at first, grabbed my camera and took a quick shot. That kookaburra flew off fast but joined another two on a higher branch. Two more flew in straight after and they all shuffled along and huddled up for about another five minutes. It was truly cute."
Director of the South Australian Museum Brian Oldman stated: "This photograph captures a touching moment in time and depicts an important and timely underlying message that we are better together – one that I think is relevant now more than ever given the challenges people continue to face in light of COVID-19."
The Australian Geographic Nature Photographer of the Year competition and resulting exhibition is run annually by the South Australian Museum.
The exhibition has now moved on to the Australian Museum and will be on display until 30 January 2022.

Get more stories like this delivered
free to your inbox. Sign up here.