The best Photoshop Fail ever?!
It's no secret that most photographers enjoy chuckling over Photoshop Fails, and there's certainly no shortage of them out there! But when a Photoshop fail graces the cover of the venerable Vanity Fair, in a grand, group portrait by the legendary photographer, Annie Liebovitz, the chuckling turns to awe, and the risk of the Internet breaking under the load of 'shares' becomes a real possibility, figuratively speaking of course!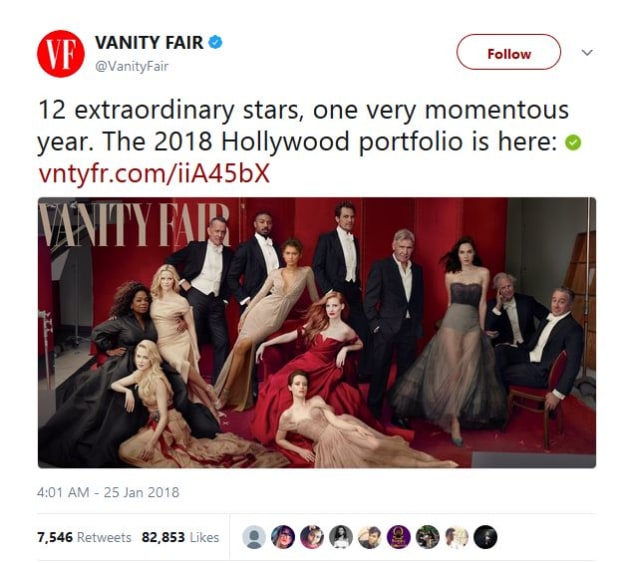 The image features 12 of the biggest names in Hollywood and was commissioned for the Hollywood portfolio issue. On set were Tom Hanks, Nicole Kidman, Robert De Niro, Oprah Winfrey, and Reese Witherspoon, amongst others. Clearly a shoot with this high-profile a group of subjects is not everyone's idea of a great and relaxing time, but for Liebovitz, it would have been a piece of cake. So what could possibly have gone wrong?!
Well, as it turned out, through the magic and wonders of Photoshop, Reese Witherspoon appears to have scored an extra leg! And the Internet went crazy! Witherspoon took everything in her stride, if you'll pardon the pun, and sent out a tweet stating:
"Well…I guess everybody knows now…I have 3 legs. I hope you can still accept me for who I am (and I will never apologize for snuggling @Oprah .. if you get the opportunity, I highly recommend it ;)"

Image from @khamsin.

Image from @leiascaptain.
However, Vanity Fair responded to the potential fiasco stating vehemently that they had not provided Witherspoon with an additional limb, claiming: "While we would have loved the exclusive on @RWitherspoon's three legs, unfortunately it's just the lining of her dress."
What do you think? World-class Photoshop Fail or trick of light, and dress lining?