The drone evolution
While drones have been around for some time, the uptake by photographers to incorporate aerial services into their suite of offerings has not been overwhelming, and neither have the number of ground-breaking projects relying on drones. Admittedly, there is some amazing work being produced, but what can photographers keen to lean on the technology do to either produce amazing work and/or offer a new range of services in their business? Sam Edmonds spoke with photographers who have upped their drone game to find out.
For many photographers, it seems like only a few years ago that the buzzing sound of a quadcopter was a relatively new and foreign experience. For most, witnessing a drone in flight was a near-spectacle and around any drone operator in a public space, a flurry of onlookers and curious tourists was sure to amass. But the novelty factor of taking to the skies has quickly worn off. Thanks to large manufacturers of drones like DJI, who currently dominate the market, and the ever-rapid pace of technological advancement, drones are now readily accessible for consumers of almost any income bracket.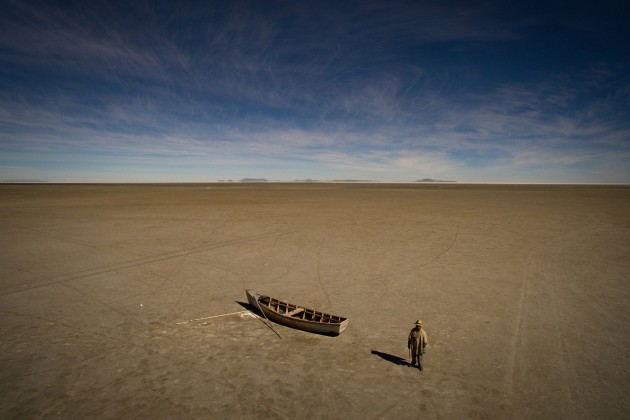 The ubiquity of flying cameras has hugely impacted the photography and videography industries as an over-saturation of aerial imagery infiltrates documentary film-making, travel, and Instagram, as photographers incessantly fly their DJI Mavics over any and every Icelandic glacier they can find, and even wedding photographers have turned their noses skyward in an attempt at original content. It would seem though, that amongst all this fuss and confusion, a lack of truly genuine photographic inquiry utilising drones has pervaded. While film-makers, Instagrammers, and wedding shooters might have spruced up their portfolios with some sky-high perspectives, it seems rare to come across a drone-based project that has pushed any photographic boundaries. And similarly, given that every photographer and their dog can now squeeze a palm-sized drone into their cargo pocket, how can professional photographers maintain any semblance of originality when shooting from above?
Get with the Times
Perhaps one way to answer this question while also gaining an opportunity to quantify the amount of exciting drone-based projects in contemporary reportage is by glancing at that constant advocate of thoughtful and original journalistic content: The New York Times. Like most fads that have gripped photography in the past, often a good gauge of a tool's true use to the ongoing practice of the medium is whether or not it seems to be adopted by the world's most well-respected photographic publications. And by that gauge, drones are here to stay.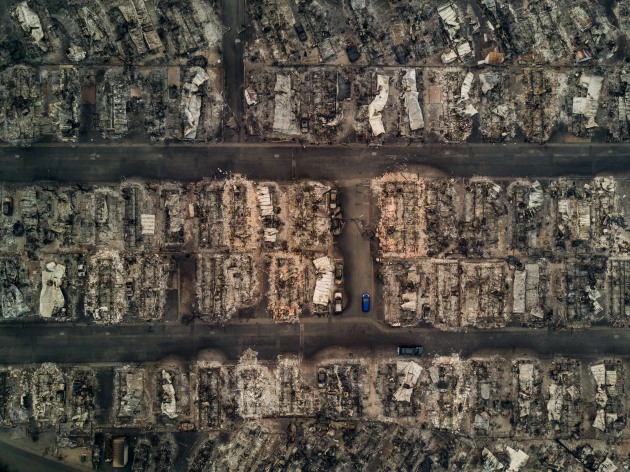 Scrolling through The Times' regular newsfeeds as well as their photo-focused Lens Blog, the number of drone images seems to be increasing. But not only are The Times relying on drone content produced by freelancers and agencies, the publication has also turned to arming their own staff with quadcopters for such recent feature stories concerning global warming, habitat destruction, and immigration. Most notably here, was a story on the Greenland ice sheet, photographed primarily The Times' own Josh Haner. Relying heavily on drone imagery to capture the melting and formation of pools on glacier tops across the ice sheet, the story appeared as a dedicated interactive page on The Times' site and has since been widely celebrated as an innovative piece at the forefront of modern storytelling. As Haner describes, this drone-heavy story was most likely no anomaly in The Times' future of visual storytelling as the publication's investment in both drones and drone-savvy journalists is already solidified.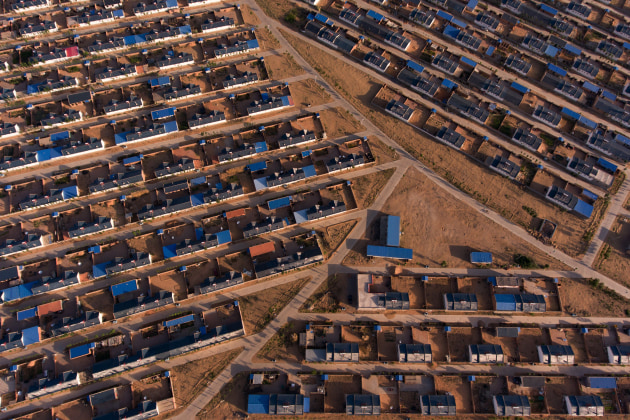 Haner adds that while a handful of current staff members are specialists in drone operation, he sees his future in visual journalism as representative of how the use of drones will most likely look down the track: pocket-sized quadcopters will simply represent another tool available in the arsenal of a journalist. "I am one of several licensed drone pilots at The Times, so we have many people who can bring this new skill to storytelling," says Haner. "I don't want to only be known as a drone operator, rather a visual journalist combining different mediums to best tell the story," he says. "If used too frequently, drone imagery can become repetitive and monotonous. To me, it's important to vary the media I use to tell stories, and to keep my vision fresh."
Haner, who graduated from Stanford with a degree in symbolic systems, went on to attend Virginia Tech's drone training program as part of a Mid-Atlantic partnership with the Federal Aviation Administration (FAA) – a moment that he says, secured his interest in drones as a tool for visual journalism. But it wasn't until after undertaking this program that Haner's drone flying career really took off. After a call from his editor with a request to go to Greenland to accompany the United States Ambassador to Denmark on a tour of its highest altitude research facility, Haner quickly cottoned-on to a more visually appealing story in Greenland – that of a professor and researchers collecting data from melt-water rivers on the island's ice sheet.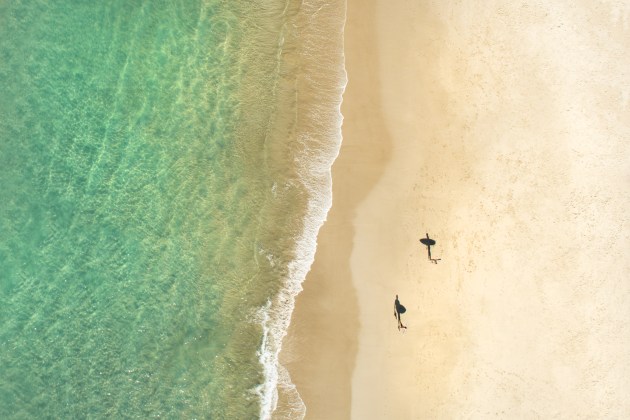 As Haner describes, the precarious logistics of the project quickly made evident the challenge of drone flight that he would be faced with. "Unfortunately, there was only one helicopter in this part of Greenland capable of flying to their location far out on the ice, and the researcher had booked all of its time for their project," he says. "Each day, I went to the airport while he weighed his team's gear that was going on the helicopter that day to see if there was enough space available for my drone, one camera, and myself to fit under the helicopter's weight limit." But as he further describes, this was only the tip of the iceberg: "When I arrived, I had an hour to make photographs and film with the drone, in freezing cold temperatures. The drone's batteries only lasted for 8 minutes in that environment and the ice sheet was constantly changing, so I was tethered into safety ropes as I worked near the river," says Haner. "When I finally figured out what movements I wanted to make, I was part way through a flight and was told we had to leave immediately. I finished the shot and flew [it] back towards me at full speed as I walked back towards the helicopter, crashing the drone along the path. Unable to retract the arms, I had to carry it in my lap for the flight back above the ice."
Despite the logistical dilemmas that Haner faced shooting the project, the story and The Times' interactive webpage for disseminating the piece were widely acclaimed as a fantastic example of contemporary storytelling. Among the still images, Haner and the graphics team at The Times were able to construct a seamless zooming map that integrated both satellite imagery and drone images into one interface – providing an unprecedented understanding of the scale of the ice sheet. In many ways, the success of this story speaks volumes as to the potential for drones and their continued use in journalism in the future, but as Haner cautions, we shouldn't let the ability of drones influence our sense of quality storytelling too heavily.
As with other stories that Haner has shot for The Times and utilised drones, Haner says that more often than not, he is using aerial imagery simply as a tool to provide some broader visual context to a piece. And that both now and in the future, drones will simply form another piece of kit in a photo bag. "Right now as I'm heading out on an assignment, I have a drone that takes up about as much space as a lens in my bag," says Haner. "There is no one right way to use a drone in journalism. Ultimately, a drone is just a tool to better tell stories. Until drones can transport our readers to the Greenland ice sheet, they are one of the best ways to allow people to feel what it's like to be in a place."
On home turf
While the large travel and graphics budgets of The New York Times might well be heralding new standards of interactive journalism utilising drones, the impact of taking to the skies over Australian seas and landscapes is probably somewhat more subdued. Helicopters have long been used by photographers to capture aerial images of our grand and sweeping country, but the affordability, accessibility and agility of drones is now providing unprecedented ways of exploring Australia and its inhabitants photographically. However, as much as Instagram might like to disagree, surely there is a critical mass of photos of rock pools that can be reached.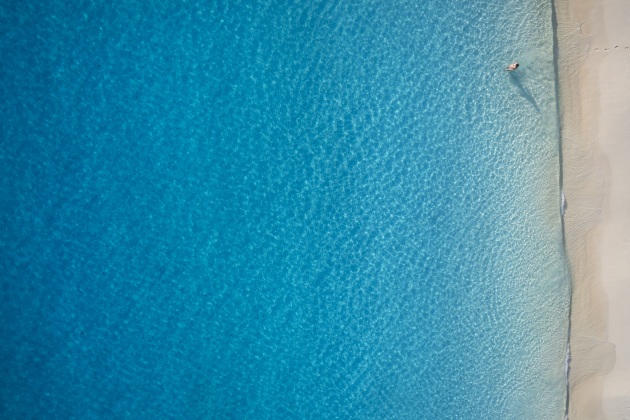 Insta and hipster culture have jumped on the drone bandwagon heavily and Australia – especially Sydney and Melbourne – have not been spared the monotonous formal aerials adorned with the usual dictionary of hashtags. So, with every Bondi local and their Pomeranian owning a drone, how can professionals manage to stand out and stay original? Byron Bay-based lifestyle, surf, and landscape photographer Craig Parry seems to have figured it out. Running workshops and a gallery of salt-sprayed images from his sub-tropical home on the NSW North Coast, Parry was very early to the drone game, experimenting with micro-helicopter-mounted cameras long before DJI's founders were out of university. Since then, Parry has gone on to adopt a spectrum of various drone types and configurations and has worked for the likes of Discovery Channel, the Travel Channel, and even taken out first place at the International Landscape Photo of the Year awards in 2014 with a drone image.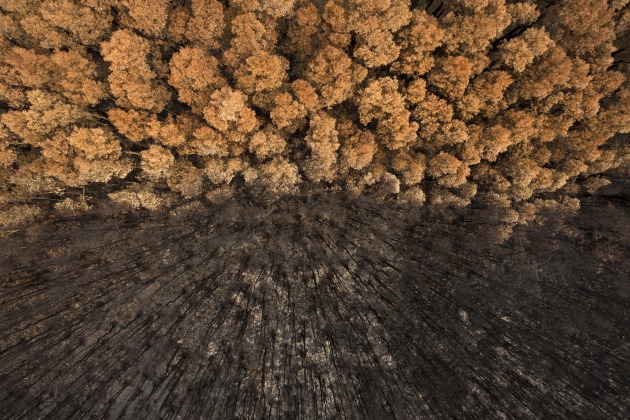 Interestingly, despite all of this drone-based success, Parry has taken the same stance on drone use as Haner, advocating the idea that drones should simply become another tool that photographers can fit into their gear bag, if necessary. "When I won the International Landscape Photo of the Year, I heard chatter on forums from the professional community saying because I wasn't holding the camera and it was on a robot, it doesn't count," says Parry. "But over time, I think those photographers would now own or want to own a drone, and accept the drone as a photography accessory, just like a tripod." Since his days of experimenting with low-resolution quadcopters, the drone industry has rapidly advanced and companies like DJI are now producing affordable drones that have allowed photographers like Parry to continually create fresh content with ease.
Parry adds that the heavy-hitting drones are where the market is being pushed hardest as the resolution war has directly translated into drone photography and 4K, 6K, and now 8K footage are expected from RED cameras and Sony mirrorless cameras as tens of thousands of dollars in equipment hover precariously somewhere above the ocean or a volcano. But as he states, the trickle-down effect of this has meant drone models like the Phantom and Mavic from DJI are now also just as capable of publication and even exhibition-worthy images. "The release of the Phantom 4 Pro was a big step in the commercial drone industry with specs that allow printable images," says Parry. "This DJI system allows me to check out locations from long distances and still get a reasonable image which then can set me up for ideas and locations to capture from my heavy lift Freefly Alta 6/Sony A7R III [combination]."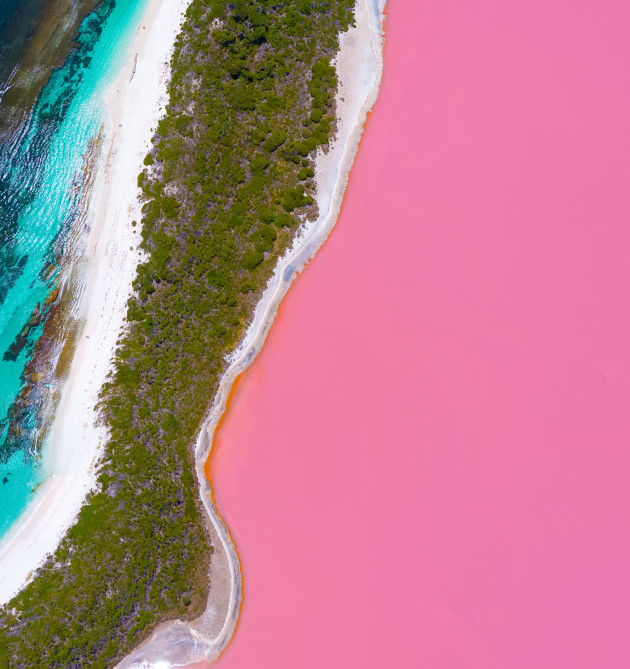 As far as we can tell, DJI has no plans of slowing down the progress at these entry-level and mid-weight drone categories with the recent unveiling of the Mavic Pro Platinum, Phantom 4 Pro Obsidian and the highly anticipated Sphere panorama mode for one of their newest model, the Spark, as well as the ultraportable Mavic Air – DJI's most portable drone to date, that boasts 3-axis gimbal and can shoot 8K Sphere panoramas. Showcased at IFA 2017 in Berlin, these models cumulatively mean even more resolution and even longer flight times for the company's best-selling models – arguably the two most important criteria for drones, and where DJI continues to push the envelope.
While access to cheaper and cheaper super high resolution is great for consumers, it can often be unsettling for professionals who often rely on the financial divide between amateur and pro gear as part of their offering's currency. Parry's advice for dealing with the shrinking amateur/pro gap? Get creative. "Like any art, it takes time and hours of flying to achieve consistently good results," he says. "Setting yourself apart is challenging, but it is very possible especially as the drone revolution is so young. The best way to achieve this is to think about a landscape or activity in the vertical dimension (straight down) that is fresh and creative."
Reaching new heights
Independent of the need to acquire the skill to simply fly a drone, across most of the world that has been reached by drone technology, somewhere between one and a set of certifications are now usually required to operate drones for recreational and/or commercial use. Interestingly however, drone laws still exist in somewhat of a state of flux as constant amendments are being made to where, when, and how drones can be operated. The unprecedented ability to gain access to off-limits areas has spurred many questions about drone-related security and privacy; drones have been banned from almost all national parks in the United States due to concerns over interactions with wildlife, and similarly in the polar regions, drone operation by anyone that isn't conducting scientific research has essentially been banned for the foreseeable future. Here in Australia, this need to constantly legislate around an exploding drone industry has been an ongoing battle with 2016 and 2017 both seeing drastic redesigns of the CASA (Civil Aviation Safety Authority) regulations for both commercial and recreational drone enthusiasts.
However, among all the confusion and ever-changing rules governing the industry, it is easy to overlook the huge advantages that drones have offered to many photographic applications as well as the democratisation of aerial imagery for physically challenged, elderly, and even financially and logistically limited projects and individuals. Testament to this is Western Australian photographer Jaimen Hudson. Arguably among the country's top tier of drone operators, Hudson has maintained an impressive list of clients for his drone work including National Geographic and Greenpeace. He has worked under CASA regulation to become fully certified and insured commercial drone pilot and captured some of the most astounding wildlife imagery ever seen on the WA coast. And he has achieved all of this from his wheelchair.
After an injury several years ago saw Hudson with restricted use of both his arms and legs, a then emerging drone industry provided a way for the visual practitioner to continue his love of capturing images, using only his fingertips. "As soon as I began capturing, I loved the unique perspective it gave me and allowed me to view areas that weren't available to me in my wheelchair," says Hudson. "As I am unable to hold a regular camera due to my reduced hand function, 95% of my work is conducted with a drone." After gaining his Unmanned Aerial Vehicle license and CASA ReOc (Remote Operators Certificate), Hudson says drones offered him a way to enter the photographic/videography marketplace and cites his time with client Greenpeace as an example of drones' ability to democratise the skies. "I have been very lucky to work with some incredible companies. Many stand out, but the one that is probably most memorable was Greenpeace," says Hudson. "They had me spend five days down at the Nullarbor Cliffs on the Great Australian Bight documenting the annual southern right whale migration, which was absolutely incredible, and something I am very grateful to have been a part of."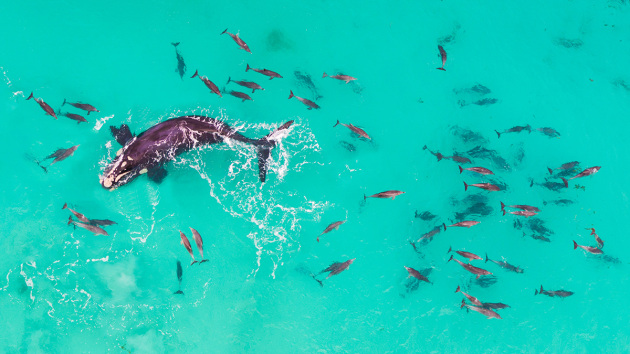 Sky high
Like most things throughout history, legislation surrounding the use of new technologies has almost always fallen a few steps behind. For the moment, it would seem that drones continue to represent a technology which we are still collectively figuring out in terms of security, biosecurity, and general safety, but also just plain old etiquette. But most importantly, some of the world's biggest photographic publishers seem to be making strides when figuring out how drones are most useful to us as visual disseminators. At the same time, several genres of photography spanning landscapes and travel are obviously benefiting from the democratised skies. As are those individuals whose mobility has been reinvigorated by drones. While tangible business-based benefits of drones may still be hit-and-miss across photographic genres, cumulatively, the benefit of drones to photography is invaluable. And they are surely here to stay. 
Contacts
| | |
| --- | --- |
| Josh Haner | |
| Jaimen Hudson  | |
| Craig Parry | |

Get more stories like this delivered
free to your inbox. Sign up here.